How Much Younger Is Colton Underwood Than His Fiance?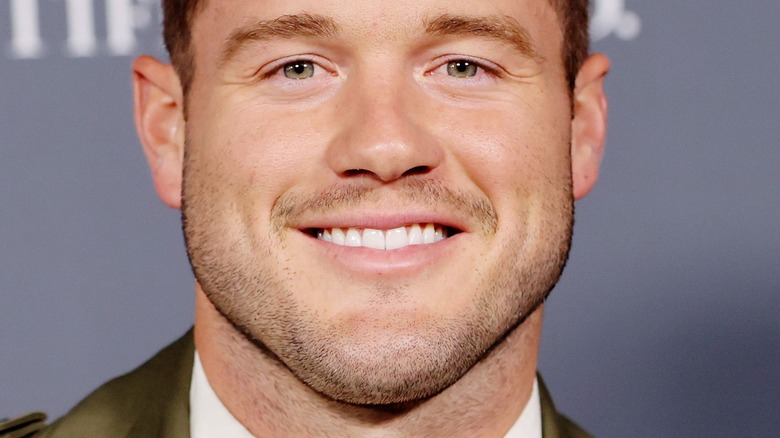 Emma Mcintyre/Getty Images
Among the most divisive characters in Bachelor Nation, Colton Underwood might stand in a class all by himself. The ex-NFL player shocked the world when he appeared on "Good Morning America" in April 2021 and came out as a gay man. Colton, who'd previously dated Cassie Randolph following the Season 23 wrap of "The Bachelor," explained that he was finally ready to be honest with both himself and the world. "I've [run] from myself for a long time. I've hated myself for a long time. And I'm gay," he explained on-air. "And I came to terms with that earlier this year and have been processing it."
A lot has happened since then. Though Colton was single at the time of his "GMA" appearance, this wasn't the case for long. In the summer of 2021, Colton met and began dating political strategist Jordan C. Brown, according to People – and as of February 2022, the pair shared that they were engaged on social media. "Life is going to be fun with you," Colton wrote alongside a picture of the couple in an Instagram post announcing the news. Brown reiterated the sentiment on his own Instagram account, adding, "I love you babe" in a celebratory upload. Though it's still unclear when the pair will tie the knot, their adorable (and unexpected) relationship has fans wanting to learn everything they can about the couple, ranging from the story of how they met to the smaller, nitty-gritty details, like their age difference.
Jordan C. Brown is older than Colton Underwood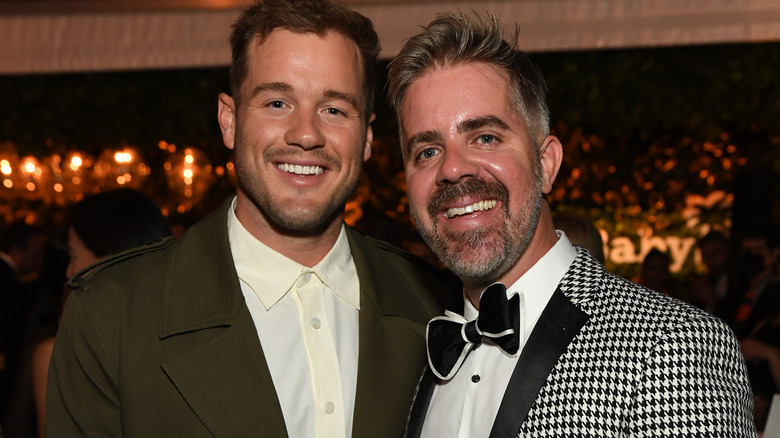 Sarah Morris/Getty Images
Though Colton Underwood's relationship with Cassie Randolph was toxic for several reasons, the limelight played a big role in their breakup. "Having a public relationship, for me, was not healthy," Colton told Us Weekly in 2021. "I just think right now I'm really sort of protecting and guarding what I have [with Jordan C. Brown]." 
Prior to meeting Brown, Colton starred in the Netflix docuseries "Coming Out Colton," in which he revealed that he has a thing for men who are slightly older than he is, according to Distractify. He's lucky that Jordan seems to fit the bill, as he's roughly nine years older than Colton, per People. It also sounds like Brown's general wisdom may have helped Colton to gain a greater understanding of himself. As the reality star told People in December 2021, he believes himself to be in a much healthier place now than when he first came out. "I had so many twists and turns to get to where I am now," Colton shared. "I'm still learning and I'm still growing. But I'm not trying to trick myself anymore with the idea that I could force myself to be straight."
Jordan C. Brown and Colton Underwood come from different backgrounds
With nine years on Colton Underwood, fans probably won't be surprised to learn that Jordan C. Brown has had a busy, albeit successful, career. Per Us Weekly, the political strategist has worked on several high-powered campaigns, including John Kerry's 2004 presidential campaign, Hillary Clinton's 2016 campaign, and both of Barack Obama's campaigns in 2008 and 2012. He's also not shy in expressing his values in social media posts honoring liberal icons, so it's clear where his political allegiances lie.
Interestingly enough, Brown's progressivism seems to clash with Colton's conservative, Christian upbringing. "I grew up in Central Illinois. I had never seen a football player that had made it to the NFL that had been gay, growing up Catholic," Colton told Variety. But it also seems his identity as a queer Christian has helped others. "I've had hundreds of gay Christian men and women who are confused in their walk with Jesus say, 'I felt closer to God when I came out.'" 
Undoubtedly, Brown has helped Colton feel comfortable in his own skin. But more than that, Colton's relationship with Brown shows us that dichotomies can exist in the world, but they aren't the end-all, be-all. And more importantly, how two very different people from very different backgrounds can come together and find love.