David Spade Comes To Chris Rock's Defense Amid Oscar Controversy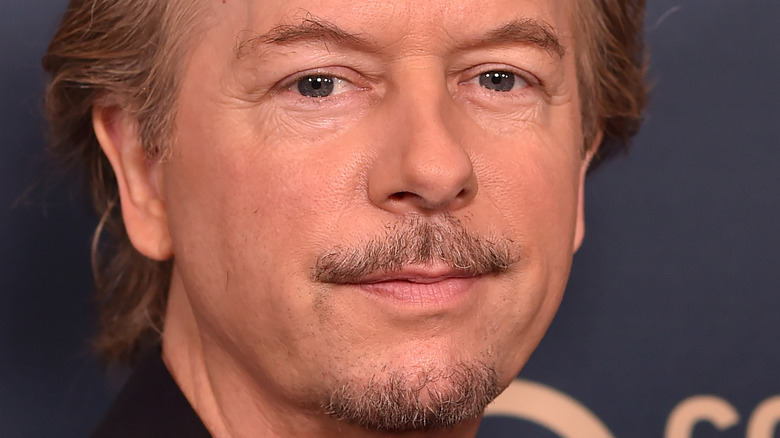 DFree/Shutterstock
Comedians David Spade and Chris Rock have a long history of collaborating professionally and maintaining a personal friendship. The two were on "Saturday Night Live" together in the '90s and became close during this time, and they also formed a friendship with fellow cast members Adam Sandler and the late comedian Chris Farley. Later, Spade, Rock and Sandler would go on to star in the "Grown Ups" films with Kevin James, per IMDb.
Rock revisited their companionship during a 2021 interview with Esquire. "Me, Sandler, Spade, and Farley — we shared an office at 'Saturday Night Live,'" Rock said. "We called it a dorm. We're friends to this day. I love those guys."
Spade is now showing that his love for Rock is also still strong. When Rock made a joke on stage about Jada Pinkett Smith's hair at the annual Academy Awards ceremony that took place on March 27, the world was stunned to witness Will Smith storm the Oscars stage and slap Rock across the face. This occurrence resulted in Spade using his social media platform to voice some support for Rock.
David Spade tweeted that comedians 'don't have a medical chart'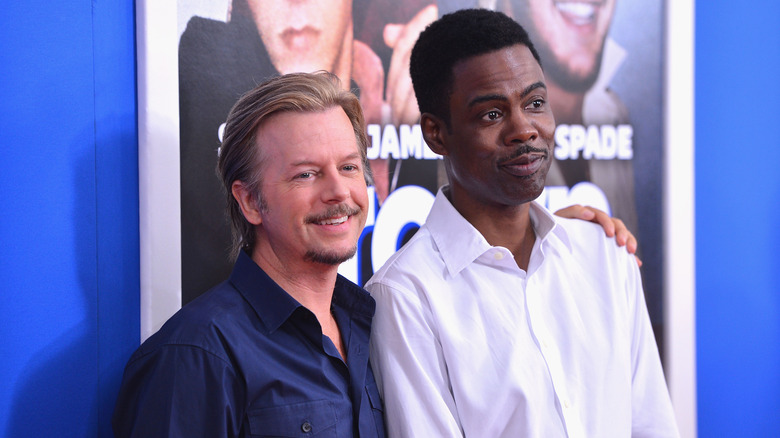 Stephen Lovekin/Getty Images
When Chris Rock was presenting at the Academy Awards on March 27, he made a joke about Jada Pinkett Smith's hairdo, comparing it to Demi Moore's shaved head in the '90s film, "G.I. Jane." Pinkett Smith previously opened up about her struggle with alopecia, a medical condition that causes hair loss, during a 2018 episode of "Red Table Talk." This joke resulted in Pinkett Smith's husband, Will Smith, rushing the stage and smacking Rock in the face. As reported by Variety, Smith then went and sat back down in his seat, after which he yelled at Rock, "Keep my wife's name out of your f***ing mouth!" 
Comedian David Spade, who is a friend and frequent collaborator of Rock's, took to Twitter to defend Rock after this outburst took place. Spade first tweeted, "A GI Jane joke???" to express his disbelief in Smith's actions, which prompted another Twitter user to write in response, "Why would you phrase this as 'a GI Jane joke?' instead of 'a joke about a woman with alopecia'?" Spade then tweeted his answer, saying, "Because comedians don't have a medical chart for everyone in the audience." Page Six also wrote that Spade told them he believes Smith's actions have "set a dangerous precedent." Rock himself has yet to publicly comment on the subject, but his friends definitely seem to have his back during this time.