What's The Real Meaning Of Maybe By Machine Gun Kelly And Bring Me The Horizon? Here's What We Think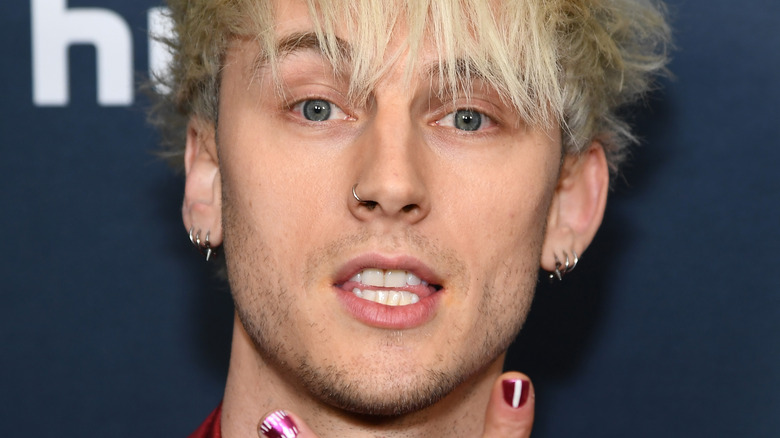 Dimitrios Kambouris/Getty Images
Machine Gun Kelly isn't afraid of a vibe shift and he is making absolutely no apologies for his musical transition from rap to full-on pop punk. The musician has promised that his latest album, "mainstream sellout," would be heavier in more ways than one than his earlier work. The lyrics to "maybe," his collaboration with former metalcore-turned-experimental outfit Bring Me the Horizon, definitely seem to follow through on that promise. 
"Maybe if I had something to save ... I used to have a soul until I threw it away," MGK sings in the first verse of the track, and it only gets darker from there. In the chorus, both artists belt, "I made up my mind this evening / I'm taking the last, I'm taking the last / Drink while my conscience eats me / I'm taking the last, I'm taking the last / I'm ready to let you go." So uh, is there anything you'd like to share with the class, Mr. Kelly?
Oli Sykes has written about his ex before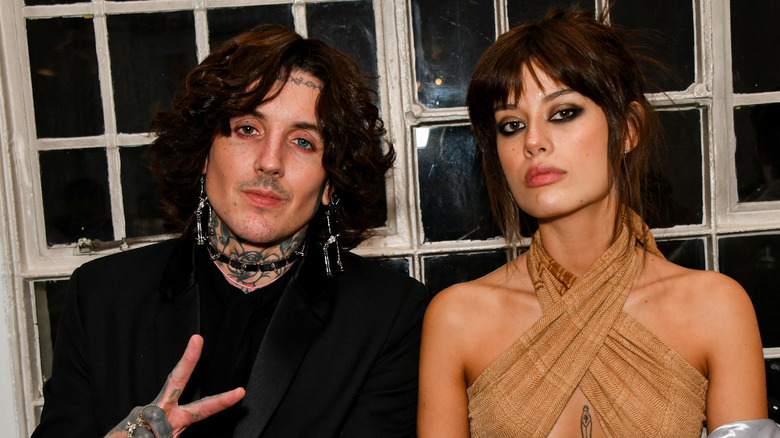 David M. Benett/Getty Images
The lyrics to "maybe" by Machine Gun Kelly and Bring Me the Horizon are clearly referencing a breakup, and not a very amicable one at that. While MGK sings about his missing soul, shadows, and needing to get away in the first verse, Bring Me the Horizon's vocalist, Oli Sykes, references regrets and heartbreak in the second. "I don't want to spend another day / Looking for somebody that I know I can't replace / My tears fall, you don't miss me / Put me out my misery / Think my heart is history / I think I'm broke and nothing can fix me," Sykes sings.
Since Machine Gun Kelly is very obviously in love with his fiancée Megan Fox, we have to assume he's not referring to her in the lyrics to "maybe." Sykes, however, appears to be still married to his wife Alissa Salls, though we know he's written about his emotional and difficult breakup with his ex-wife Hannah Pixie Snowdon in his music before, per The Independent. The searing lyrics to "maybe" do feel similar to some of Sykes' earlier lyrics.
"I always knew this was gonna end in tears / Didn't think your wrists would keep a souvenir ... I know I said I was under your spell / But this hex is on another level," Sykes vocalized on BMTH's "ouch" — referencing his failed relationship with Snowdon.
Machine Gun Kelly promised deeper lyrics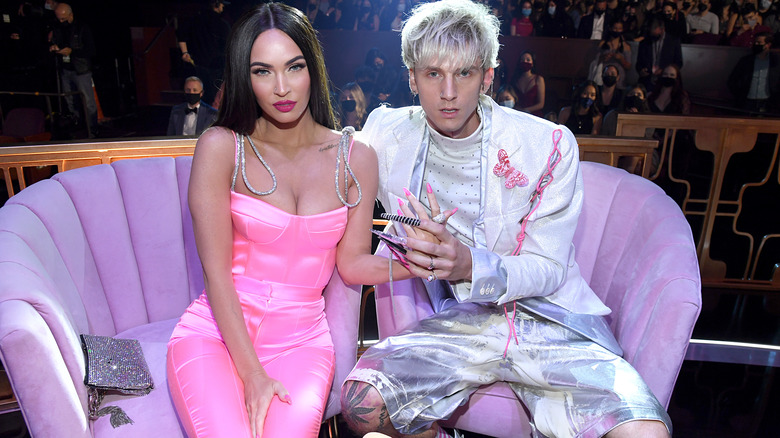 Kevin Mazur/Getty Images
We couldn't find Machine Gun Kelly or Oli Sykes talking about the lyrics to "maybe" specifically, but Kelly did promise that this album would be more rock-influenced and lyrically heavy than earlier albums. "It feels more guitar-heavy for sure, lyrically it definitely goes deeper — but I never like to do anything the same," he said in an interview (via People). He also implied that this album, "mainstream sellout" would be closer to his true self. "I'm not scared anymore ... and my true self can't be silenced, can't be restrained. It's a force, it's like a hurricane. Can't stop that," he said. 
And despite "maybe's" emotionally-heavy content, MGK has had a rather fruitful love life with fiancée Megan Fox. The two have done it all — from matching pedicures to inking each other up. And who could forget MGK's wild marriage proposal to Fox, rife with joint blood consumption and a thorny ring?
Regardless, we just hope that both Kelly and Sykes have recovered from whatever wound could have inspired lyrics like, "And it's too late now there's no point screaming / Dug your grave, so f*** your feelings / No one's here so now you're on your own."