Drew Barrymore Is Now Khloe Kardashian's Twin With Glam Makeover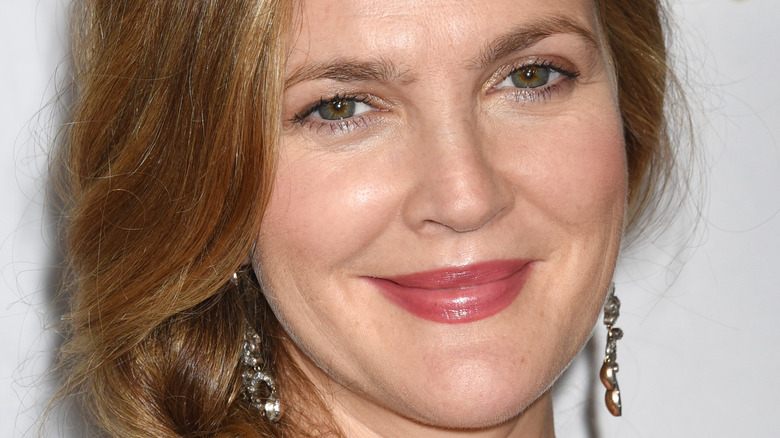 Ga Fullner/Shutterstock
In addition to being a movie and television star, a host of her own talk show, and an overall bubbly personality, Drew Barrymore has always been invested in makeup and style. The actor launched her cosmetics brand Flower in 2013 and continues to create new products and color ranges while keeping things minimal in branding and marketing. She told Harper's Bazaar in 2019, "I always say a smile is the best make-up ... and I think it really means that there's such power and beauty in being happy. I'll take a big smiling make-up-free face any day of the week." Praising no-makeup looks while running a makeup brand is a bold take, but an authentic one. Barrymore frequently discusses body image and positivity with guests of all kinds on her show, so it is no wonder segments of transformations pop up every now and then.
Chris Appleton — hair artist to stars like Jennifer Lopez and Barrymore herself — occasionally stops by "The Drew Barrymore Show" to talk about feeling good on the inside and outside while also giving viewers makeovers. In a February 2022 segment, he helped a mom-of-three get ready to head back to the office in style. Appleton shared that while working with clients who were experiencing motherhood for the first time, "It was possibly the most challenging times for a woman to re-identify herself ... you've gotta feel good about yourself to be able to give."
Now, Barrymore and Appleton have teamed up once again and the results are jaw-dropping.
Drew Barrymore looks runway-ready
There was definitely an air of some kind of spring awakening on "The Drew Barrymore Show" on March 29, as the host teamed up with two glam icons. Makeover segments have always been a fun way to engage with audience members and Drew Barrymore continues to highlight individuals looking for a refresh. This time, however, the "Never Been Kissed" star got her own all-in, fierce makeover. Hair stylist Chris Appleton and makeup artist Charlotte Tilbury came together to take Barrymore from natural to cover shoot-ready, per Allure.
The world-renowned talents of this expert duo have graced many notable celebrities, so naturally they are well-versed in Kardashian looks. Appleton revived Khloé Kardashian's brunette locks after her extended period of living for platinum blonde, and the reality star also uses Tilbury's Magic Cream as a skincare staple, having included it in her limited-edition IPSY Glam Bag in 2021, per People. When the glam squad worked their magic on Barrymore, it was a fun surprise to see how much she resembled Khloé.
Barrymore's hair has evolved in many ways throughout her career, but this time was kept classic in an extra long, caramel-highlighted, and effortlessly wavy style. Her makeup was flawless with smoothly-blended contour, highlight, and glossy pink lips that still held true to Barrymore's usual rosy shades. She looked confident in a designer black suit and the trio showed off the fun with a reveal video. We're going to need an in-depth tutorial for this stunning transformation!