Will Smith's Career Has Taken Yet Another Major Hit
DFree/Shutterstock
It's safe to say that Will Smith probably hasn't had the best day, the best week, the best month, or the best year for that matter. The Oscars 2022 ceremony was supposed to be one of the most memorable nights of his life as Smith won the Best Actor award for his role in the film "King Richard." However, Smith's decision to get up on stage and slap Chris Rock across the face after a joke the comedian made about his wife Jada Pinkett Smith overshadowed the moment.
Because of the slap heard around the world, Smith is now trying to save his career. One source close to the situation told The Sun, "Things are hanging in the balance," adding, "April 18 is D-Day, though — he will find out if he still has an Oscar, and quite possibly, a career. Production executives and studio chiefs do not want to be seen picking a side too early."
Well, it looks like Smith's future in the entertainment industry isn't looking so bright, as some of those production executives and studio chiefs have already made some pretty bold moves that are not seen as favorable for Smith. In fact, it seems like his Hollywood career is already in limbo, based on this latest update.
Will Smith's projects are reportedly put on hold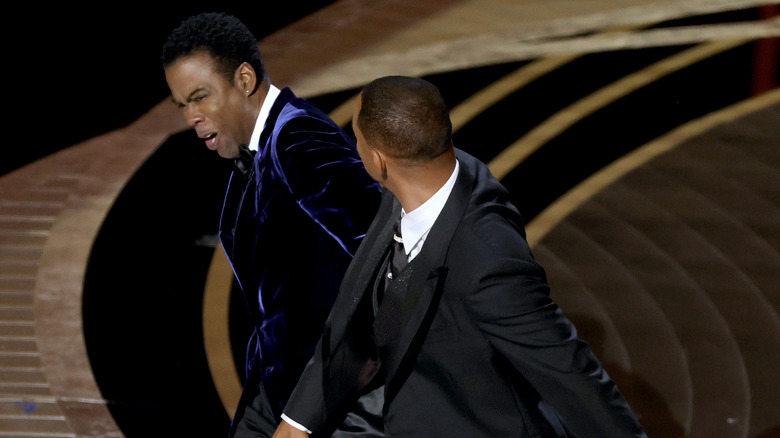 Neilson Barnard/Getty Images
While Will Smith does have several projects in the pipeline, there are new reports that suggest they are being put on hold. The Hollywood Reporter says that a few projects that have Smith's name attached to them — including Netflix's "Fast and Loose" and "Bad Boys 4" — are being put on the back-burner. However, it's unclear if movie execs simply want to wait until all of the rumors and reports around the Oscars slap die down or if they plan to give Smith the boot from his projects altogether. 
And while Smith continues to plead for everyone's forgiveness, that might not be enough. Reports say that Smith's past has reared its ugly head as some of the things he's said and done in the past have once again come to light. If that weren't enough, the actor decided to resign from The Academy. In a statement, Smith wrote that he felt "heartbroken" over the matter and that his "actions at the 94th Academy Awards presentation were shocking, painful, and inexcusable. The list of those I have hurt is long and includes Chris, his family, many of my dear friends and loved ones, all those in attendance, and global audiences at home."
Based on these recent updates, Smith may be hoping that the industry's memory is a short one, just so he can get back to work already.