Kourtney Kardashian's Choice Of Seat At The Grammys Is Raising Eyebrows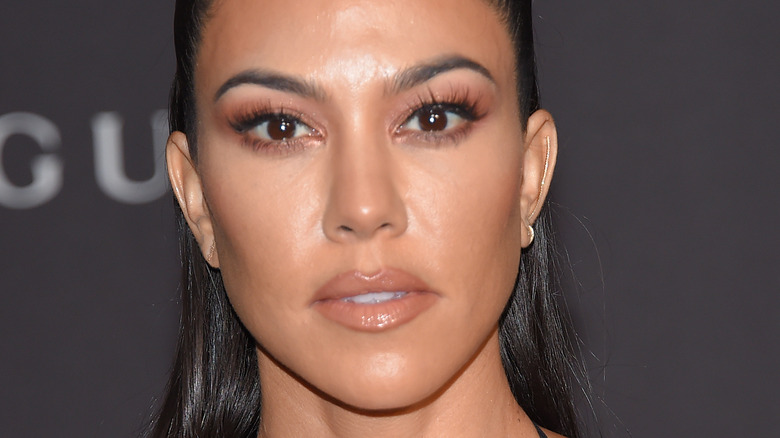 DFree/Shutterstock
Couples who publicly swap spit together stay together? 
In true Kravis fashion, engaged couple Kourtney Kardashian and Travis Barker arrived at the 2022 Grammys dressed to kill in matching black ensembles and sunglasses. But that's not all. The couple also commemorated their presence on the 2022 Grammys red carpet with a hot, steamy make-out sesh. Is anyone else noticing a pattern here? Yes? Us too. "do @travisbarker and @kourtneykardash only ever lick tongues? So confused," one curious Twitter user wrote. Meanwhile, another penned, "Every tongue photo of Kourtney Kardashian and Travis Barker I come across is against my will." A third user tweeted, "I would LOVE to not see Kourtney Kardashian and Travis Barker's tongues down each other's throats every time I open any social media platform..."
Alas, swapping spit was only the tip of the iceberg when it came to the affection on display from the famous couple. Once the show started, Kourtney turned many heads with an interesting seating move.  
Kourtney Kardashian sat in Travis Barker's lap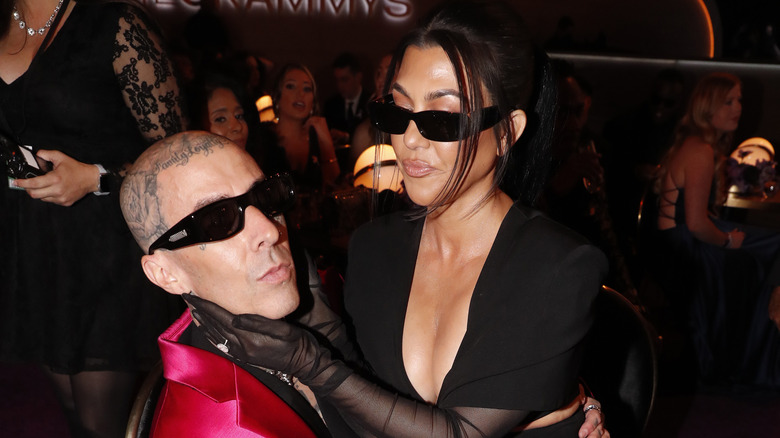 Johnny Nunez/Getty Images
Kourtney Kardashian, you can sit with us — and in your very own chair if you would like.
Eagle-eyed viewers at the 64th Annual Grammy Awards couldn't help but notice that the reality star opted to forego her own chair, cozying up in fiancé Travis Barker's lap instead. "Kourtney Kardashian sitting on Travis Barker's lap because the seat next to him was too far away #GRAMMYs," Barstool Sports "Chicks in the Office" tweeted from their official account along with a video of the moment the eldest Kardashian sister popped a squat in the famous drummer's lap.
Unfortunately, not everyone was thrilled with Kourtney's seating choice. "Seriously? Kourtney Kardashian is sitting on Travis Barker's lap at the Grammys like they in middle school," one user tweeted. Meanwhile, another wrote, "Lmao not @kourtneykardash insisting on sitting on @travisbarker's lap the whole show. We get it. You found love in the most hopeless place." Perhaps fans would rather Kourtney take heed to her sister Kim Kardashian's advice and get her a** up and move to her own seat.