Did Joan Collins Throw Subtle Shade At Jane Seymour's Plastic Surgery Claim?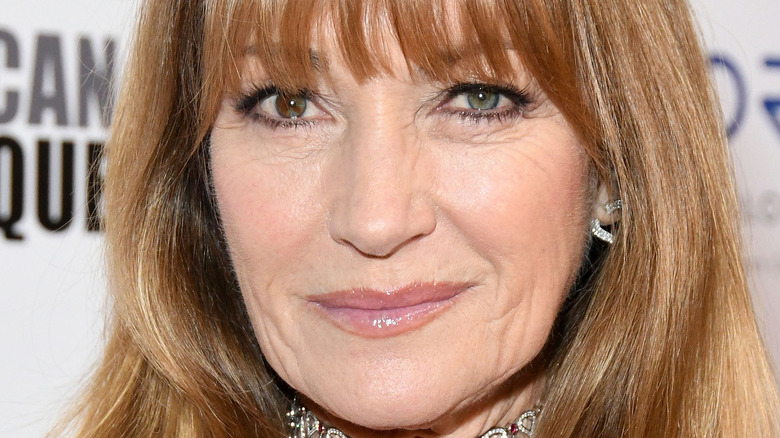 Quinn Jeffrey/Shutterstock
Jane Seymour made headlines for her comments on the work that she has had (or, in this case, allegedly not had) done. The "Dr. Quinn, Medicine Woman" actor spoke to the Daily Mail about her appearance, claiming she has never undergone any plastic surgery procedures, which isn't the norm in Tinseltown. "I am unusual in Hollywood in not having any work done, I only know one other actress who hasn't had it — though she might have now!" she shared. Seymour added that her job is one of the main reasons she hasn't had anything done to her body. "I felt as an actress I needed to have all the moving parts moving," she dished. "And I'm at the point in life where it's not all about looking perfect — it's about playing a character."
All seems fair, right? Well, there's just one problem. In a different interview in 2007, Seymour said that she had a few procedures done after giving birth to her twins, including breast implants. "I'd never had a big bust — I always say they had to make smaller implants just for me, but I wanted the shape back," she explained to People, according to the Daily Mail. "Clothes fit and look better. It was a good move." Seymour added that the implants were so small, the doctors had to "special order" them.
In the same interview, she also admitted to a minor eyelift. Now, Joan Collins is throwing some shade at Seymour for not telling the total truth.
Joan Collins slams Jane Seymour
There are a few people who have been questioning Jane Seymour's recent plastic surgery comments, including Joan Collins. In early April, the actor took to Instagram to throw some shade at Seymour. Collins shared a photo of herself smiling big for the camera (above). She sported a sequined top and drop earrings. In the caption of the shot, Collins seemed to refer to Seymour's interview where she denied going under the knife. "I am another #actress in #hollywood who hasn't had any 'work' done @janeseymour – there's many of us!" she wrote. 
As of this writing, it does not appear as though Seymour has commented on the post, but many other fans have. The majority of the 88-year-old's followers took a moment to comment on Collins' natural beauty. "Absolutely stunning! So many women who have work done all begin to look the same, way too plasticy!" one fan commented on the shot. "That's one of the reasons you look great! It breaks my heart when I see women of any age destroying their faces like they do. Natural is always better!" another social media user chimed in.
The actor's documentary is now steaming and in an interview with USA Today, Collins made sure to let people know that she's still thriving. "I live in the present," she gushed. "Absolutely. Every single day is a day that I want to fill with interesting things to do, something to achieve and something to enjoy." We love that!