The Grey's Anatomy Moment That Jesse Williams Remembers The Most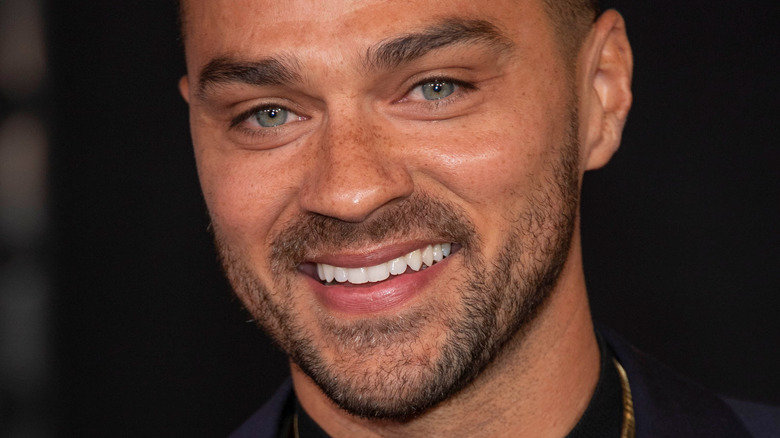 Eugene Powers/Shutterstock
Whether you feel like it has already been a lifetime since Dr. Jackson Avery left "Grey's Anatomy," or if you fondly remember all of the early drama like it was yesterday, there is no denying how much of a staple the character was during his 11-season run. Since his departure, Jesse Williams began exploring exciting new opportunities outside of Grey Sloan Memorial.
Even though there should be a significant period for fans to mourn the absence of one of their favorite characters, Williams hasn't shot down the idea of reprising his role in the future. He told ET, "I'd consider it ... He still exists in the world of the show. So, yeah, it's totally a possibility." With Ellen Pompeo's Meredith Grey as the lone torch remaining from the original staff, fans would surely appreciate some hope for continued nostalgia.
Williams reflected on being a part of the series for a decade in 2019 during a TODAY interview, and addressed the loyal and ever-growing fanbase. "Generations are watching this and experiencing, growing up with these characters together ... It's like real life, you're actually growing up alongside somebody, we are their peer group in many ways." Having so much of his career intertwined with the success of "Grey's," there are still meaningful and sentimental times that marked his tenure. Here is a little insight into one of those special throwback moments.
Jesse Williams called this Season 6 moment a 'turning point'
With over a decade of "Grey's Anatomy" memories, Jesse Williams speaks fondly of one standout moment during the Season 6 finale. The plot was a tense nail-biter as an active shooter heightened the drama of the episode, per Entertainment Weekly. After shooting Dr. Derek Shepherd and threatening the other staff members who were trying to help their colleague, Avery suggested waiting for the monitor to flatline. Satisfied by the sound, the shooter left them be, but Dr. Jackson Avery was the one to manipulate the monitor — an act that would save McDreamy.
"Once they gave that character that much impact and decision-making power in the show, it felt like a real turning point," Williams explained to PureWow. He had joined the cast for Season 6, but was not considered a series regular before this moment. This deeper development gave the actor new agency in his role and serious inspiration. "It was my first firm-footing and self-determination on the show. I'll never forget how that felt, doing it and feeling like I was finally feeling part of the squad."
Williams also revealed to Collider that when the shooter storyline was shared with the cast, he couldn't help but speculate the potential end to his brief time on the show. Signing on three episodes at a time definitely put his character in an expendable limbo, but Williams — along with his many fans — was relieved he got to stick around for a significant run.
Jesse Williams' jump to the big stage
With a large cast of familiar faces, "Grey's Anatomy" tends to lean heavily on the dramatics when a departure is in the works. Luckily for Jesse Williams, when it was his turn to leave the series, there was no tragic fate for his character. Dr. Jackson Avery's last shift at Grey Sloan was in 2021 as he moved to Boston — much less devastating than a deadly stroke, car accident, or plane crash!
Williams' decision to leave "Grey's" was a collaborative one and the actor felt good about his character's arc. "It really marks a journey for him," he told Entertainment Weekly on Avery's path to self-improvement. Getting the opportunity to witness him reconcile a sense of self while tackling topics of racial inequity in medicine, police brutality, and past traumas in his final episodes was a huge, cathartic evolution for the series.
Regarding his exit, Williams told The New York Times, "I needed to get out of my comfort zone, I needed to go into a very unknown place." His first step into the unknown was an ambitious shift to Broadway. Williams' quickly joined the cast for the revival of "Take Me Out" — a 2003 Tony-winning play. During a TODAY interview with co-stars Jesse Tyler Ferguson and Patrick J. Adams, Williams confirmed the pressure of his Broadway debut. "It's [a] really wonderful, thrilling, terrifying, exhilarating experience. It's a lot of work." This seems exactly like the challenge he was looking for.