How Sandra Oh And Kate Walsh Met Years Before Grey's Anatomy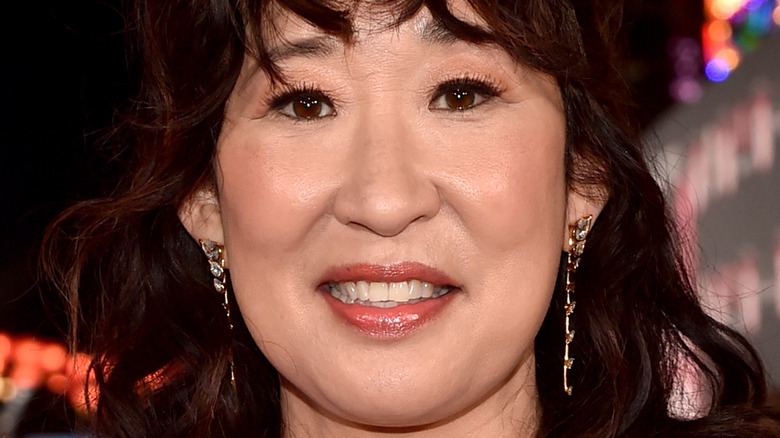 Alberto E. Rodriguez/Getty Images
Sandra Oh and Kate Walsh will always be recognized by "Grey's Anatomy" fans, since their performances throughout the original seasons shaped the show's legacy. Before the pair contributed to the drama and life-saving moments on the series, however, they had already worked together. 
With 18 seasons and no signs of stopping, the current "Grey's" cast is notably different as nearly all the veterans have left over the years except for Ellen Pompeo as Meredith Grey. The quick success of the show back in 2005 definitely affected its stars. Oh spoke with Willie Geist for "Today" about how she coped with stepping into the spotlight. "To be perfectly honest, it was traumatic," she laughed. "When one loses one's anonymity, you have to build skills to still try and be real." She noted needing time to adjust to her new level of celebrity and eventually no longer felt like she had to hide in public. One thing helps her manage the whirlwind: "I have a good therapist. I'm not joking ... It's very, very important."
Walsh also felt the shift in her rise to fame, opting for wearing sunglasses while going through airports after startling encounters with fans, per Women's Health. She also felt the impact of losing that sense of anonymity while sitting on the subway and people watching. Overall, Walsh and Oh seem to have a similar process of getting into character, which made their on-screen chemistry in their first project an excellent sign for things to come.
Sandra Oh and Kate Walsh were a movie couple
Sandra Oh and Kate Walsh had the opportunity of working together two years before signing on to "Grey's Anatomy." They played a couple expecting their first child in "Under the Tuscan Sun" from 2003, alongside Diane Lane. It is their canceled trip that pushes Lane to her adventures and new life in Italy. The role marked a pattern in Walsh's career at the time. She told Women's Health, "It was funny, that part came in the middle of a trilogy of lesbian roles for me ... is it because I'm tall?"
To celebrate her co-star's birthday in 2021, Walsh shared a small looped clip of their quick kiss from the film on Twitter. While some fans were curious where the clip was from, one commented, "still waiting on an under the tuscan sun prequel w/ both of you." They continued, "[I] don't care that y'all are older now than you were then it's fine."
Despite their brief on-screen moments together, Oh was featured more prominently as the lead's best friend. Network producers for "Grey's" saw her in the film and brought her in for the role of Christina Yang, per The Globe and Mail. This career move was tremendously successful, and with the quick addition of Walsh to the cast, it seems like "Under the Tuscan Sun" can be credited for featuring serious talent.
The impact Sandra Oh and Kate Walsh had on Grey's Anatomy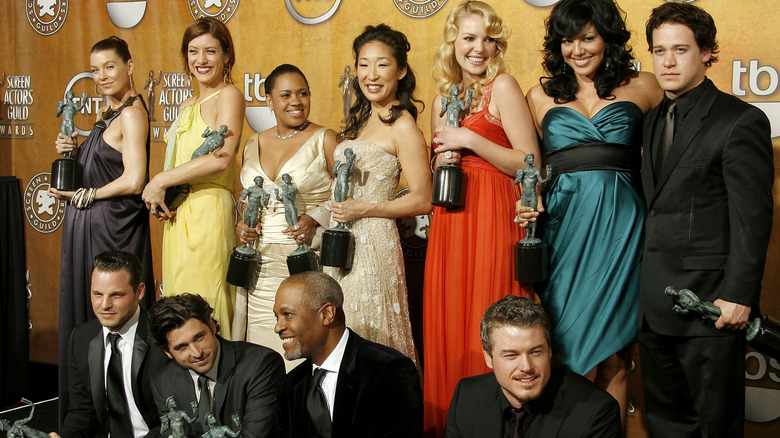 Vince Bucci/Getty Images
After being a staple to the series since its premiere, Sandra Oh was ready to say goodbye to Grey Sloan Memorial after 10 seasons. "One of the best days of my life as a writer happened the day [she] walked in my door to audition and forever changed the course of Grey's Anatomy with her brilliant, nuanced portrayal of Cristina Yang," show creator Shonda Rhimes shared with The Hollywood Reporter when Oh made her exit in 2014.
While the character was at the core of the ensemble for a decade, Kate Walsh had a different kind of impact. Her dramatic entrance to the show during the first season quickly changed the energy between Meredith Grey and Derek Shepherd. Dr. Addison Montgomery as McDreamy's estranged wife made things all the more complicated and fans loved it. Walsh stayed through Season 3 until her character went on to lead her own show, "Private Practice." The spin-off lasted an impressive six seasons, per Deadline.
Walsh reprised her role on "Grey's Anatomy" in 2021 after nearly a decade from her departure, and told ET it was a "completely surreal" experience. "It was so emotional and I think it will be also for the fans." As for Oh, there are no plans to make a return. On the "Asian Enough" podcast, she shared her joy of still being recognized and loved as the iconic character, but has officially "moved on." At least there are plenty of episodes in the archives to revisit.