Tom Brady Advertises What Kind Of Shape He's In Amid His Return To The NFL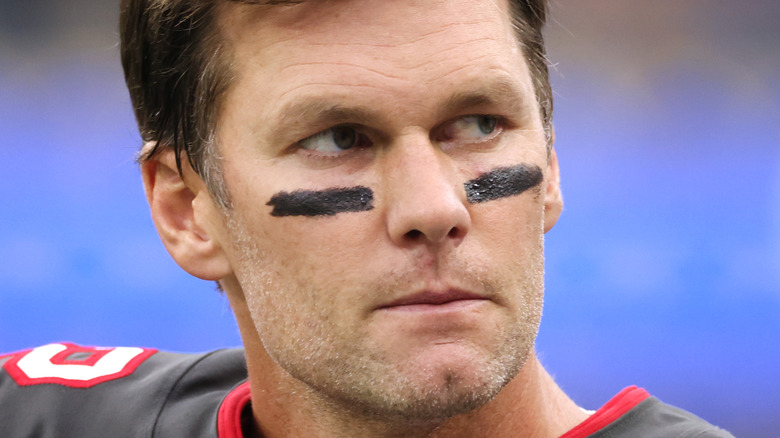 Harry How/Getty Images
Tom Brady looks like he's more than ready to make a triumphant return to the NFL.
In March, the legendary quarterback announced that he was not ready to leave the field after all. Only a little after a month since he announced his retirement, he took to Twitter to reveal that he still has "unfinished business" to fulfill in the league. "These past two months I've realized my place is still on the field and not in the stands. That time will come. But it's not now," he wrote. "I love my teammates, and I love my supportive family. They make it all possible. I'm coming back for my 23rd season in Tampa. Unfinished business LFG."
Brady didn't even think twice about his decision and made an announcement right after he made up his mind. "Once I made the decision, I knew I just wanted to get it out and move on to get ready for the season," he shared with Fox Sports. "So, I FaceTimed the guys to let them know I was coming back, and we discussed how best to put it out there." Now, it looks like Brady is really back and in better shape than he's ever been, as evident in a recent video that is making rounds on the internet.
Tom Brady reveals ripped body in new viral video
Tom Brady wants everyone to know that he's wasted no time preparing for his comeback to the NFL. In a video he posted on Instagram to show off what's latest from his clothing brand, he showed off his buff body, which just proved that he's in his best shape to play football once more.
In the clip, he pretended to break his phone by stepping on it, slamming his foot on the screen. But it didn't seem to bother him anyway, and in the end, he promoted his "zero weight track jacket" from the "Brady Brand." According to TMZ, Brady's current physique is a far cry from his former shape, as he used to be one of the least jacked guys in the league.
There are still a few months left before we see Brady conquer the field, but the Tampa Bay Buccaneers couldn't be more excited. "We are thrilled that Tom has decided to come back this season," general manager Jason Licht said in a statement. "Tom is the greatest quarterback of all time who is still playing at an elite level. With this decision now made, we will continue to move forward with our offseason plans to reload this roster for another championship run."