Jussie Smollett Digs His Heels In With Bizarre Song Advocating His Innocence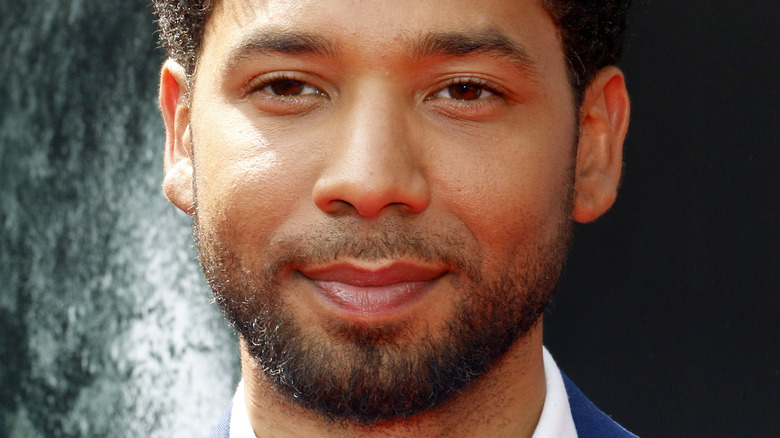 Tinseltown/Shutterstock
The Jussie Smollett case has more twists and turns than a pretzel. It all began in 2019, when Smollett claimed he was subjected to a racist and homophobic attack. The actor alleged two men punched him, tied a noose around his neck, and poured liquid on him. He said they referenced "MAGA" — Donald Trump's rally call — while assaulting him.
Shortly after the altercation, Smollett reassured people he was "OK" and thanked everybody for backing him. "The outpouring of love and support from my village has meant more than I will ever be able to truly put into words," he told Essence. Smollett's family quickly shot down the naysayers who doubted his version of events. "Jussie has told the police everything from the very beginning," they posted on Instagram. "His story has never changed, and we are hopeful they will find these men and bring them to justice."
Things took a bizarre turn after two brothers who had worked on "Empire" along with Smollett were arrested and released. Chicago PD tweeted they then wanted to speak to Smollett. He was charged with 16 counts of disorderly conduct, but the case was dismissed. He insisted he would continue to "fight for justice," while Chicago PD demanded Smollett pay for wasting their time. But Smollett was arrested again and ultimately found guilty of disorderly conduct and filing false police reports. "I am innocent! I am not suicidal!" he shouted as he was sentenced to 150 days in jail. Now, Smollett continues to dig his heels in with a bizarre song advocating his innocence.
Jussie Smollett isn't 'stupid enough' to kill his reputation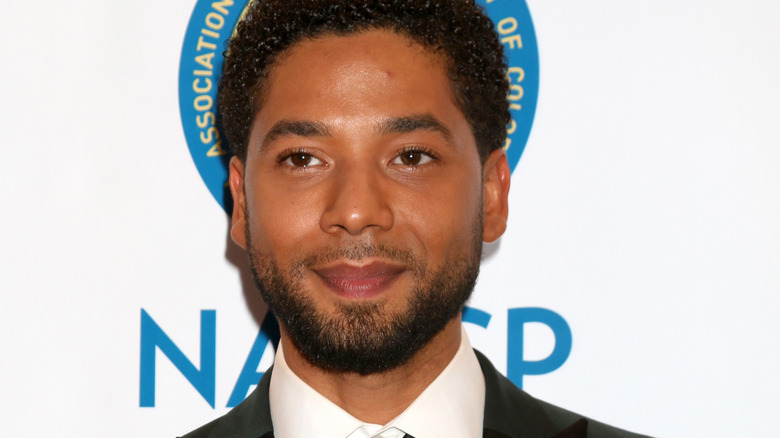 Kathy Hutchins/Shutterstock
Jussie Smollett's attorneys appealed his conviction; he posted bond and was released from jail after six days. Three weeks later, Smollett released a bizarre new song advocating his innocence. He posted a sample of "Thank You God" on his Instagram, along with a link to the whole song in his bio. Smollett vowed that "100% of the profits" would be distributed among the Illinois Innocence Project, The Rainbow PUSH Coalition, and Secure The Bag Safety.
In the nearly 6 minute-long track, Smollett continues to deny his guilt. "Some people chasing that clout. Just remember this ... this ain't that situation. You think I'm stupid enough to kill my reputation?" He raps. Smollett also rails against Chicago PD, insisting, "It's like they're hell-bent on not solving the crime."
Meanwhile, as he awaits his next court appearance and verdict, Smollett's career hangs in the balance. The actor was dropped from Season 5 of "Empire," pending the outcome of his case. "To avoid further disruption onset, we have decided to remove the role of 'Jamal' from the final two episodes of the season," the executive producers said in a statement, via Deadline. However, Smollett may have to wait a very long time for his appeal to reach the courts. "There are a lot of cases — it's always been that way," an Illinois criminal defense attorney told The New York Times. "And because he's not in custody, they're not going to be in a hurry to get to it."