Kendall Jenner May Have Been Kourtney Kardashian And Travis Barker's Earliest Supporter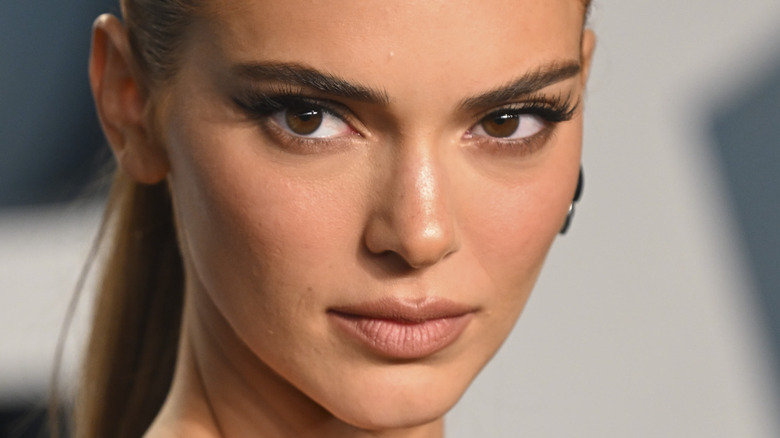 Karwai Tang/Getty Images
They're in love, and they don't care who knows it and we mean that in every sense! As Kourtney Kardashian's biggest fans know, she's moved far past her romances with Scott Disick and Younes Bendjima. The reality star and wellness mogul linked up with drummer Travis Barker in 2021, and they have been going hot and heavy ever since. By October 2021, Barker got down on one knee and proposed to Kourtney. "Forever," she wrote in an Instagram post that captured the stunning beachside proposal.
The reality star has made no secret that she's one smitten kitten, and she and Barker aren't shy about packing on the PDA. The lovers have also walked plenty of red carpets where they showed off their signature pose — licking each other's tongues. The rest of the Kardashian family is well-aware that the pair are totally into each other. Kris Jenner expressed her feelings about the romance during an appearance on "The Ellen DeGeneres Show." "They're so in love, they're the cutest couple, and they let us know that they are so in love. Constantly, you feel like they're the only two people in the room," she said.
And it seems like Kris is not the only member of the Kardashian-Jenner family who has a lot to say about the romance. Kendall Jenner was one of the earliest members to push the romance forward, and she's even a bit of a born matchmaker.
Kendall Jenner takes credit for pushing Kravis together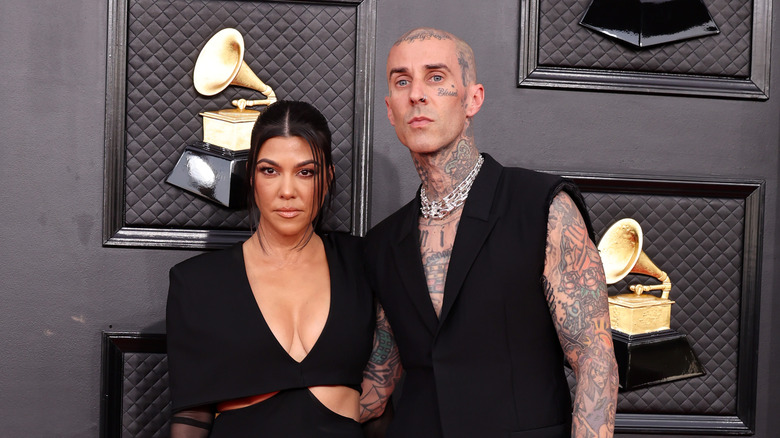 Amy Sussman/Getty Images
There's no doubt that Kourtney Kardashian and Travis Barker are crazy in love, and it turns out there's one person they should be thanking for their scorching romance. Kendall Jenner takes full credit for encouraging the pair to get together. Big sis Kourtney admitted to People that Kendall had been pushing the romance "for years."
"I have a secret psychic ability that nobody knows about it, and I knew it from very long ago. I always had a feeling and I would encourage her. Every day I'd be like, 'Just do it, just try! Just try," Kendall Jenner told the magazine. "Cause they were really good friends for so long," the model added, stating that there was nothing to lose. Khloe Kardashian shared the same sentiments, adding that it was just time for the two to take their relationship from a friendship to a romance. Maybe Kendall should play Cupid more often!
Now that they are engaged, Kourtney and Travis are looking to take their romance to new heights by expanding their family even further. In since-deleted clips from "The Kardashians," Kourtney confided in momager Kris Jenner, about the IVF process and how it's been a struggle, especially since she has to do it under the public eye. It will be interesting to see Travis and Kourtney's relationship in-depth on "The Kardashians."