Kim Kardashian And Pete Davidson Seem To Be Getting Closer To Another Famous Couple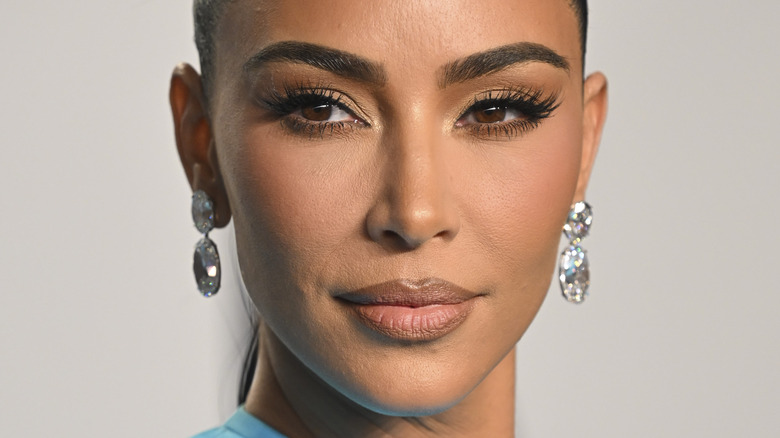 Karwai Tang/Getty Images
Kim Kardashian has been opening up about her romance with Pete Davidson like never before. The pair were first spotted together back in October 2021, and since then have managed to make their bi-coastal relationship work. During an interview with ABC News to promote the new Hulu series, "The Kardashians," the reality star admitted that life with Davidson has been nothing but bliss. "I wouldn't be with someone if I didn't plan on spending a lot of my time with them," she said, adding, "I'm very happy and very content, and it's such a good feeling just to be at peace."
After multiple private dinner dates in the comedian's native Staten Island this past winter (per ET Online), Kardashian and Davidson have been flaunting their relationship on social media with a lot of PDA recently. In a new series of cozy-looking Instagram photos from their latest date, Kardashian appeared to call Davidson her "late nite snack."
Now it seems like the new lovers are getting closer to another famous couple — two stars you wouldn't otherwise expect to see hang out with Kardashian and Davidson.
Kim Kardashian and Pete Davidson double date with a billionaire
Frazer Harrison/Getty Images
Kim Kardashian and Pete Davidson were spotted having a double date with none other than Amazon founder Jeff Bezos and his girlfriend Lauren Sánchez, Page Six reports. The two couples were spotted having dinner at A.O.C. in West Hollywood on April 11. Photos published by the outlet show Kardashian and Davidson looking absolutely at ease with one another as the "Saturday Night Live" star had his arms wrapped around the mother-of-four after their outing. But this isn't the first time that Kardashian and Davidson have dined with the former Amazon CEO and his partner. Kardashian and Davidson hung out at the billionaire's estate back on January 24, as detailed by People. 
While further details about this unlikely friendship between the two couples are unknown, it's safe to assume that the A-listers are enjoying each other's company after having multiple meet-ups already. Fortune reported on March 18 that while Davidson was set to be a guest on Bezos' Blue Origin trip to space, the comedian backed out of the voyage after public criticism of Davidson indulging the billionaire's expensive hobby. It's unclear if any future projects or collaborations have been discussed by all parties involved, but either way, there's no denying that this new celebrity friendship is out of this world!