Carrie Underwood's Husband Had The Most Relatable Reaction To Her CMT Music Awards Performance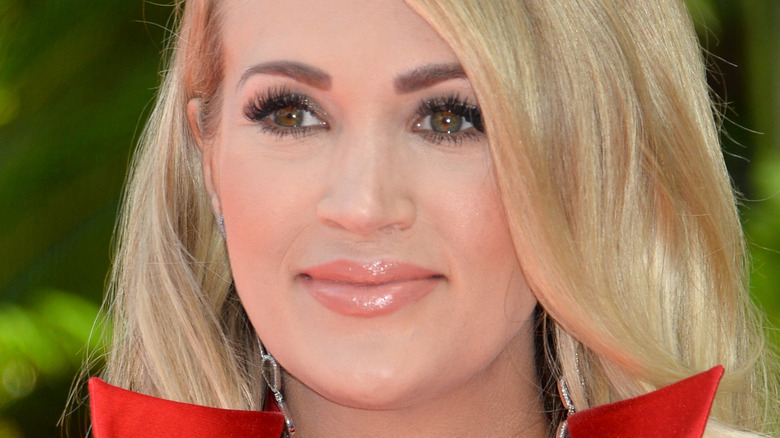 Featureflash Photo Agency/Shutterstock
Carrie Underwood left fans speechless after her aerial stunt at the 2022 CMT Music Awards, but one audience member was left on the edge of his seat for reasons other than sheer awe. 
According to Forbes, Underwood became the most decorated CMT awardee in the format's decades-long history back in 2017, and at the 2022 awards, she took home her 25th award. As such, it only makes sense that Underwood is one singer who is committed to pushing her career to new heights — in every sense of the word! "[I] will be doing something I've NEVER DONE BEFORE!" she teased on Instagram before her performance. 
The "Before He Cheats" hitmaker gave CMT viewers a taste of what she's been up to on stage in her Las Vegas residency show "Reflection," and the acrobatics didn't go unnoticed by fans. "CARRIE UNDERWOOD?? all that and she still hit every. single. note. i just might have to stan," one Twitter user raved about Underwood's gravity-defying performance. While Underwood's Vegas-inspired, pre-recorded performance of "Ghost Story" brought the house down at the CMT Music Awards, her husband, retired NHL player Mike Fisher, had a big reaction to his wife's stunt — and honestly, we couldn't relate more!
Carrie Underwood's performance shocked Mike Fisher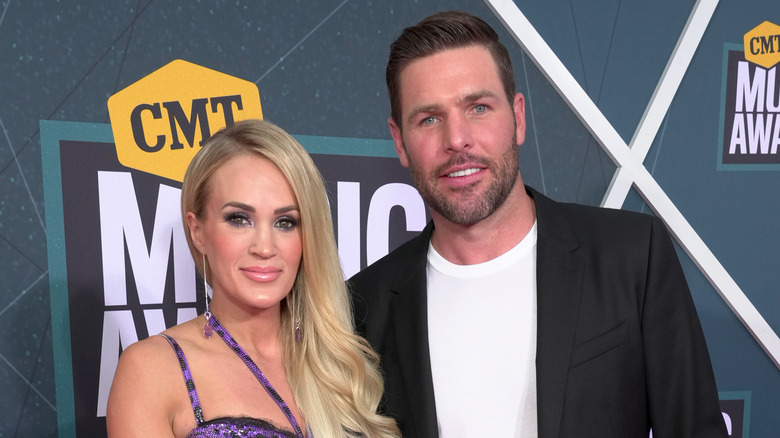 Kevin Mazur/Getty Images
Carrie Underwood took her CMT Music Awards performance of "Ghost Story" to another level by joining in with her aerialists, much to the crowd's delight. However, one viewer who watched the acrobatic performance with bated breath was Underwood's husband, Mike Fisher. Speaking to Entertainment Tonight, Fisher joked that he "was a little bit nervous" watching his wife soar alongside her Las Vegas residency aerialists. "I watched some of the [performance] when she first started to do it, but I mean that was crazy," he confessed.
Unfortunately for Mike Fisher's nerves, Underwood is outspoken about taking risks in the name of her artistry. "I love a challenge," the "American Idol" winner told "Today's Country Radio with Kelley Bannen" in March about pushing herself. "I want to tackle things that are too hard for me so that I learn how to do them and they're not hard anymore." 
Underwood joked about her competitiveness in her interview with Bannen, revealing that her drive to win has even prevented her from playing board games. The singer also revealed that it was precisely that competitiveness that helped her bond with hockey player Fisher, early on. "I'm not an athlete, but I feel like I do have ... that drive to get better and to push yourself," she shared. Underwood's CMT Awards performance wasn't the first time she left Fisher "nervous," and it's not likely to be the last, either — but something tells us these two daredevils are okay with that!