What Kind Of Wedding Do Kourtney Kardashian And Travis Barker Really Want?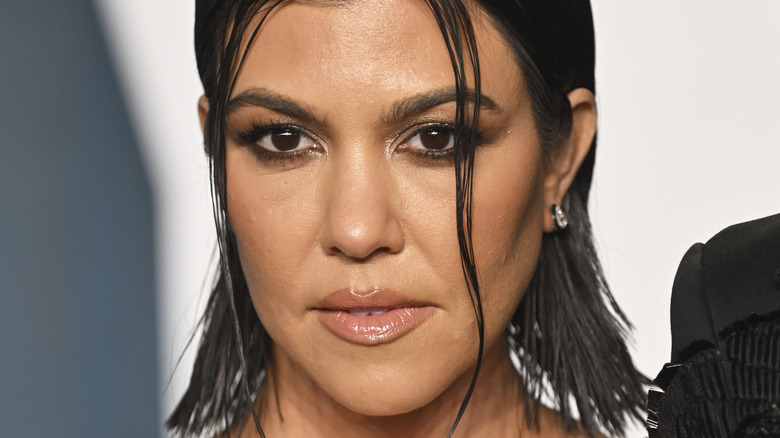 Karwai Tang/Getty Images
Kourtney Kardashian and Travis Barker have finally unveiled how they want their wedding to be — the actual wedding, this time around.
It was just in early April when the reality star and the Blink-182 drummer famously tied the knot in Las Vegas straight after the 2022 Grammy Awards. While the wedding ceremony wasn't legitimate due to the lack of a marriage license, the two still had fun and made it seem like it was legally binding. Marty Frierson from One Love Wedding Chapel told Us Weekly the couple opted for the One Love Affair package, which included the ceremony, flowers, a song of their choice, photos, and a 24-hour concierge. They had even paid extra to have an Elvis Presley impersonator officiate their wedding. "Once upon a time in a land far, far away (Las Vegas) at 2am, after an epic night and a little tequila, a queen and her handsome king ventured out to the only open chapel with an Elvis and got married (with no license)," Kardashian wrote in a post on Instagram. "Practice makes perfect."
Clearly, the two have plans on having a legitimate ceremony in the future, but according to a source, their second wedding isn't what people might imagine it would be.
Kourtney Kardashian and Travis Barker prefer to have an intimate wedding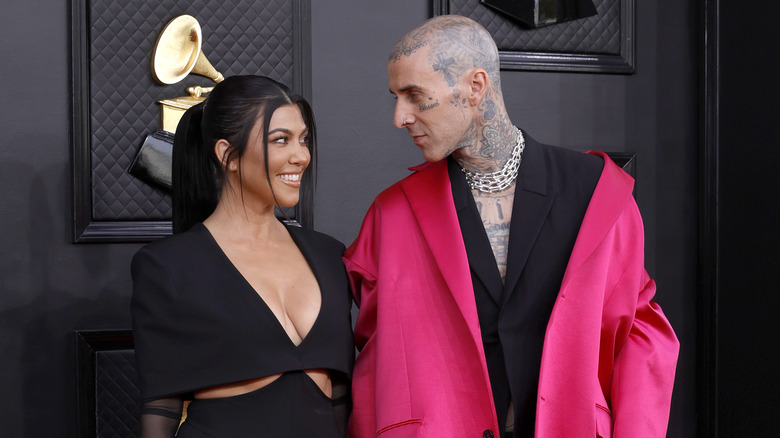 Frazer Harrison/Getty Images
Kourtney Kardashian and Travis Barker don't plan on having a lavish wedding like Kim Kardashian's multi-million dollar weddings to exes Kris Humphries and Kanye West. Just like their Las Vegas elopement, the couple just wants to have an intimate ceremony with their closest family and friends.
"They don't want a big wedding. They want an intimate ceremony and party for family and close friends," an insider told People. "Kourtney's family wants to be a part of it." And since Kourtney has never been married before, she wants her family to "throw her a bridal shower, a bachelorette party and celebrate as much as possible." The Kardashian clan is also apparently glad that her Vegas wedding wasn't real.
Still, that doesn't mean that Kourtney and Barker never attempted to have a shotgun wedding. The Poosh founder said on "Jimmy Kimmel Live!" that the only reason why they didn't get married for real was that no one would issue them a marriage license in the wee hours of the morning. "There was no possibility to get a marriage license at that hour," she said, adding that they went in thinking that they could have a proper wedding in Sin City at any time. "I'm like, are you guys lying? We asked five times. What do we have to do to make this happen? It was 2 a.m. and they were like, 'It opens at 8 o'clock,'" she added. "We just did it anyway. It's what's in the heart."