Tom Brady's Oldest Son Jack Is His Twin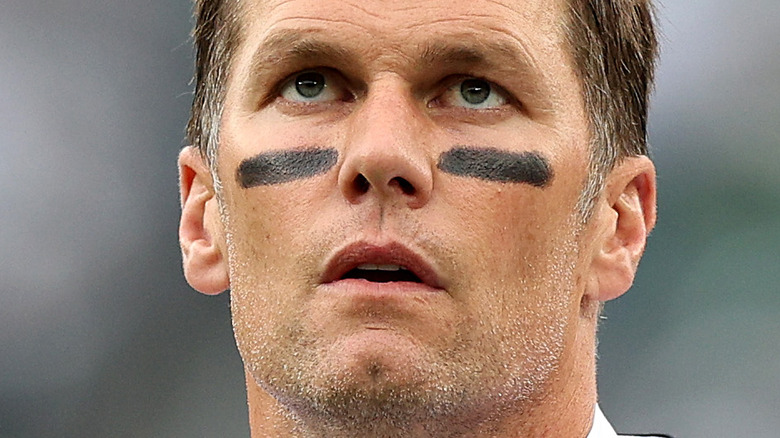 Elsa/Getty Images
Tom Brady is never shy about being a family man. He is a father of three, sharing Benjamin and Vivian with wife Gisele Bündchen, and his oldest son Jack with actor Bridget Moynahan. Naturally, the question of kids following the legacy of their talented and very famous folks can create a good amount of pressure, but it seems like Jack has always been athletic. In 2017, however, Moynahan said on "Live Kelly" that her son was more interested in soccer and swimming than playing football, but things seem to be shifting as he gets older.
With an easy love of many sports, the teen got a step closer to the world of football by assisting during Buccaneers practices. Jack's work as the team's ball boy meant more valuable father-son time. "The more I get to do with him the better it is," Brady said at a media availability in 2021, according to NBC Sports. "We have a great time together and it's really a treat for me to have him. He thinks it's fun but it's probably way better for me having him out here. It's really, really cool."
Now, a year older and following Brady's reinvigorated return from retirement, Jack is looking more and more like his dad and continues to explore sport interests. Could this be the early phases of a run for the NFL?
Tom Brady's son Jack may be following in his steps
Tom Brady has shared another sweet family moment to social media. The NFL star posted a few photos and clips of an active day with his eldest son Jack on Instagram. When the two stand together, Jack is already catching up to his dad's height at the age of 14. The duo is all smiles in a short clip of their basketball game and in another, Jack throws a football to Brady — the one man that could definitely offer some helpful pointers.
"Dad still wins for now.. I don't love my chances next year though," the quarterback wrote in the caption. Fans cannot get over how much Jack looks like the football pro. One person commented, "Twinning!!!" while another wrote, "That boy is going to turn 20 and people will ask if he's your brother."
On an episode of the podcast "Let's Go! with Tom Brady, Larry Fitzgerald and Jim Gray," the quarterback expressed wanting Jack to attend his alma mater, University of Michigan. Gisele Bündchen told her husband to pump the brakes on pushing his son in any specific direction, however. He recalled her saying, "Just let him be what he wants to be, for God's sake." That is some sound advice, but practice with dad and experience on the field may be enough to point the next generation of Brady in that direction.