How Ed Sheeran Made Ends Meet Before Making It Big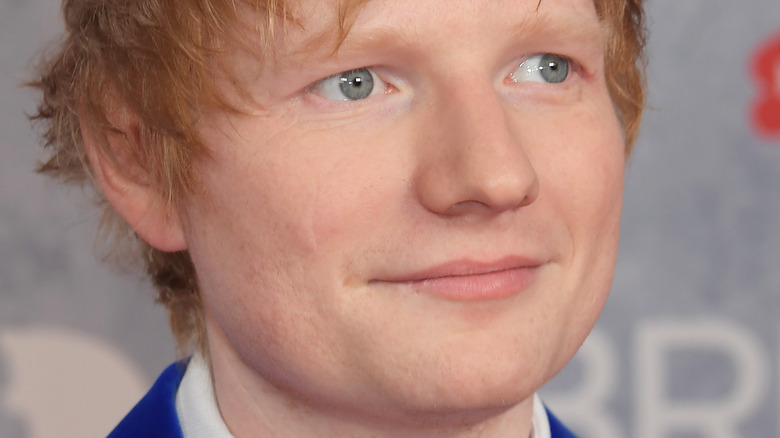 David M. Benett/Getty Images
While some celebrities are born into fame and fortune, others have to work their way up. While it's surely difficult to imagine a time when Ed Sheeran wasn't selling out stadiums, his journey to the top of the charts (and fans' hearts) wasn't without its challenges. That being said, in an interview with the Sunday Mirror (via NME), Sheeran noted that he believes people can learn "way more from failure than ... from success."
He went on to say, "I have played Wembley Stadium and I've played a bar in Swindon to one person. And playing the bar in Swindon taught me more than Wembley Stadium." Sheeran's likely played quite a few bars in his time as it took a while for someone to take a chance on him. In his book, "Ed Sheeran: A Visual Journey," Sheeran revealed that he made his first album, "Spinning Man," back in 2004. However, it wouldn't be until 2011 that he caught his big break following the release of his debut studio album "+."  
Initially lacking the privilege and connections to have an easy ride in the music industry, the British singer-songwriter made it over time on pure talent, dedication, and doing whatever it took to make ends meet.
Ed Sheeran was a street performer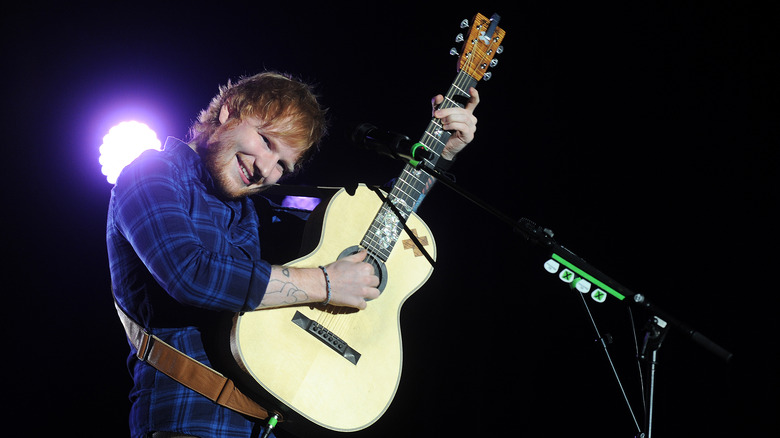 yakub88/Shutterstock
While a lot of people's introduction to Ed Sheeran was likely his 2011 debut single "The A Team," a lucky few got to hear his voice long before. Throughout his up-and-coming years, Sheeran amassed crowds by singing and playing on street corners, in bars, and even in railway stations.
An old YouTube video shows him performing at St. Pancras International, a railway station in London, as passersby become entranced with the then-unknown musician. In an interview from the same day, a humble, pre-fame Sheeran ironically said, "My music doesn't really hit everyone. Otherwise, I'd be a very lucky man. It should hit some people today, hopefully." 
Despite his unknown status at the time, the crowd seemingly picked up on his potential and was clearly feeling his energy. "You know, you see a lot of people can be quite bored and irritated waiting in a busy station. It's good to get some good quality music while you're waiting," one spectator said. It's unknown how much money Sheeran received from his busking gigs, but they clearly built an early fanbase and increased his visibility. Soon enough, he would graduate to actual venues, small at first and growing over time.
Ed Sheeran couch-surfed at this celeb's house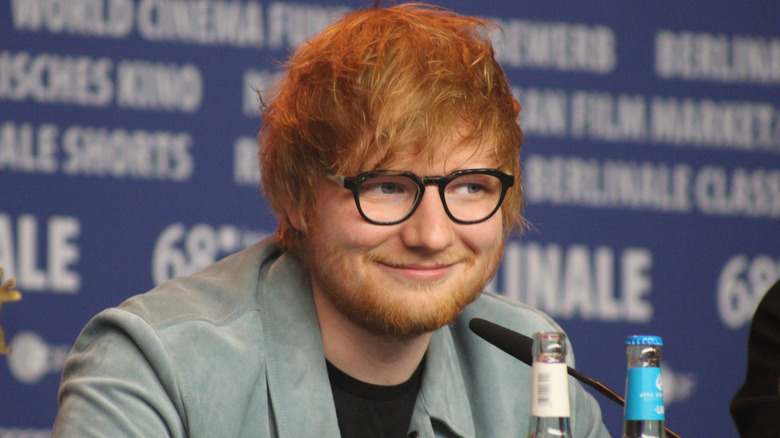 T.O.Pictures/Shutterstock
Ed Sheeran has said the homelessness claims about him during his rise to fame were "taken out of context" (via Capital FM), but he has admitted to couch-surfing and even sleeping outside of Buckingham Palace some nights. In 2014, he told MTV, "There were moments I wanted to give up. The nights that you don't have a couch to sleep on or you don't have money in your pocket, or food in your stomach or a charged phone, those become the nights where you reassess your situation."
However, Sheeran got lucky when one of his first Hollywood friends offered him a place to stay. "I had Ed Sheeran sleep on my couch for six weeks," Jamie Foxx shared during a 2017 Entertainment Tonight interview. "Before he made it, he came to my crib." So, how did the singer-songwriter come to find himself at Foxx's pad? "I didn't get off the plane and get a cab to [Foxx's] house, though. I had already lived on different people's couches for about a month before that," Sheeran said during a 2014 appearance on "The Bert Show."
He continued, "I met his manager when I played his venue, The Foxxhole, and his manager was like come on [Jamie's radio] show. So I did the show, and then [Foxx] gave me his email. And there was some dodginess as well involving other people and I had to escape that, which is why I went to his house." 
It's safe to say that Sheeran has come a long way since his days of singing in railway stations and sleeping on couches.