Alec Baldwin Reveals The Real Reason He Keeps Having So Many Children
lev radin/Shutterstock
Hilaria Baldwin, wife of Alec Baldwin, is once again pregnant, making this baby number seven for the couple, according to People magazine. In addition to Alec's oldest child, Ireland Baldwin, who he shares with ex-wife Kim Basinger, the actor is father to Carmen, Rafael, Leonardo, Romeo, Eduardo, and María Lucia — who is just over a year old. If you were wondering why the Baldwins keep procreating, as many critics on social media have, Alec has a relatively simple answer. 
The Baldwins have weathered plenty of controversy in recent months. There was the revelation that Hilaria, despite her Spanish accent, is actually from New England and has apparently just been pretending to be from Spain. And then there was the tragic incident on a film set, in which Alec fired a gun he did not know was loaded with real bullets and killed cinematographer Halyna Hutchins. 
In the grand scheme of bad press, having a whole lot of children seems pretty low-stakes. But it was at least one controversy that Alec seemed more than prepared to address. 
Alec Baldwin posted a video of his daughter to Instagram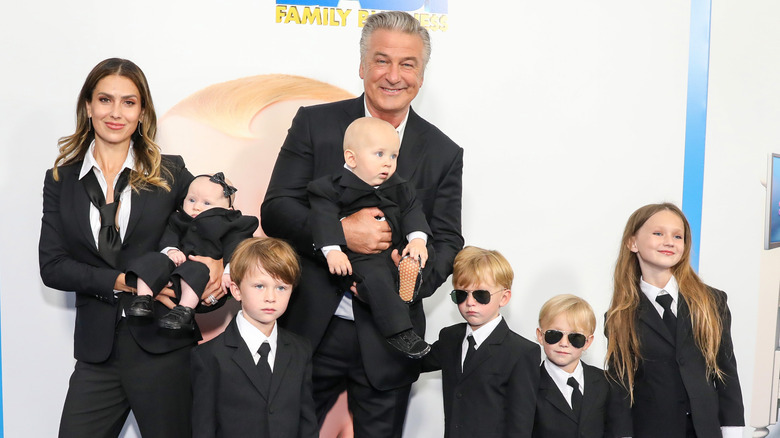 Monica Schipper/Getty Images
Taking to his Instagram, Alec Baldwin responded to the critics who want to know the reason he and wife Hilaria Baldwin keep having so many babies. The actor posted a sweet, 30-second video of his baby daughter Maria, who is seen giggling on the floor and grabbing at the camera. "People ask why," Baldwin wrote in the caption. "This is why." He added, "Being a parent is the ultimate journey." 
It's truly a difficult video to hate on. Look at that little face! The actor's brother Billy Baldwin commented, "The smile, giggles, joy..." And other fans agreed. One person wrote, "When people ask me why, I always respond with 'why not?'" One fan commented, "There's no such thing as 'too many babies.'" 
Of course, that doesn't mean everything is always smooth sailing. Hilaria herself wrote candidly on her Instagram that she's a little nervous about her pregnancy because she's experienced a miscarriage before. "As I approach the time when I lost the second baby in 2019, at 16 weeks, I get more nervous," she wrote.