Jennifer Lopez Will Never Have To Worry About Sienna Miller Stealing Ben Affleck
Tinseltown/Shutterstock
Ben Affleck has a well-established habit of falling in love with his co-stars, and now he's engaged to one of them for the second time: He popped the question to Jennifer Lopez (again) with a gorgeous green diamond ring. But long before Bennifer 2.0 broke the internet and brought us back to the era of trucker hats and velour tracksuits, Lopez and Affleck tried to convince us turkey talk was sexy in the 2003 movie "Gigli." Unfortunately for the lovebirds, moviegoers and critics alike didn't gobble-gobble up the rom-com.
In a 2016 TimesTalks conversation, Affleck reflected on the reaction to the movie. "It could have been a bad movie no one cared about. ... But it was because I was dating Jennifer Lopez that made it a big f***ing deal," he lamented, according to Harper's Bazaar. But knowing the pitfalls of getting romantically involved with a co-star hasn't stopped him from doing it. He even became so smitten with Jennifer Garner when they filmed 2003 superhero flick "Daredevil" that he married her. Affleck and Gwyneth Paltrow consciously coupled up shortly before filming "Shakespeare in Love," and before reconnecting with Lopez, he dated his "Deep Water" co-star, Ana de Armas.  
In 2015, Affleck and his "Live by Night" co-star Sienna Miller also sparked romance rumors when they were seen clasping hands on the set of the film while the cameras weren't rolling, per E! News. But now, Miller is making it abundantly clear that she has no romantic interest in Affleck.
What Sienna Miller said about her sex scenes with Ben Affleck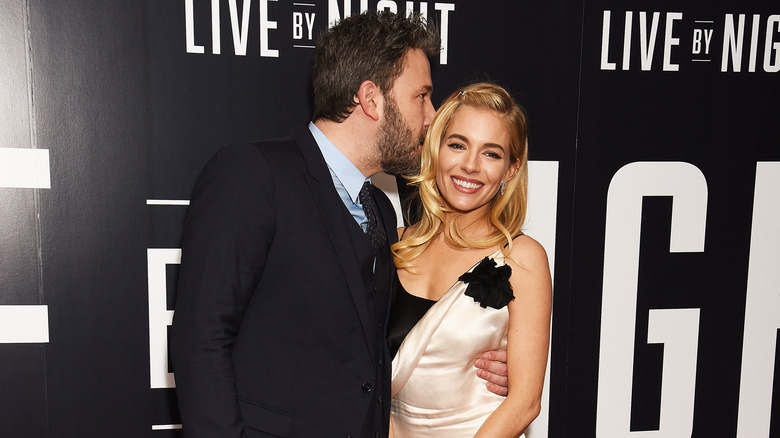 Dave J Hogan/Getty Images
Sources denied that there was anything going on between Sienna Miller and Ben Affleck, per People, but while promoting "Live by Night" in January 2017, Miller made some comments about their sex scenes raising a few eyebrows. Affleck also wrote and directed the film, so he was responsible for the racy content. "There was a montage in the script saying we did it everywhere: in the car, in the bar," Miller told E! News. "Obviously, by the time nine hours of it has gone past, I was shaking with tears running down my face." In an interview with "Good Morning Britain," she later clarified that they were tears of laughter, not frustration.
During an April 13 appearance on "The Drew Barrymore Show," Miller confessed that she had to work extra hard to make those love scenes believable because she found them so hilarious, citing the size difference between Affleck's "enormous head" and her own as one reason she found them so funny. "We had zero chemistry whatsoever. It was hysterical," she further explained. "We were supposed to sort of be in love; we could not be less attracted to each other, which was hysterical."
Miller added that she would work with Affleck again, but his fiancée Jennifer Lopez clearly has nothing to worry about. However, Affleck seems to disagree with Miller about their onscreen connection. "We do have good chemistry. I love her," he told Hey U Guys in January 2017. Poor Ben!