Rosie Perez Reveals She Had Her Own Spat At The Oscars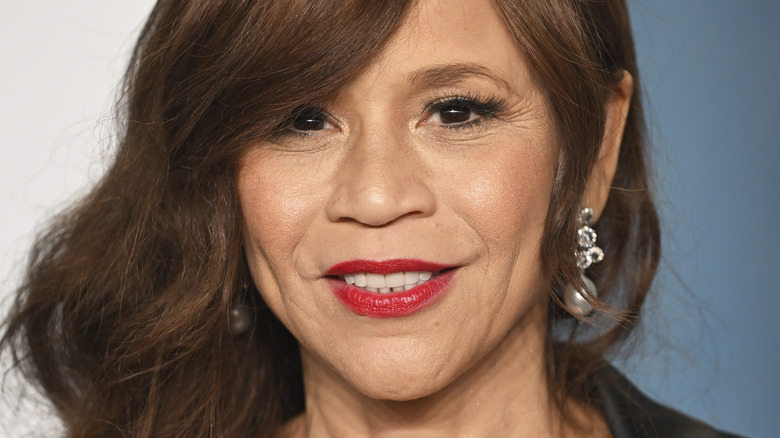 Karwai Tang/Getty Images
The 2022 Academy Awards will surely go down in pop culture history for many reasons. It was a night of historic wins, such as Ariana DeBose's win as the first openly queer Afro-Latina, plus Troy Kotsur as the first deaf actor to win an Oscar for Best Supporting Actor, per CNN. Then there's the memorable hosting job done by Amy Schumer, Regina Hall, and Wanda Sykes that led to a few standout jokes. Who could forget Schumer calling Kirsten Dunst a "seat filler" or Hall's extremely awkward joke on some of Hollywood's good-looking stars?
But of course, Hollywood is still reeling from Slapgate, as it's been called, from Will Smith. After Smith slapped Chris Rock for his "G.I. Jane" jab at Jada Pinkett Smith, the Oscar winner took it upon himself to resign from the Academy of Motion Picture Arts and Sciences. Then on April 8, the Academy slapped Smith with a 10-year ban from its award show and any other events. Despite the slap heard around the world taking over headlines for weeks, actor Rosie Perez has something else to say about that infamous night.
Rosie Perez was 'p****d off' at her White Man Can't Jump co-stars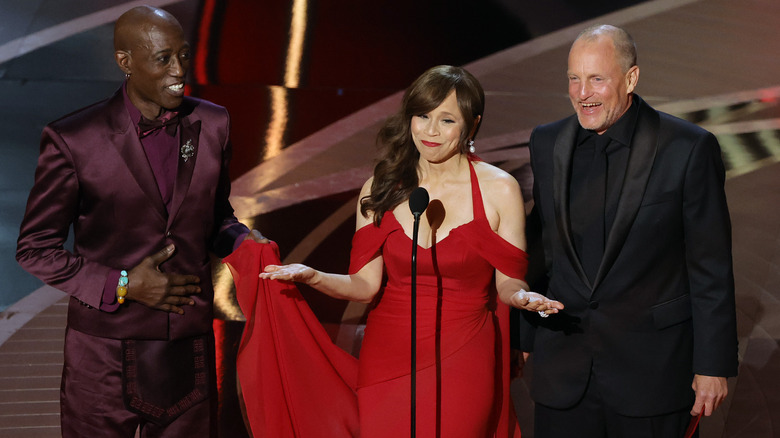 Neilson Barnard/Getty Images
Now that the dust is finally starting to settle on the Will Smith and Chris Rock incident, Rosie Perez has shared her own Oscars row. Perez reunited on stage with her "White Men Can't Jump" co-stars, Woody Harrelson and Wesley Snipes, to present the award for Best Cinematography. But backstage, Perez had one simple request for her fellow presenters, which they hilariously failed at. On April 14's episode of "The Daily Show with Trevor Noah," Perez quipped that she was "p****d off" at her Harrelson and Snipes. She explained, "Because I just said to them, 'I have a train, just pick it up ... fluff it, let it go, and let me walk out.' They said, 'OK.' And then I see on the playback they were holding it the whole time." As to why the two decided not to let go of her train, Perez said, "They were high off their a***s."
In all fairness, the two did admit to being high while on stage presenting. "I wish I hadn't done that bong rip in the car," Harrelson joked at the Oscars. Snipes added, "And I wish I hadn't rode with you." At least Perez looked gorgeous with her train up and down!