Here's What We Think Treat Me By Chloe Bailey Really Means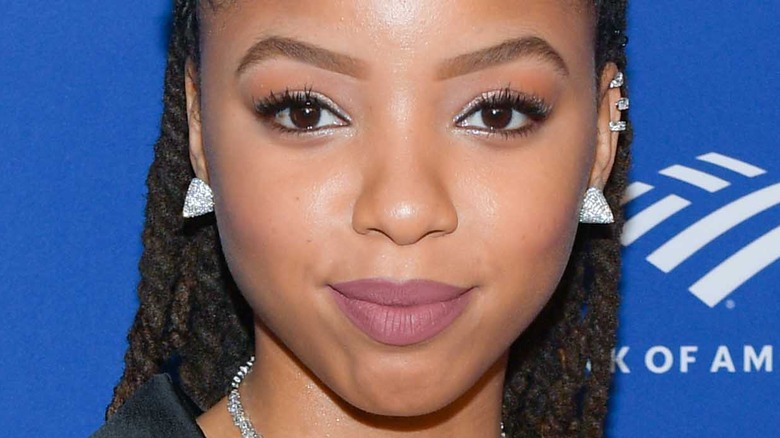 Matt Winkelmeyer/Getty Images
If you've been keeping up with the emerging pop-R&B artists of today, chances are you've heard of Miss Chloe Bailey. Since the early 2000s, the young talent has made her mark in the entertainment industry. As a child, she starred in numerous films, including "Last Holiday," "Meet the Browns" and "The Fighting Temptations" alongside the legendary Beyoncé, per IMDb. But aside from her notable acting credits, Bailey has truly shined as one half of the music duo Chloe x Halle. 
After uploading their now-iconic rendition of Beyoncé's "Best Thing I Never Had," the sisters skyrocketed to fame within the music sphere. Since then, fans have enjoyed three EPs and two albums, including their 2020 sleeper hit "Ungodly Hour."
Even though Chloe x Halle's star continues to rise, the eldest sister has taken steps to expand her music catalogue as a solo artist. After numerous teases, Bailey made her empowering solo debut with her single "Have Mercy." In an interview with Genius, she revealed that the track was inspired by criticisms she received for her Instagram posts and attire. "I was feeling frustrated because people thought I was doing too much," she said. Six months have passed since the release of "Have Mercy" and Bailey is showing no signs of slowing down with her latest track, "Treat Me." 
Chloe Bailey shared the song's empowering message on Instagram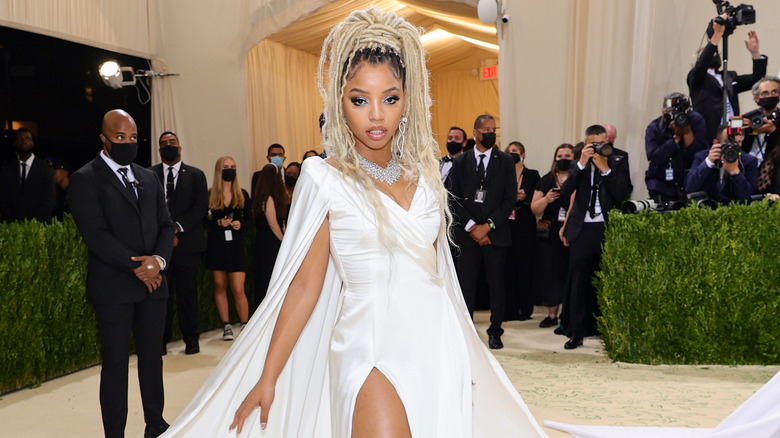 Theo Wargo/Getty Images
Like her debut solo record, "Have Mercy", "Treat Me" opens up with empowering lyrics about self-love and knowing your worth. "You know you'd go broke tryna handle me," she teases. "Take it from someone who know how to handle me." Before the song hits the pre-chorus, Bailey warns her partner that they'll have to do "alotta a**-kissing," before stating that she has someone else who takes the "time to listen" — which gives off major "Irreplaceable" vibes.
Once the chorus hits, Bailey demands to be treated like she treats herself. "Love me like I love me complete and deeply, now," she sings. In the second verse, she continues to showcase a confident demeanor that is not only inspiring, but also infectious. "Exceptional. You know anything less is unacceptable," she exclaims. Bailey then admits to having a "flexible" attitude, but in the same breath says it can only go so far. "Don't get me wrong, I'm flexible. but only in all the ways my legs can go." At the end of the verse, she tells her partner to "wake up" and put her on a "pedestal."
The track's accompanying music video perfectly encompasses Bailey's lyrics, with glamorous shots of the singer in intricate outfits and performing sultry dance routines. It's safe to say that Bailey's message of self-love and unapologetic confidence is broadcasted loud and clear throughout the record.
Treat Me continues Chloe Bailey's journey toward her debut album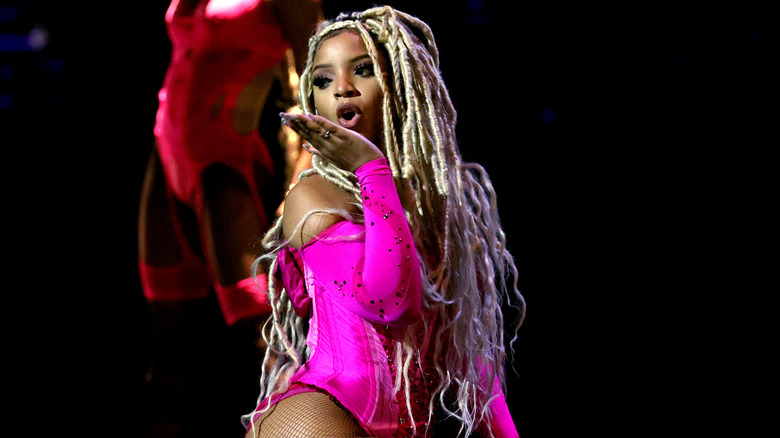 Theo Wargo/Getty Images
Like her beloved single "Have Mercy," fans were first introduced to "Treat Me" via social media. On March 2, the singer debuted the first sneak peek at the single — which sampled Bubba Sparxxx's hit track, "Ms New Booty" — with a glamorous clip from its accompanying music video. During the 2022 Grammy Awards red carpet, the songwriter finally revealed that the single is a self-love anthem. "It's just about self-love and loving ourselves and not really needing or relying on a man to treat us the way we deserve to be treated," she told the Recording Academy.
Even though the star has yet to reveal if the song is based on a particular person, some have speculated that it might be about her rumored boyfriend Gunna. According to Bustle, the two musical artists have been connected since October 2021. From canoodling at basketball games to flirtatious shopping sprees, the duo has been the talk of the town. But, during an Instagram Live on April 4, Bailey gave a cryptic explanation regarding the song's meaning and its theme.
"Ladies and gentlemen, have you ever been with somebody who ain't giving you what you need? Who ain't putting in the work?" she said. "Sometimes, instead of getting fed up, just walk away. Do it yourself, get yourself some flowers, love yourself. That's where I'm at right now." With the release of Bailey's new single, the singer is proving she will treat us to hit after hit.