The One Major Regret Tom Holland Has About Andrew Garfield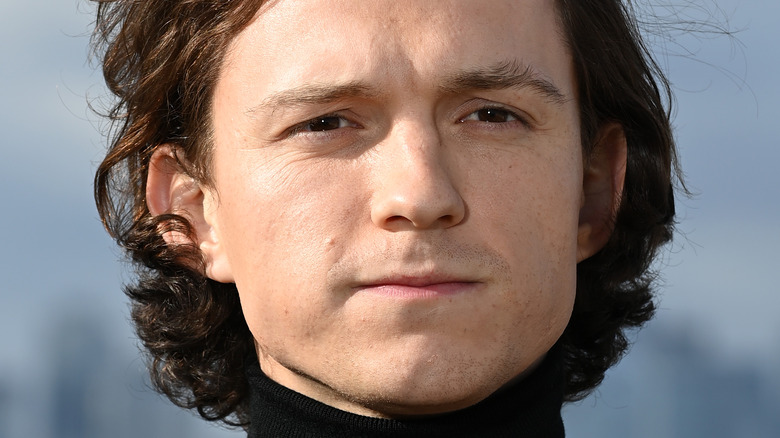 Pascal Le Segretain/Getty Images
"Spider-Man: No Way Home" has managed to smash record after record since its release in December 2021. It raked in a whopping $1.8 billion at the global box office, making it the sixth-highest-grossing title worldwide, and that's not even including numbers from Chinese cinemas, per Deadline. It stayed strong at No. 1 for six weeks at the domestic box office, only second to "Avatar," which had seven No. 1 weekends. It's a film so beloved by audiences across the globe that one man even watched a total of 292 times, breaking the Guinness World Record for "most cinema productions attended of the same film," per CNN.
Part of the reason "No Way Home" clinched records was apart from the exciting plot; it also brought together the three actors who brought Spider-Man or Peter Parker to life: Tom Holland, Andrew Garfield, and Tobey Maguire. Fans were delighted to see the three sling spiderwebs at bad guys simultaneously on the big screen. The movie showed great rapport among the actors, but according to Holland, he was initially afraid of possible tension that would happen among them, especially between him and Garfield.
Tom Holland wished he 'made amends' with Andrew Garfield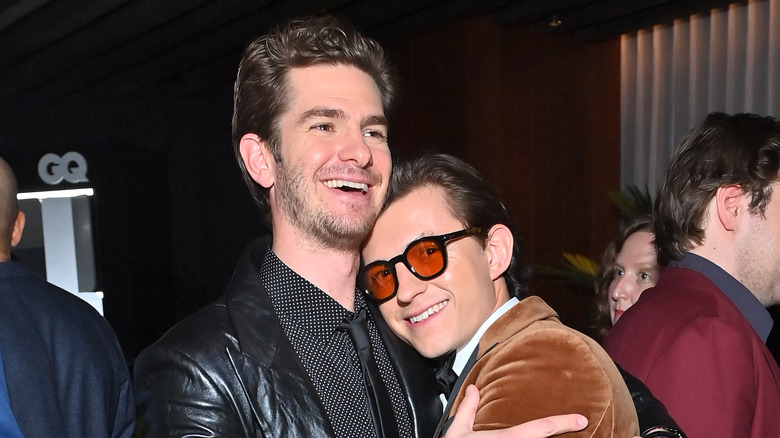 Stefanie Keenan/Getty Images
If there's anything Tom Holland regrets the most in his ongoing stint as everyone's favorite web-slinging hero, it's that he didn't get the chance to reach out to Andrew Garfield, the actor who passed the baton to him.
Garfield had starred in "The Amazing Spider-Man" series, but only got to play Spider-Man twice after Sony's plans for a trilogy had been scrapped. Holland took his place and starred as the new Spider-Man in the Marvel Cinematic Universe, but prior to taking on the role, he said that he never got the chance to have a chat with his predecessor, which greatly bothered him. "Something I can look back on now with a little bit of clarity and regret is that I never called [Garfield] when I took over as Spider-Man," the actor told The Hollywood Reporter. "Had someone said to me after my second movie that I was done and this other kid was taking over, I would've been heartbroken."
Luckily, Holland got the chance to work together with him in "Spider-Man: No Way Home," and he took that as an opportunity to do what he initially sought to do. "So looking back, I wish I had the chance to make amends with him, but this film was our opportunity," he said.
Andrew Garfield got to redeem himself in No Way Home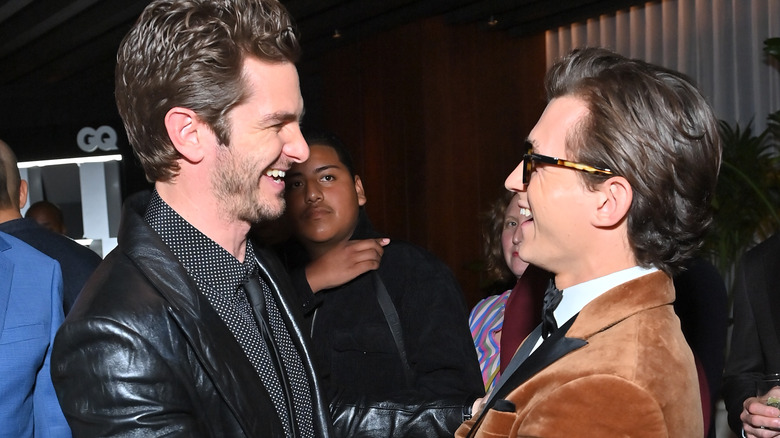 Stefanie Keenan/Getty Images
Tom Holland no longer feels any remorse now that he got the opportunity to work directly with Andrew Garfield. The actor shared that his predecessor took advantage of the film to redeem himself as Spider-Man — not just for the fans, but for himself, too.
"It was not only an opportunity for him to make peace with the character and the studio, but it was also an opportunity for me and him to have this moment where we realize we could share this thing," Holland told The Hollywood Reporter. "The look on his face when he saves Zendaya is totally genuine, and I'm really proud of him." And now that Garfield eventually got to reprise his role as Spider-Man, many are wondering if he would finally get to do "The Amazing Spider-Man 3" as originally planned. Apparently, Holland is one of those fans wishing for another installment.
"I would love to see 'The Amazing Spider-Man 3,'" he told ComicBook.com. "I think what was so wonderful was how Andrew was able to kind of make amends with the character and the studio, you know, to kind of win the general public back." No studio has confirmed yet, but fans can take comfort in the fact that Garfield is interested in reuniting with his "spider brothers," Holland and Tobey Maguire. "I would love to continue working with Tobey and with Tom," he said on the "Happy Sad Confused" podcast, calling their dynamic "so juicy."