Why Amber Heard's Friend Was Kicked Out Of Johnny Depp's Trial
Ovidiu Hrubaru/Shutterstock
The following article includes allegations of domestic abuse.
Amber Heard's ongoing legal troubles with her ex-husband Johnny Depp continue to get messier. On April 9, Heard posted a rare public statement to her Instagram about her drama with Depp. "I have always maintained a love for Johnny and it brings me great pain to have to live out the details of our past life together in front of the world," she wrote in the text post, before announcing she will be withdrawing from social media for a while during his court case against her.
Depp is suing Heard defamation, citing his career woes as attributable to a 2018 Washington Post Op-Ed she wrote where she called herself a survivor of domestic abuse, without naming Depp has an abuser. "I never named him, rather I wrote about the price women pay for speaking out against men in power," Heard wrote in her IG statement, "I continue to pay that price, but hopefully when this case concludes, I can move on and so can Johnny."
The case, which comes after Depp lost his libel suit against The U.K. Sun for calling him a "wife beater" (per People), has already made headlines for its who's-who of possible celebrity witnesses, including Tesla CEO Elon Musk. Now someone from Heard's camp has caused a stir by actually being tossed from the courtroom permanently. 
Eve Barlow was ejected from the courtroom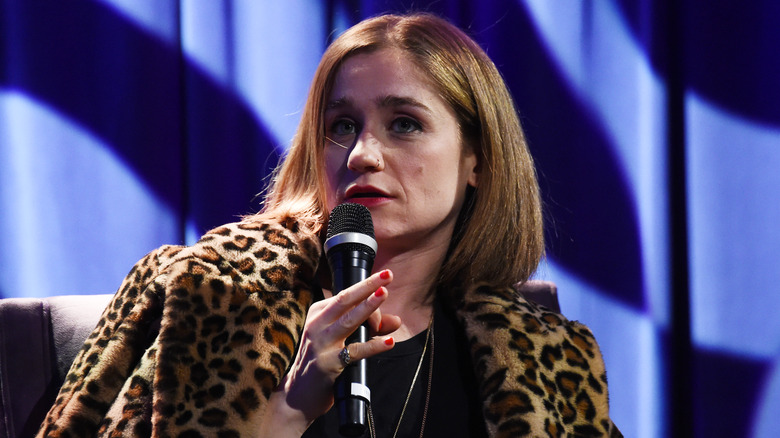 Amanda Edwards/Getty Images
Amber Heard's close friend and former NME journalist Eve Barlow was reportedly thrown out of the courtroom on April 14 for texting and tweeting in the front row of the court during the proceedings, Page Six reports. The outlet spoke to court sources and insiders, who said, "Amber had her closest journalist friend sit front and center — with her legal team — at the trial, live-tweeting, texting and posting information. Eve Barlow seems to think she's part of Amber's legal team. Depp's lawyers finally had enough and had her barred from the courtroom."
The outlet also quoted the official court transcripts where Judge Azcarate said, "She was tweeting live from my courtroom ... and I know the deputies took her out because she was texting. That's against the court order. Ms. Barlow is not coming back into the courtroom during this trial." Yikes!
Last week, more courtroom proceedings raised a few eyebrows when Depp was seen smirking at the notion that he is "obsessed" with Heard's ex-boyfriend, SpaceX CEO Elon Musk, per The Independent. Footage of the smirk went viral on social media, with many people joking about the live-stream footage on Twitter. Needless to say, the courtroom drama of Depp vs. Heard is nowhere near over.
If you or someone you know is dealing with domestic abuse, you can call the National Domestic Violence Hotline at 1−800−799−7233. You can also find more information, resources, and support at their website.