Darcey And Stacey Silva Stun Fans With Their Latest Transformation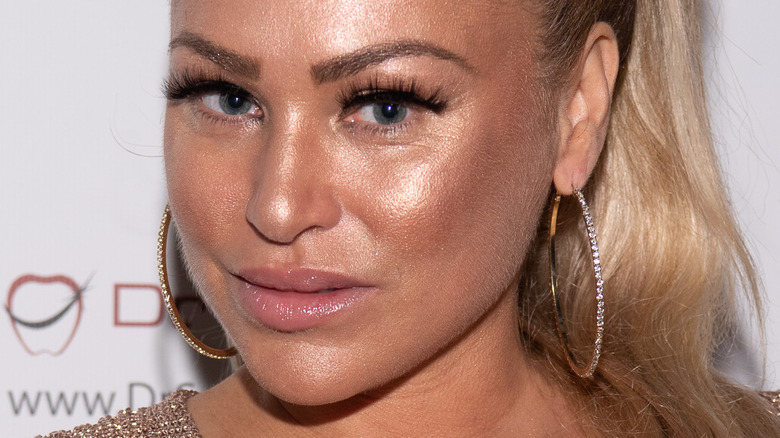 Dave Kotinsky/Getty Images
While some couples on the TLC juggernaut "90 Day Fiancé" are utterly forgettable, there are other couples with whom fans love to keep up2. One of the more popular duos from the show isn't even a romantic relationship. It's the sisterhood and "twin-tuition" of twins Darcey and Stacey Silva.
From their first 2017 appearance on the spinoff "90 Day Fiance: Before the 90 Days," the twins from Middletown, Connecticut, stole audiences' hearts, though Darcey appeared solo through most of those first two seasons, navigating life with her then-boyfriend from Amsterdam, Jesse Meester. Perhaps because of their 19-year age difference, the relationship didn't last long, and Darcey returned in Season 3 with new beau, England-born Tom Brooks, who was closer to Darcey's age. However, that relationship was doomed as well — perhaps because Brooks never even wanted to do the show — and they split shortly after Season 3 ended. But Darcey's sister Stacey also joined "Before the 90 Days" in Season 3 while dating her long-term boyfriend and eventual husband Florian Sukaj. Darcey eventually found temporary love with Georgi Rusev, though they too went their separate ways in February 2022 (per Us Weekly). But the real relationship fans love to follow is that between Darcey and Stacey. In 2020, they landed their own of many "90 Day Fiancé" spinoffs, "Darcey & Stacey."
Though audiences think they know their favorite twins, Darcey and Stacey recently had even more plastic surgery and are totally unrecognizable ... and not necessarily for the better.
Fans are worried about Darcey and Stacey Silva after their latest surgeries
Twin sisters Darcey and Stacey Silva have gone under the knife many times before. But their latest plastic surgeries have fans shocked — and worried. The two are not only unrecognizable, they've crossed over to "ridiculous," per Page Six, and fans worry they're taking things too far. They both received several surgeries from Turkish surgeon Dr. Kerim Ünal, including liposuction, boob lifts, cheek lifts, and most alarming to fans, "fox eye" surgery to elongate their eyes. The results have fans concerned... at least the nice ones are.
"Want to scare your kids for Halloween this year? Book a Darcey & Stacey Cameo! Your kids will be terrified.. and probably never sleep again," one commenter tweeted. Another replied, "They are going to have to change the name to 'House of Horrors.' ... They look like aliens!" Another said, "They have as much movement and facial expression as a burn victim. This is self-mutilation at its most expensive," and included the hashtag #farceyandfakey. One funny (but mean) commenter on an Instagram screenshot said, "Leatherface called he wants his mask back."
Reddit users were more concerned for the twins, with one warning of the "increasingly more dangerous and risky" surgeries, saying, "It's not a game." Another expressed concern that Darcey "has Body Dysmorphic Disorder," saying "I don't think she has a grasp of reality at all." An Instagram commenter agreed, saying, "She needs actual mental help, this is a disorder," and asked TLC "to help her get treatment." We hope she does.