Blac Chyna's Alleged Behavior Toward Rob Kardashian Is Way More Disturbing Than We Originally Thought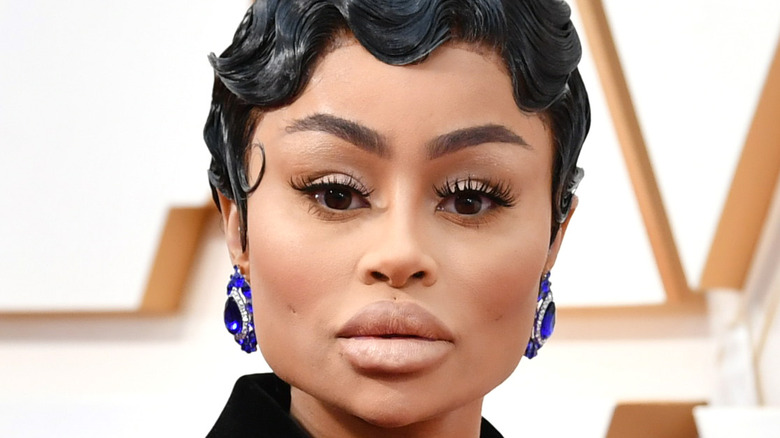 Amy Sussman/Getty Images
This article contains allegations of domestic abuse.
More shocking revelations about Blac Chyna and Rob Kardashian's previous relationship have come to light thanks to their legal teams' opening statements in Chyna's $100 million defamation trial against the Kardashians.
The famously family is currently embroiled in a lawsuit with the model after Chyna accused them of purposely ruining her reality TV career. Chyna claims that Kris Jenner, Kim Kardashian, Kourtney Kardashian, Khloé Kardashian, Kendall Jenner, and Kylie Jenner, banded together to get the second season of "Rob & Chyna" canceled. Rob himself sued Chyna back in 2017, alleging she assaulted him, though he eventually dropped the lawsuit.
Both parties failed to agree to a settlement, leading to the case being escalated to court. According to Chyna's lawyer, Lynne Ciani, the influencer is grateful to have the opportunity to defend herself. "After over 4 [and a half] years, Chyna is very thankful to be one week away from proving to a Los Angeles jury that all four defendants — Kris Jenner, Kim Kardashian, Khloé Kardashian, and Kylie Jenner — abused their power to get her No. 1 hit show cancelled," Ciani told Rolling Stone. "Chyna went from being the star on E! 's No. 1 hit show at $92,500 per episode, to being off the airwaves entirely." The hearings have since kicked off, and per the opening statements, it seems as though there's truth to the Kardashians' claims that Chyna had mistreated Rob when they were together.
The Kardashians' lawyer claims that Blac Chyna was abusive toward Rob Kardashian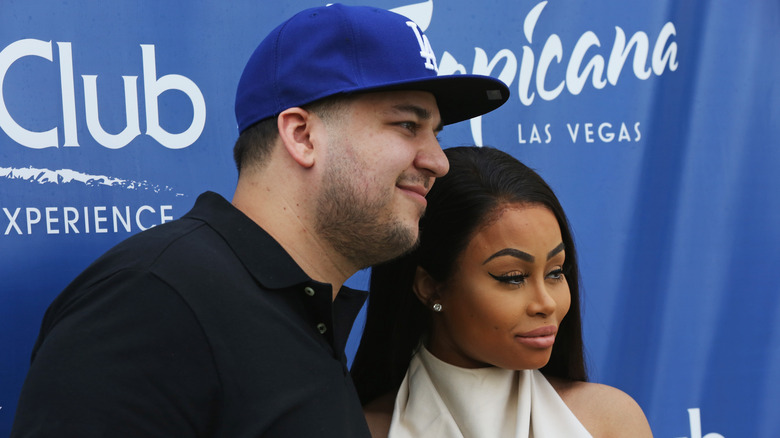 Gabe Ginsberg/Getty Images
Blac Chyna was adamant that she had never laid a hand on Rob Kardashian, but per Michael Rhodes, the Kardashians' lead attorney, they have enough evidence to prove that she exhibited violent behavior towards her ex. An incident from December 2016 was brought up, and it was revealed that Corey Gamble, Kris Jenner's boyfriend, had to intervene in one of Rob and Chyna's fights where Chyna had reportedly physically hurt Rob.
TMZ also notes that the lawyers told the court that Chyna tried strangling him with a phone cord, held him at gunpoint, and threw a chair at his car as he attempted to get away via his vehicle. "There's no doubt that she was physical with Mr. Kardashian," Rhodes said, per Rolling Stone. "This is a sad story, how it happened. Look where we are ... We've come full circle. There is no 'Rob & Chyna' show unless there's a Rob and Chyna. This isn't the Chyna Show. This isn't the Rob show. Controversy does sell — but this is now verging on domestic abuse."
Meanwhile, in her statement, Chyna's attorney, Lynne Ciani, claims that these accusations are false, and were only fabricated to aid in Chyna's downfall. "Chyna wanted to bring the 'real' back into reality TV and a real relationship has its ups and downs," Ciani said, per Page Six. "Kris Jenner falsely told them [network executives and production] that Chyna beat the s*** out of Rob's face and asked to take her off the show."
If you or someone you know is dealing with domestic abuse, you can call the National Domestic Violence Hotline at 1−800−799−7233. You can also find more information, resources, and support at their website.