Ellen DeGeneres Reveals The Exact Moment Her Friendship With Michelle Obama Began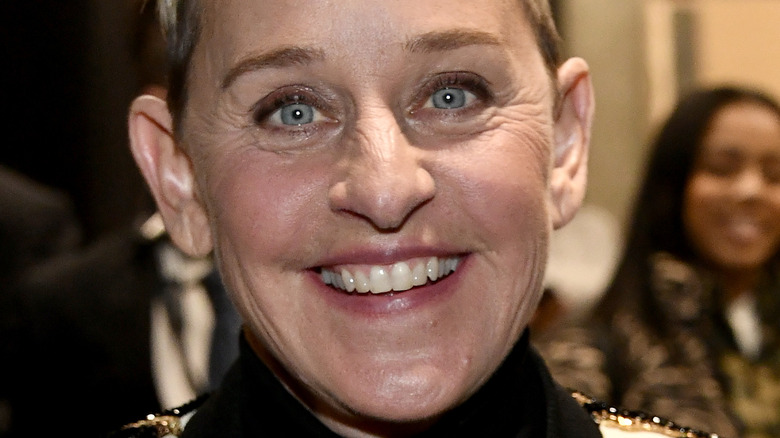 Frazer Harrison/Getty Images
Television host Ellen DeGeneres and former first lady Michelle Obama have a very tight-knit friendship. Obama has appeared on "The Ellen DeGeneres Show" several times over the years, and the two have a lot of fun whenever they meet up. This includes when Obama visited DeGeneres' show in 2012, and they competed in a push-up contest against each other, which Obama won. She later returned for the comedian's 60th birthday in 2018 and presented DeGeneres with some treats, including the gag gift of a push-up equipment kit. "This gives you the perfect push-up ... I don't need it, so I don't know how it works," Obama joked as she gave DeGeneres the present.
The pair shared additional meaningful friendship moments, such as when they gave Apple computers and a new basketball court to middle school students in Washington, D.C. for "Ellen's Greatest Night of Giveaways" in December 2019. "When I look out at all of you, I see a room of future doctors, and teachers, and engineers and presidents. And I want to make sure that you have the tools you need right now," Obama said as she announced these gifts to the students and faculty members.
Before the pals teamed up for collaborations like this one, DeGeneres and Obama shared a heartfelt moment that initiated their friendship.
Michelle Obama and Ellen DeGeneres bonded during an emotional ceremony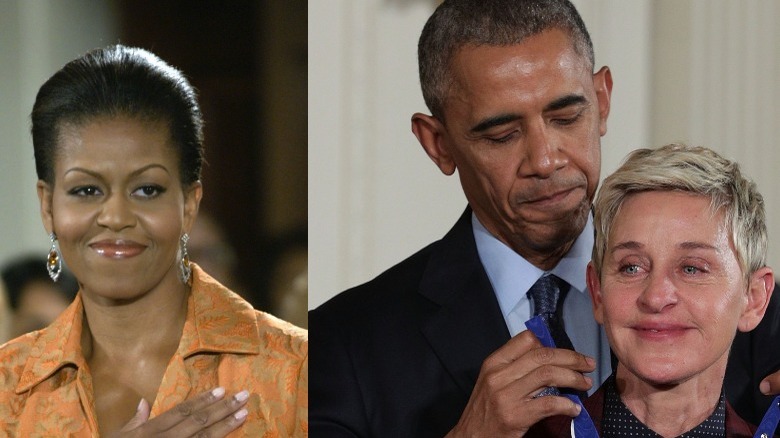 Alex Wong/Getty; Everett Collection/Shutterstock
The start of Ellen DeGeneres and Michelle Obama's friendship was revisited by the two celebrities as they recently sat down for an interview together. Although they'd met prior to this occurrence, the pair connected on a deeper level when DeGeneres was one of 21 recipients of the Presidential Medal of Freedom in 2016, per Variety.
Having this honor bestowed upon her made DeGeneres get emotional, and she and Obama acknowledged each other during this moment. "Of all the people in the audience, I locked eyes with you," DeGeneres said to Obama on "The Ellen DeGeneres Show" in April 2022, before adding, "You kind of got tears in your eyes, I got tears in my eyes. And then I just started sobbing ... It touched me and it started our friendship."
This loyal companionship that was kickstarted at this time continues to this day. During the pandemic, DeGeneres documented a call she made to Obama to check on her close friend and her family members. "Always brightens my day to get a call from my friend Ellen, especially on this rainy Monday at home. It's good to know that even when we're apart, we've still got each other," Obama wrote on Twitter in response to a video of the 2020 call. It's nice to see these celeb companions have each other's backs through all of life's moments!