The Truth About Johnny Depp's Friendship With Marilyn Manson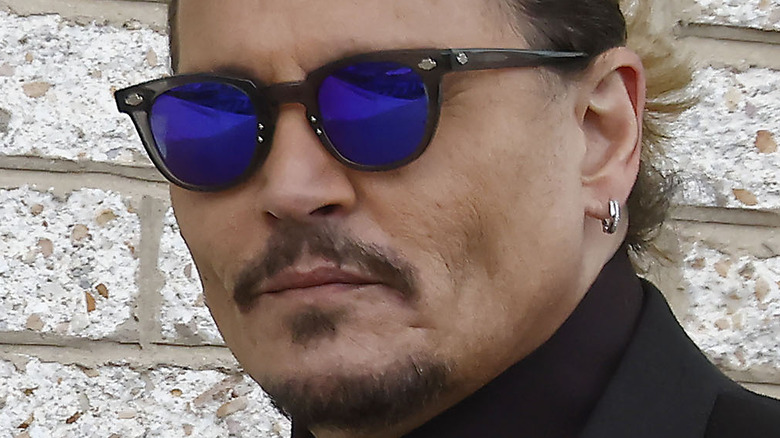 Paul Morigi/Getty Images
This article contains discussion of sexual assault allegations and drug use.
Johnny Depp is in court again with another defamation lawsuit, and again the case is more about his relationship with ex-wife Amber Heard than about what might have been written about him.
Their tumultuous relationship started in 2012 and they married in 2015, according to Us Weekly, but Heard filed for divorce after only 15 months in May 2016. The divorce cited irreconcilable differences, but Heard was granted a temporary restraining order, per The New York Times, after showing up at court with a bruise on her face and detailed allegations of verbal and physical abuse in her application. Depp and Heard settled and finalized their divorce in January 2017, but Depp continues to fight the abuse accusations by suing for defamation instead.
Depp lost the first of those libel suits in 2020, after suing The Sun for publishing a headline in which they called Depp a "wife-beater," per BBC. The judge ruled that 12 of the 14 incidents of domestic violence alleged in the case happened. Now many of those abuses are on trial again in Depp's libel suit against Heard for a 2018 op-ed she wrote (after encouragement from the ACLU, per NYT) in the Washington Post — which doesn't even mention Depp's name. As Depp finally takes the stand in the long-delayed trial, rehashing the he-said-she-said behind each allegation, news about some of the company Depp keeps has come forward — including his friendship with Marilyn Manson, who faces troubles of his own.
Marilyn Manson and Johnny Depp have a bizarre friendship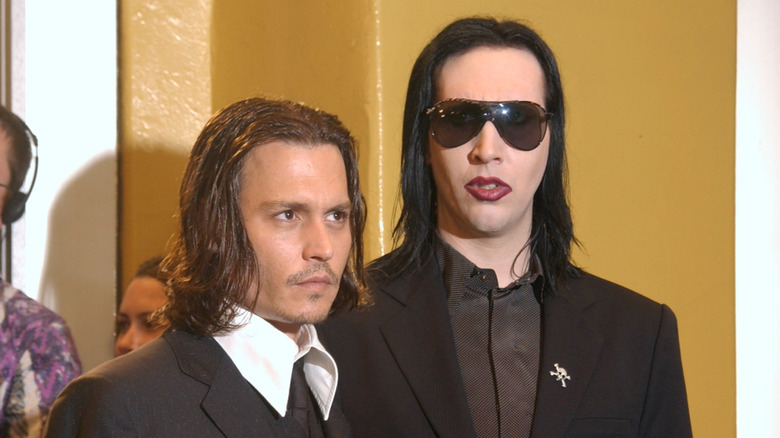 Featureflash Photo Agency/Shutterstock
As Johnny Depp gives his third day of testimony on April 21 in his defamation lawsuit against Amber Heard, he maintains that her abuse accusations are false. But Heard's lawyer, Ben Rottenborn, has tried to show that Depp's alleged drug addiction makes him an unreliable narrator, per NPR.
While discussing horrible texts Depp exchanged with "WandaVision" actor Paul Bettany, some referring to Depp's substance use, Rottenborn also asked Depp about one of his "good friends," Marilyn Manson, and whether they've taken drugs together. "We drank together ... We've had cocaine together, maybe a couple of times," Depp said on the stand, per USA Today. He also admitted with a chuckle, "I once gave Marilyn Manson a pill so that he would stop talking so much."
The two have been friends since Manson was an extra on Depp's 1987 show "21 Jump Street," according to Jezebel. Manson attended many of Depp's movie premieres, and Depp has played guitar with Manson at his concerts. Manson is godfather to Depp's daughter Lily-Rose. They've also done weird things together, like getting matching tattoos, trading odd possessions (Depp's wig from "Blow" for Manson's prosthetic breasts from his album "Mechanical Animals"), and trying to urinate and defecate on Depp's Walk of Fame star, per Showbiz CheatSheet. Depp even gave Manson a house once after Manson mentioned that it was nicer than the one he had just bought the week before. "Well, you could have told me a week ago, motherf**ker," Manson replied.
Another thing Johnny Depp and Marilyn Manson have in common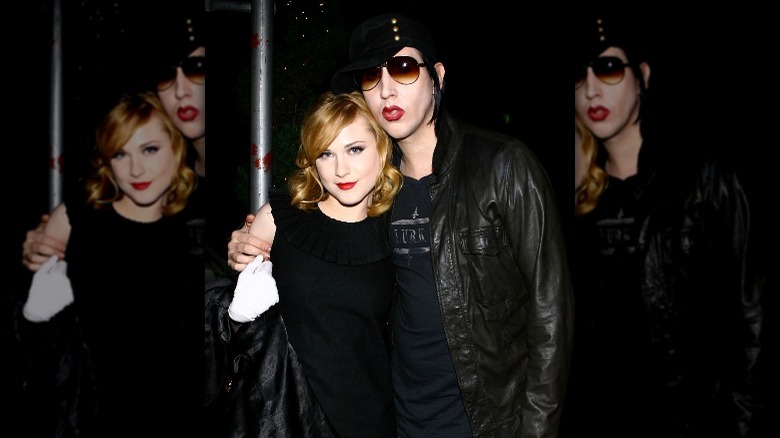 Scott Wintrow/Getty Images
Just as allegations of Johnny Depp's domestic abuse are on trial again, Marilyn Manson has been facing his own claims of sexual violence and grooming from multiple women, primarily from actor and sexual assault activist Evan Rachel Wood. In a February 2021 Instagram post, Wood named Manson specifically as her abuser, claiming, "He started grooming me when I was a teenager and horrifically abused me for years." She continued, "I am here to expose this dangerous man and call out the many industries that have enabled him, before he ruins any more lives." She also shared accounts from many others who have accused Manson.
This came years after her 2016 admission to Rolling Stone that she had been raped "by a significant other while we were together." Given what else was going on in the world at the time, she continued, "I don't believe we live in a time where people can stay silent any longer." Wood has since made legislative change, fighting to extend the pathetically short statute of limitations that keep many women from speaking out about sexual assault. Manson also responded to Wood's accusations by — how else? — suing for defamation, per Jezebel.
Following Wood's account, some on social media blamed Manson for being a bad influence on Depp, per Celebrity Insider, as they've both been accused of disturbing behavior. Some people found Amber Heard's allegations against Depp particularly shocking because of his teen heartthrob "Cry Baby" image.
If you or someone you know is dealing with domestic abuse, you can call the National Domestic Violence Hotline at 1−800−799−7233 or TTY 1−800−787−3224. You can also find more information, resources, and support at www.thehotline.org.