What Really Happened Between Amber Heard And James Franco?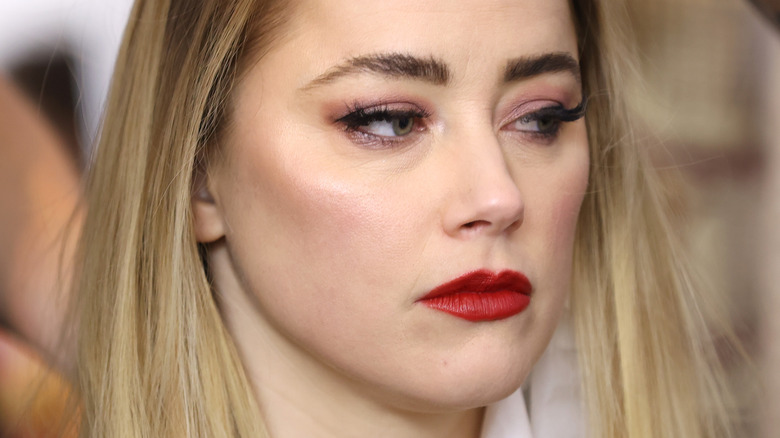 Vittorio Zunino Celotto/Getty Images
Friendships between Hollywood stars are nothing new, but the relationship between Amber Heard and James Franco would not have been public knowledge if it weren't for Heard disclosing that she once confided in the actor about her troubles with ex-husband Johnny Depp.
Heard and Depp have been embroiled in a high-profile defamation case, with Depp claiming that Heard had damaged his public image when she wrote a Washington Post op-ed piece and alleged she had been a victim of domestic abuse. While Depp's name was not mentioned, many assumed the "Pirates of the Caribbean" star had abused her, leading him to lose work opportunities. He then filed a $50 million lawsuit against her, as the op-ed "depended on the central premise that Ms. Heard was a domestic abuse victim and that Mr. Depp perpetrated domestic violence against her. Meanwhile, Heard countersued for $100 million, accusing Depp of spearheading a "false and defamatory smear campaign" against her.
Ahead of the trial, news broke that Franco would be deposed, and apparently his relationship with Heard allegedly goes deeper than friendship.
James Franco was once Amber Heard's confidante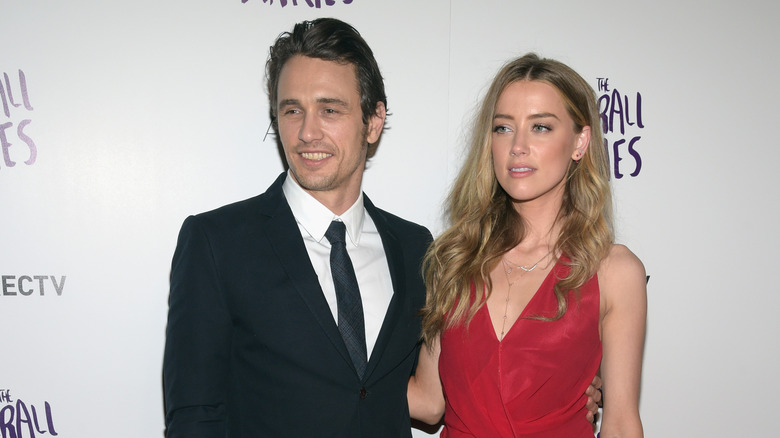 Jason Kempin/Getty Images
It's no secret that Amber Heard and Johnny Depp had a tumultuous relationship, and apparently, James Franco was one of the people Heard confided in when it came to their marital problems.
When Heard testified in Depp's libel case against British tabloid The Sun, she accused her ex-husband of domestic abuse and relayed an incident to the court where Franco had asked about her alleged bruises. Heard said that the "127 Hours" actor visited her at the penthouse she once shared with Depp and demanded to know why she looked different. "We were talking," Heard said in court, per Page Six. "He was saying to me, 'Oh my God, what happened to you?'" She added, "He saw my face... when I let him in. He saw my face and said, 'What the f**k?'" Per Vanity Fair, Heard allegedly acquired said bruises when Depp threw a phone at her. (Heard's ex-boyfriend Elon Musk and actor Ellen Barkin are also slated to testify on her behalf.)
Heard did not discuss at length the nature of her relationship with Franco, but it's likely that they were close. The two, after all, previously starred in two movies together, "Pineapple Express" and "The Adderall Diaries."
Johnny Depp claims Amber Heard and James Franco had an affair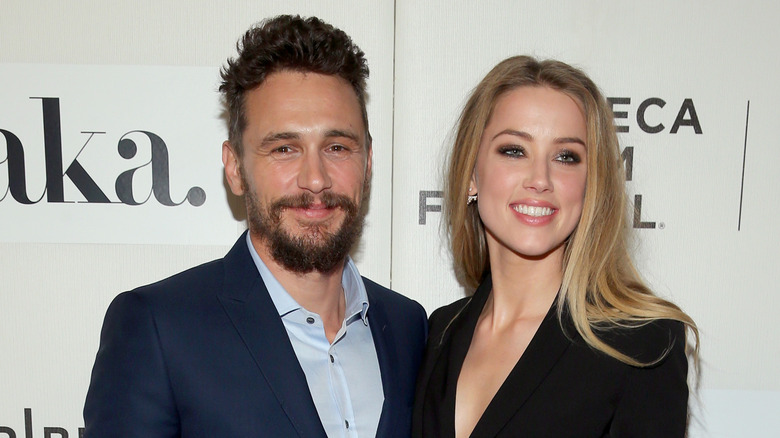 Jemal Countess/Getty Images
Aside from trying to refute Amber Heard's accusations that he'd physically abused her, Johnny Depp also claims his ex-wife had an affair with James Franco when they were still together. In the hot seat at the defamation trial, Depp was asked if he ever suspected her of having an affair, he said the notion did "occasionally" make him feel insecure, per Entertainment Weekly.
Heard's lawyers claim it was nothing but Depp displaying bouts of jealousy, as her legal team played an audio recording of the Depp telling her how jealous he gets when she's working on projects with other actors. "I become irrational when you're doing movies. I become jealous and f*****g weird and we fight a lot more," he supposedly said. In 2019, Heard's attorney Eric George also clarified that nothing was going on between her and Franco. "Amber Heard and James Franco once lived in the same apartment complex and were simply taking an elevator at the same time. Period," he said, per People. "Johnny Depp and his team have been trying — and failing — to place a salacious story based on this irrelevant footage for weeks. It's pathetic."
Franco has yet to be questioned, so it may be unfair to assume the nature of their relationship based on Heard and Depp's statements alone. Perhaps only time will unravel the truth.