Erika Jayne And Lisa Vanderpump's Feud Takes A Spicy Turn
DFree/Shutterstock
If there's one thing Erika Jayne (aka Erika Girardi) is great at, it's drama. Drama, drama, drama. The uber-glamorous "The Real Housewives of Beverly Hills" star has most certainly brought plenty of that to the Bravo series over the years, and, probably more times than not, that includes a feud or two. As reality fans will already know, Jayne has had some kind of issue with pretty much all of her co-stars over the years — even Garcelle Beauvais.
That one really boiled over after Jayne filmed herself throwing Beauvais' book, "Love Me As I Am," in the trash, complete with a GIF of "Sesame Street"'s Oscar the Grouch, and posted it to Instagram Stories. "@Garcelle, even though you unfollowed me I'm sure you'll see this," she captioned it, referring to Beauvais clicking the button that's caused such a furore a few weeks earlier. As for why Beauvais stopped keeping up with her co-star? She said on "The Real" in February, "All I can say is, she called me something that I did not like, and so, therefore, when somebody offends you in a way, I don't want to see her posts, I don't want to put a little like." Fair enough.
But now it's the twosome's former "RHOBH" co-star Lisa Vanderpump who's feeling Jayne's wrath after she waded in on the book trashing drama in an interview.
Stinky shade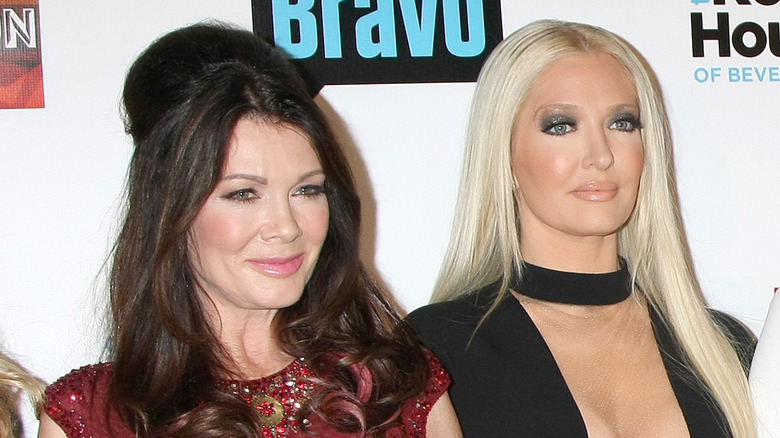 Kathy Hutchins/Shutterstock
Lisa Vanderpump may no longer be a cast member on "The Real Housewives of Beverly Hills," but that's not stopping her from commenting on her former co-stars' questionable behavior. Vanderpump shared her two cents on Erika Jayne introducing Garcelle Beauvais's book to the trash can in an April interview with E! News, saying, "Maybe Erika didn't understand it. Maybe Garcelle should have sent her a scratch and sniff book or something." Shade!
Of course, Jayne isn't really known for her ability to let things go when it comes to shady comments, and took the opportunity to slam Vanderpump in return on Instagram. After Bravo Housewives shared a quote from Vanderpump's interview, the "Xxpen$ive" singer commented, "That's rich coming from someone whose breath reeks of garlic, cigarettes, and chardonnay. #halitosis." Yikes.
It's reported Jayne doesn't have many friends left out of her gaggle of co-stars, which probably won't come as much surprise after seeing all that shade flying around on social media. Amid Jayne's high publicized legal issues, a source claimed to Page Six in September 2021 that she only really has one friend left in the cast: Lisa Rinna. Daily Mail doubled down on that, even going as far as to report that Rinna is the only "RHOBH" star Jayne is still on speaking terms with. "The other women say one thing to her face and something completely different behind her back. [Rinna] actually has her back," a source shared.