Kim Kardashian Finally Reveals The Mysterious Contents Of Ray J's Laptop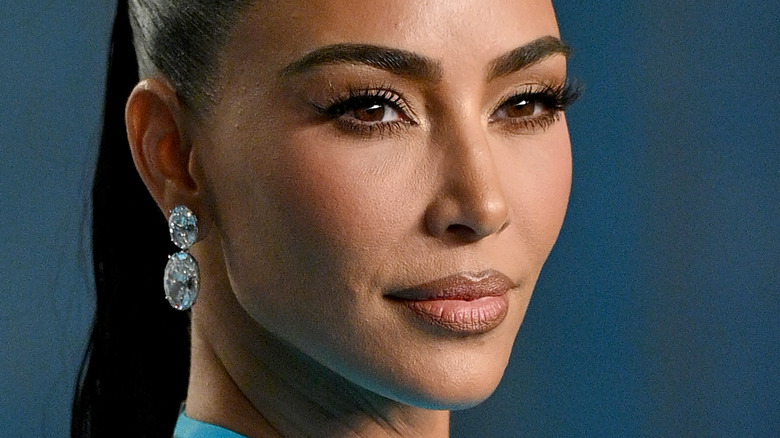 Lionel Hahn/Getty Images
Rapper Kanye "Ye" West has always been one to speak his mind — and cause a fuss in the process. Such was the case in January, when he appeared on an episode of Hollywood Unlocked to make a startling claim about previously unseen Kim Kardashian and Ray J footage. Though Kardashian skyrocketed to fame via the sex tape leak with then-boyfriend Ray J over a decade ago, the Internet has a long memory. In fact, the resurgence of Kardashian's sex tape has been the subject of the KarJenner's new reality show, "The Kardashians," which explains why Ye got involved. "I went and got the laptop from Ray J myself," the "City of Gods" rapper explained. "I met this man at the airport, then got on a red-eye, came back [and] delivered it to [Kim] at 8 a.m. in the morning."
Kardashian and West are currently on rocky terms, as West has repeatedly attacked his former partner as well as her current boyfriend, "SNL" funnyman Pete Davidson, via Instagram. In March 2022, Ye's Insta-rants were even enough to get him (temporarily) banned from the platform. While it seems surprising that West would pull an all-nighter to help Kardashian dispose of her alleged sex tape, Buzzfeed reports that the two were still on good terms when he did so. Now that the third episode of "The Kardashians" has aired, fans saw the Skims mogul finally get her hands on the laptop that caused so much grief.
Kim Kardashian was incredibly relieved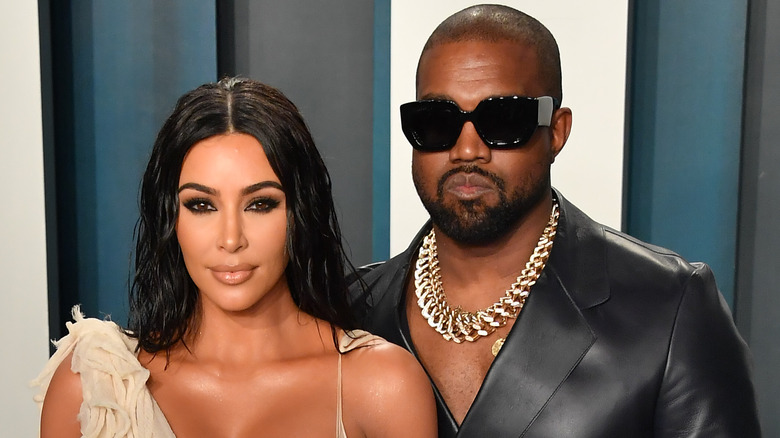 Allen Berezovsky/Getty Images
In the newest installment of "The Kardashians," Kim Kardashian expressed concerns about another possible sex tape, after Ray J's former manager threatened to release new footage, according to Us Weekly. When she expressed these concerns to Kanye "Ye" West, the Grammy winner promptly flew from New York to Los Angeles to physically retrieve the tape for her. 
Kardashian was so moved by West's sweet gesture that she broke down in tears. "[Kanye] flew home and got the computer it was on and the hard drive and [he met] Ray J at the airport and got it all back for me," she shared, per Buzzfeed. "I know Kanye did this for me but he also did this for my kids. I want to shield them from as much as I can." Kardashian went on to explain that the content was not what she had feared. "It was just footage of us at a restaurant, at a nightclub — nothing sexual, nothing weird," she shared. "And so now I can take a deep breath and not worry about this." 
In an ironic twist, the whole incident took place just ahead of Kardashian's "SNL" debut, which is where she met her current boyfriend Pete Davidson. On Hollywood Unlocked, West later disclosed his annoyance at seeing Kardashian lock lips with Davidson on set. "How you gonna bring me to 'SNL' and kiss the dude you dating right in front of me,'" he complained.