Billie Eilish's Celebrity Crush Is Reciprocated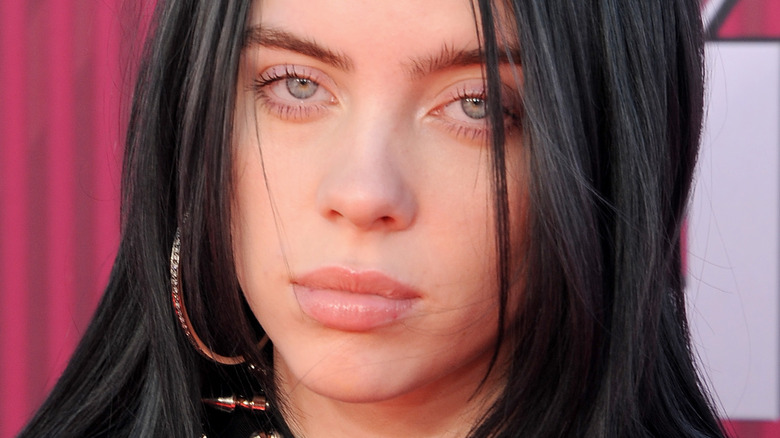 Tinseltown/Shutterstock
"Bad Guy" crooner, and newly crowned Oscar-winner in the "Best Song" category, Billie Eilish has never shied away from singing about love and relationships. Whether she's dishing out some subtle shade to an ex in "Therefore I Am" and "Happier Than Ever," or flat out declaring her devotion in "Because I'm In Love With You," the young Coachella 2022 headliner loves to sing about matters of the heart with candor. However, when it comes to her personal life, the "My Future" singer remains mostly tight-lipped. She did offer a glimpse of her time with ex-boyfriend Brandon "Q" Quentin Adams in her documentary, "Billie Eilish: The World's a Little Blurry," which also tracks their breakup in 2019. In it, she admitted she "just wasn't happy" with him, per Us Weekly.
In an interview with GQ in 2020, she admitted to having her heart broken and also being the toxic one in previous relationships, declaring herself blissfully single with, "it's been months and I am not attracted to people any more." That may have changed by October 2021, however, when Page Six published photos of her and rumored boyfriend Matthew Tyler Vorce canoodling at a birthday bash held for singer Doja Cat. The source told the outlet the pair were "inseparable, sharing kisses."
But Eilish just revealed which celebrity she was crushing on big time as a child, and it turns out that celeb reciprocates the feeling!
Billie Eilish and Sarah Michelle Gellar have mutual crushes on each other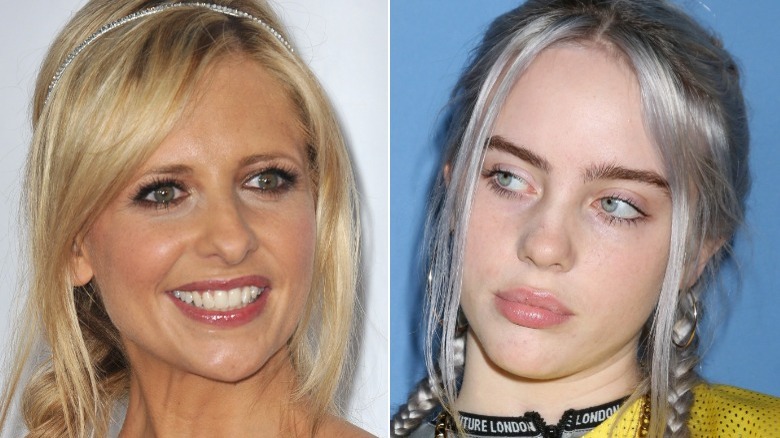 Jaguar PS & Kathy Hutchins/Shutterstock
We're sure there are a lot of people who had a crush on 90s teen star Sarah Michelle Gellar, especially in her swashbuckling, butt-kicking role as "Buffy the Vampire Slayer," and singer Billie Eilish is definitely one of those people. On April 27, Eilish took to her Instagram Stories to answer fan Qs. When one asked who her celebrity childhood crush was, Eilish responded with a picture of Gellar in character as Buffy, holding a wooden stake with that murderous look in her eye. 
Turns out the "Cruel Intentions" star saw the IG Story, so she took to her official Instagram to respond directly to Eilish to let her know that, yup, the feeling is mutual. Including a screen-grab of Eilish's original Story, Gellar captioned her post, "I'm dead. That's all. I'm not a child anymore, but I totally have a crush on @billieeilish Ok... now that's really all." Many celebrities, including her "Buffy" co-star Charisma Carpenter, commented on the post with a mixture of praise and adoration. 
Today, the love-fest continued, as Eilish replied to Gellar back in her Stories, screen-grabbing Gellar's post and adding the comment, "um oh my god." If you're reading this after the Stories have expired, never fear, because fans have reposted them for all posterity. Before fans start 'shipping the two, let's not forget that Gellar has been married to "She's All That" star Freddy Prinze Jr. for more than 20 years.