Christina Hall And Ant Anstead's Co-Parenting Relationship Just Took A Turn For The Worse
Johnny Depp and Amber Heard don't have a monopoly on messy divorces. The dissolved relationship between HGTV stars Christina Hall and Ant Anstead continues to make news, even though they filed for divorce in 2020, less than two years after marrying.
It was the second marriage for both Anstead and Hall, as Hall has two young children, Taylor and Brayden, with her "Flip or Flop" co-host Tarek El Moussa. British-born Anstead has two teenage children, Amelie and Archie, from his previous marriage, according to People. Adding to their blended family, Hall and Anstead have a child together, Hudson London, from their short-lived marriage. Hall is currently married to real estate agent Joshua Hall, who she started dating a mere two weeks after divorcing Anstead, per E! News. As for Anstead, he's totally smitten with Renée Zellweger, whom he started dating in June 2021 after she appeared on his show "Celebrity IOU: Joyride."
It seemed like Hall and Anstead settled their divorce amicably in November 2020, agreeing to joint physical and legal custody of 2-year-old Hudson. But as calm as things might have appeared, there's a storm brewing now, as Anstead took a step Hall was not expecting.
Ant Anstead has filed for full custody of his son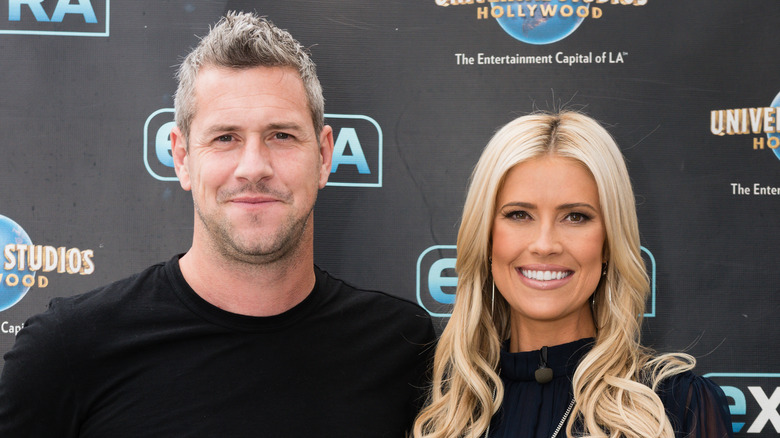 Noel Vasquez/Getty Images
Despite their seemingly amicable agreement to share physical and legal custody of son Hudson London, Ant Anstead dropped a bombshell on Christina Hall on April 28, as People reports Anstead has filed for full custody.
Though Anstead previously hoped to co-parent with Hall, he has significantly changed his tune, now claiming Hall is a neglectful and unfit mother, per TMZ. He alleges Hall only spends "9 full days each month" with Hudson, during which she allegedly plasters him on social media in sponsored posts. He also accused her of being careless with Hudson's well-being, using an occasion when Hudson returned to Anstead with an apparent sunburn as proof. In a text reply, Hall explained the "marine layer hid the sun" and "it didn't feel hot" outside, and suggested her ex have Hudson take Tylenol to ease the pain. Anstead also claims Hall didn't tell him members of her household had COVID-19 when Hudson visited in January, which resulted in Anstead's girlfriend, Renée Zellweger, having to suspend production on her filming project. Anstead also brought up Hall's experiments with hallucinogenic toad venom as another example of her putting Hudson at risk.
While Anstead's new agreement would allow Hall to have Hudson every other weekend, he also wants a clause preventing the boy from being involved in his ex's influencing jobs unless given greenlight. Hall replied to the suit, "What Ant is doing deeply saddens me. If this was really about Hudson, as he says, this should have been handled privately."