The Scary Reason Danica Patrick Had To Get Her Breast Implants Removed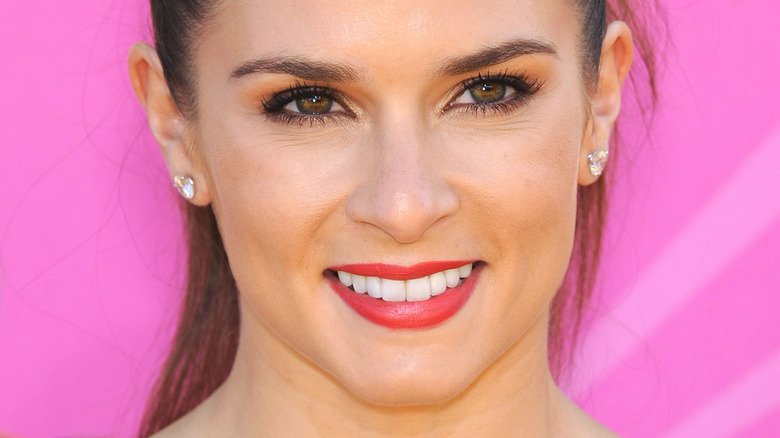 DFree/Shutterstock
As a successful athlete, Danica Patrick has always been conscious of her health — but the former NASCAR driver also pays close attention to what she eats and drinks because of a debilitating condition she developed several years ago. "Most people don't realize that migraines are different from a regular headache so it's hard for them to have sympathy," she told the Los Angeles Times in 2017. Because of them, Patrick avoids alcohol and sugary drinks, two items she noticed trigger her episodes.
Living with migraines has made Patrick more aware of what her body tells her. "I'm very into eating well. I believe food is medicine. I eat extremely clean, real foods ... I don't eat processed foods and never add sugar to anything," Patrick told the publication. Developing a healthy lifestyle has also helped her conquer body image issues, something she struggled with for many years. "I think it starts with positive self-talk, working really hard, and feeling good," she told People in 2017.
Patrick uses her experience to promote body positivity on social media, often posting side-by-side images showing the "real" side of her physique. "I kinda love when people do real vs produced shots. The difference between the two is lighting, pose, and clothes adjustments," she captioned a June 2017 Instagram post. Being in tune with her body, Patrick just knew something was wrong when she started noticing strange symptoms in early 2018. It took her another couple of years to find the culprit: her breast implants.
Danica Patrick believes she suffered from breast implant illness
In early 2018, Danica Patrick noticed was hair was turning brittle, she noted on Instagram on April 29. The former athlete was also gaining weight unexpectedly and having a hard time losing the extra pounds. Patrick knew those were uncharacteristic but learned to live with them — until other symptoms struck in late 2020. Her periods became irregular, she noticed changes to her skin and face and developed swollen lymph nodes. To make matters worse, her hair loss and weight gain worsened considerably. "I went down the rabbit hole to figure it out. I did every test that could be done," she wrote.
While doing research, Patrick came across breast implant illness, a combination of symptoms some women who have undergone breast augmentation report experiencing, according to BreastCancer.Org. Patrick, who had gotten breast implants in 2014, decided to have them removed on April 27. Within hours of the procedure, Patrick could already tell her skin was producing more oil and the dark circles under her eyes were dissipating. "I had so much energy when I woke up," she wrote. 
Patrick isn't the first celebrity to reach the same conclusion. "RuPaul's Drag Race" judge Michelle Visage removed her breast implants in 2019 after suffering myriad symptoms. "Black Ink Crew New York" star Young Bae also removed her implants for similar reasons. "When I took them out — brand new. I got my life back," she revealed to Nicki Swift in 2021.