Hope Solo Takes A Big Step In Her Personal Life After Troubling Arrest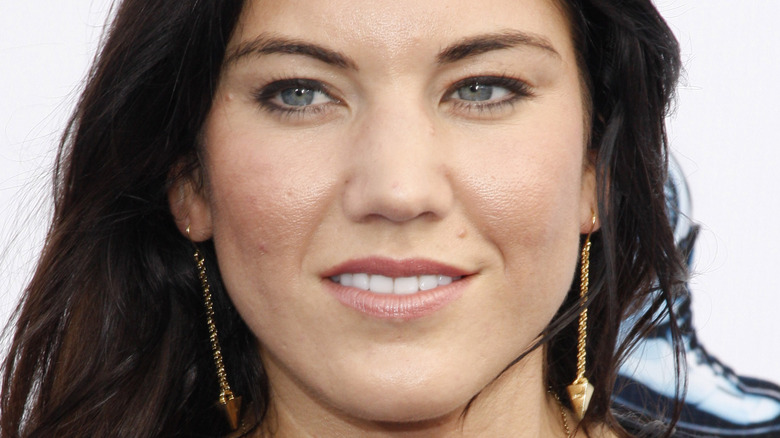 Tinseltown/Shutterstock
Hope Solo has a history of controversial behavior that matches the impressive career that has earned her a spot among the best female goalkeepers in the annals of soccer, per The New York Times. Among that history is a few run-ins with the law. The latest garnered considerable criticism against the former athlete because it involved her children. Solo was arrested on March 31, when North Carolina police reportedly found her passed out in her car in a parking lot.
Witnesses called authorities when they noticed Solo appeared to have been out for more than an hour with the car still on, Us Weekly detailed. Solo was charged with driving while intoxicated, resisting arrest, and misdemeanor child abuse because her twin sons Vittorio and Lozen, whom Solo welcomed with former NFL tight end Jerramy Stevens in March 2020, were in the backseat. In the aftermath of her arrest, Solo shared to Instagram a statement penned by her lawyer, who instructed her not to comment. But Solo noted there was more to the story, and that she hoped to be able to share it in the future. "We will be able to share the facts in due time," the note read.
While Solo has followed her lawyer's advice and remained quiet about her side of the story as the case unfolds, she has shown she is ready to start addressing some of the issues she has been dealing with in her personal life.  
Hope Solo is seeking treatment for alcohol dependency
After being charged with driving while intoxicated, Hope Solo decided to seek treatment for alcohol dependency, she shared on Instagram and Twitter on April 29. "I will be voluntarily entering an in-patient alcohol treatment program to address my challenges with alcohol," Solo wrote. To be able to complete the program, Solo requested that the National Soccer Hall of Fame postpone her induction ceremony. "At this time, my energies and focus are totally directed to my health, healing and taking care of my family," she added. 
Following her arrest, the two-time Olympic gold medalist's lawyer suggested that the background to the DWI arrest mattered in the case. "She wants everyone to know her kids are her life ... The story is more sympathetic than the initial charges suggest," the note uploaded to Instagram on April 1 read. Solo doesn't appear to have previously addressed her alcohol issues, though her husband Jerramy Stevens had once been ordered to complete a two-year program.
The mandate came after Stevens was convicted of driving with a blood-alcohol concentration of 0.15%, nearly double the legal limit of 0.08%, the Los Angeles Times reported in 2015. Because he was driving the U.S. Soccer team van, of which Solo was a passenger, the then-goalkeeper was suspended from the team. Then-coach Jill Ellis said, per USA Today, "Hope made a poor decision that has resulted in a negative impact on U.S. Soccer and her teammates."