Kim Kardashian Didn't Spend Her Time After The Met Gala As You Might Expect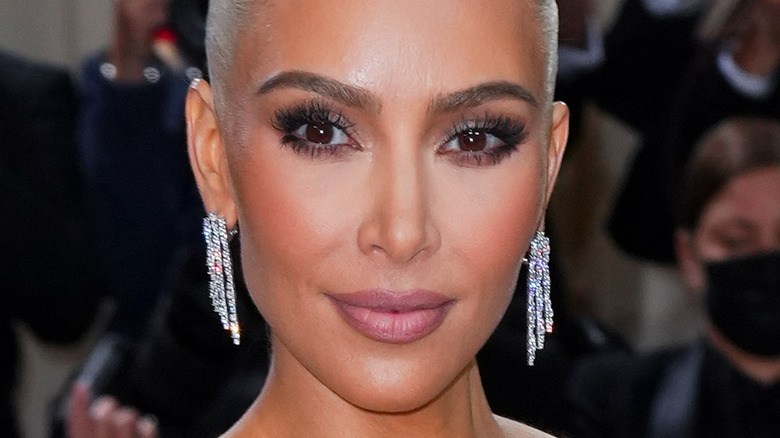 Gotham/Getty Images
Kim Kardashian is no stranger to the Met Gala red carpet and knows how to keep us talking every year with her innovative looks.
As many will remember, the reality star opted for a bold look last year. Kardashian rocked an all-black ensemble that not only covered her whole entire body, but also her face. The attire featured a long train and still allowed her to show off her ponytail. As noted by TMZ, Kardashian was styled by Balenciaga and was said to be inspired by her ex-husband, Kanye West. 
This year, the makeup guru sported a more glamorous look for the theme of "Gilded Glamor." Kardashian wore a flesh-colored crystallized gown that was last worn by iconic actor Marilyn Monroe six decades ago, per The Guardian. The "Keeping Up with the Kardashians" alum ditched her signature dark locks for the occasion and turned up with Monroe-inspired blonde hair. She wrapped herself up in a white jacket and accessorized with large dangling earrings. Kardashian's personal life has never remained much of a secret, so it comes as no surprise that she posed alongside her new boyfriend Pete Davidson so soon into their relationship. While most would expect Kardashian and Davidson to hit an afterparty after the event, it appears the duo wasn't about that life this year.
Kim and Pete had a pizza and donut party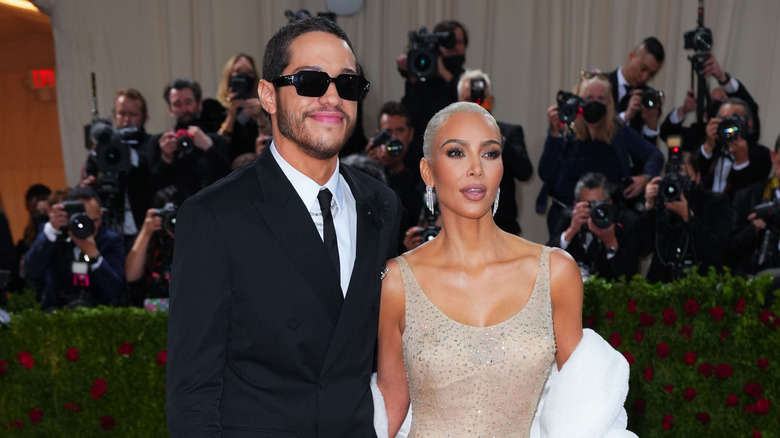 Gotham/Getty Images
During her red carpet interview with friend LaLa Anthony at this year's Met Gala on May 2, Kim Kardashian revealed she had recently lost 16 pounds in just three weeks in order to fit into her dress, which had previously been worn by the legendary Marilyn Monroe. During their chat, Kardashian also revealed what her plans were after the big event. "Afterwards, since I haven't eaten carbs and sugar in like three weeks, we're eating pizza and donut party back at the hotel," the reality star said.
Kardashian showed off their mini pizza and donut party on her Instagram Story, per The Daily Mail. However, their night was short-lived as she was photographed by the paparazzi that same evening with her sister, Khloé Kardashian, and boyfriend, Pete Davidson. As noted by the outlet, the trio was off to catch a flight back to LA.
Even though Kim paid New York and the Met Gala a very quick visit, she took to Instagram to explain wearing Marilyn Monroe's dress meant a lot to her. "I am so honored to be wearing the iconic dress that Marilyn Monroe wore in 1962 to sing "Happy Birthday" to President John F. Kennedy," she wrote, adding, "Thank you Ripley's Believe It or Not! for giving me the opportunity to debut this evocative piece of fashion history for the first time since the late Marilyn Monroe wore it. I am forever grateful for this moment."