Kaley Cuoco Seemingly Confirms Her Relationship With Another Famous Actor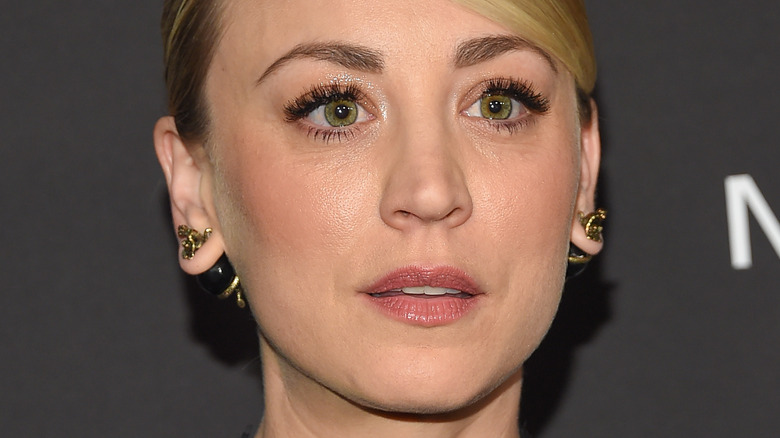 DFree/Shutterstock
Kaley Cuoco's love life has been pretty eventful. "The Big Bang Theory" alum experienced a difficult year, with 2021 being marked by her second divorce. Three years after saying "I do" in June 2018, Cuoco split from Karl Cook in September. The news caught fans by surprise, as her life with the equestrian appeared to be going great. But that's exactly why Cuoco revealed life hasn't been easy since splitting from Cook. "I think social media is so wonderful for so many reasons, but it shows just all the good stuff," Cuoco said on "The Kelly Clarkson Show" in April.
Her Instagram showed just a sliver of Cuoco's marriage to Cook, not the full reality. "I just wanted to tell everyone this time that not everything is what is seems," she told Clarkson, "and I struggle like everybody else." The aftermath of the divorce has not been easy on Cuoco, who has been experiencing personal turmoil since. "The past several months have been tough," she said. "I wanted to be very upfront that it wasn't my best year, and I've been very sad."
That doesn't mean Cuoco is done with relationships. On the contrary, "The Flight Attendant" star very much still believes in love. "I like being someone's partner and having that companionship ... I love love. I'm not someone that wants to be by myself," she told Glamour in April. Eight months after her divorce, Cuoco is seemingly ready to embrace romance again — and be public about it.
Kaley Cuoco is Instagram official with Tom Pelphrey
Just a month after speaking up about her tough divorce, Kaley Cuoco is showing she is ready to move on. On May 3, she took to Instagram to upload a series of snapshots and a few videos that illustrate what she has been up to lately — and it includes hanging out with "Ozark" star Tom Pelphrey. "Life lately. 'The sun breaks through the clouds, rays of gold slipping into my eyes and heart, rays of yellow to break the grey,'" she captioned the post. Cuoco made neither explicit mention of Pelphrey nor tagged him, but she sneaked in several Polaroid selfies of her and Pelphrey looking dreamy together. The last snap showed Pelphrey planting a kiss on Cuoco's cheek as she tenderly grabbed his chin.
Pelphrey isn't hiding his feelings for Cuoco, either. The "Guiding Light" alum also uploaded a photo of the same two Polaroids to Instagram around the same time as Cuoco, including a lengthy quote in the caption. "Nothing can save you," Pelphrey wrote, crediting "Noah's wall." "Then you catch a breeze, so warm and ripe, it makes you hope that someone will come who also cannot save you, but who will think you are worth saving." While things are looking pretty sweet, fans shouldn't expect a ring anytime soon — or ever. In her Glamour cover story, Cuoco made a bold statement about marrying again. "I will never get married again. Absolutely not," she said.