The Odd Marilyn Monroe Gift Kim Kardashian Received Is Causing A Stir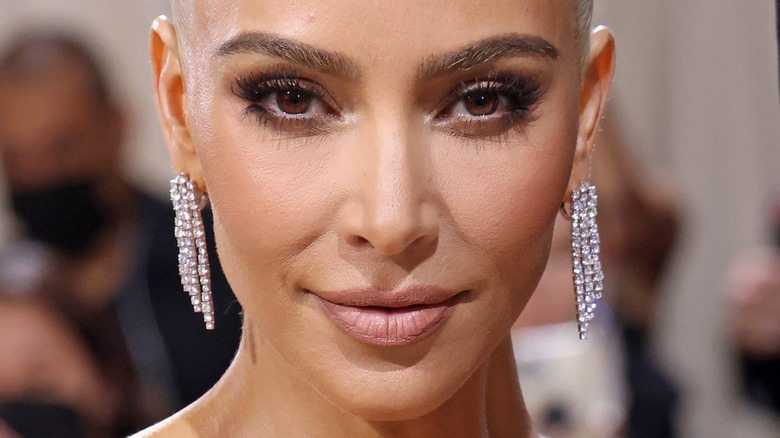 Taylor Hill/Getty Images
Kim Kardashian has turned heads in recent years for her insanely unique Met Gala outfits. The SKIMS founder shocked fans when she walked the carpet in 2021, covered head-to-toe in a black Balenciaga ensemble — face mask included. Kardashian's look also included a 75-inch-long ponytail, which reportedly cost $10,000. And while some may have expected Kardashian to attend the 2022 gala in a dress made by a modern designer, the reality star stunned fans when she arrived in a dress first worn by iconic actor, Marilyn Monroe.
Monroe's historic dress was designed Jean Louis, according to TMZ. Monroe donned the skin-tight dress when she famously sang "Happy Birthday" to President John F. Kennedy, and the gown was later preserved at Ripley's Believe It or Not Museum as a piece of American history. The outlet also reports that Kardashian was originally denied use of the gown, but was granted permission after losing 16 pounds to fit into the archived garment. In addition to use of the dress for the evening, a gift Kardashian received from the museum is causing a bit of a stir online.
Kim's Marilyn momento was too personal
As if Kim Kardashian wearing Marilyn Monroe's 60-year-old dress wasn't enough of a shock, the reality star was also given a lock of Monroe's signature platinum blonde hair to celebrate her Met Gala appearance. In a video posted to Instagram, Kardashian gasped when she opened the silver locket containing the strands of hair and was temporarily left speechless.
"Oh my God, I'm literally going to do some crazy voodoo s***," Kardashian quipped, as she hugged Ripley's Believe It Or Not museum staffers for the one-of-a-kind gesture. "This is so special to me." The SKIMS mogul then joked, "This is sleeping with me every night."
However, the gift is drawing some backlash online, as some are slamming Kardashian and Ripley's for the inappropriate gift. "I think it's very strange and disrespectful how kim was 'gifted' a piece of marilyn monroe's hair," one person tweeted. "Let that legend Rest In Peace I'm begging," another fan wrote in defense of Monroe's memory. Others trashed the museum directly, with one fan tweeting, "Ripley's giving kim kardashian a lock of marilyn monroe's hair is disgusting. i genuinely cannot comprehend how f***ing weird that is." Ouch. Despite the heat she received for accepting Monroe's hair, it seemed as though Kardashian was genuinely excited to bring the icon's memory to life on the Met red carpet, as she wrote on Instagram, "I am forever grateful for this moment."