Body Language Expert Reveals The Glaring Difference Between Amber Heard And Johnny Depp's Testimony – Exclusive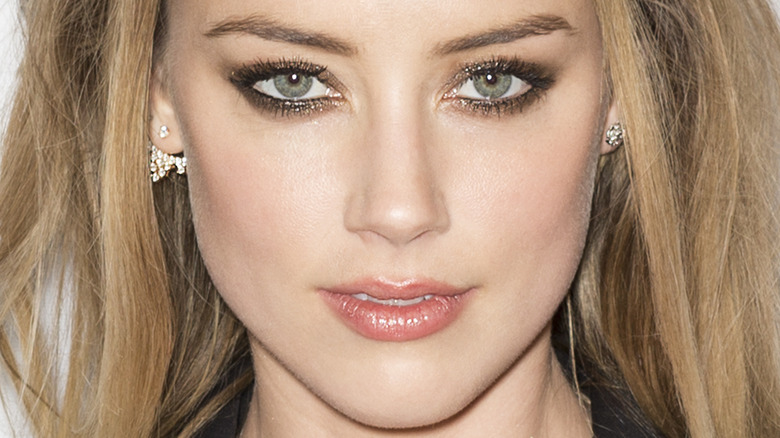 Ovidiu Hrubaru/Shutterstock
Amber Heard and Johnny Depp's mud-slinging legal battle has captured the world's attention, and it doesn't look like it's going to let up any time soon. The trial has seen some shocking alleged details about their relationship find their way into the public domain, including Depp speaking candidly about Heard allegedly defecating on their bed following a particularly explosive altercation. Depp recalled being shown a photo of the excrement by a security guard after explaining he wanted to return to the home to collect his things after leaving following an argument. "Then he showed me a photograph on his telephone of... it was a photograph of our bed, and on my side of the bed, was human fecal matter," he said, per People. However, an employee of the former couple appeared to defend Heard, describing it to the court as being "a horrible practical joke gone wrong."
That's far from the only shocking revelation, though. Audio was also played in the court which appeared to reveal Heard mocked Depp after suggesting he was being domestically abused. "Tell the world, Johnny, tell them, Johnny Depp, I, Johnny Depp, a man, I'm a victim too of domestic violence," she could be heard saying, adding, "see how many people believe or side with you." 
Now, both Heard and Depp are seeing firsthand who believes who. But what does the world make of the very public back and forth? An expert is weighing in now both have taken to the stand.
Expert says Amber Heard's testimony was calculated
Amber Heard began sharing her side of the story on the stand on May 4 after several days of hearing what Johnny Depp and others connected to the former couple had to say.
Austin Iuliano, a body language expert and public speaker who teaches C-Suite Executives how to be more charismatic on camera, spoke exclusively to Nicki Swift about what he perceived to be the big difference between Depp and Heard's jaw dropping testimonies. "The first thing I notice, which I think is extremely telling, is where Amber heard is looking vs where Johnny Depp is looking. Amber is constantly looking at the jury where Johnny didn't. Just like in public speaking, this gives an advantage to Amber as she can read the jury's reaction in real-time and adjust as needed." He added, "You can almost see her shift into a 'sad face' to try an illicit emotion from the jury." In another observation, Iuliano quipped, "When she tries to cry and create tears, she looked like Ben Stiller's character in the movie 'Tropic Thunder' when he couldn't cry. It feels forced as if Amber only knows what human emotions are through descriptions."
However, not everyone agreed, as Twitter was flooded with comments from those supporting the "London Fields" actor. "#IStandWithAmberHeard because as a retired Psychiatric RN with 20+ years of clinical experience I was taught, 'You can hate the behavior but you can't hate the person,'" one person tweeted.
Johnny Depp's team slams Amber Heard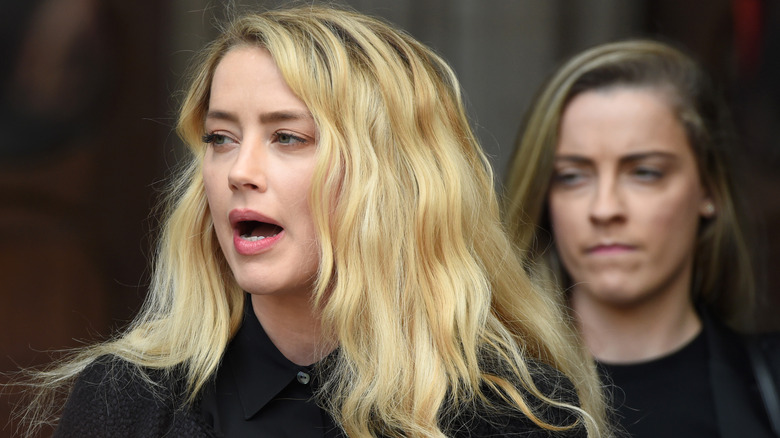 Stuart C. Wilson/Getty Images
Johnny Depp and his team seem to think that Amber Heard should win an Oscar. According to Page Six, Depp's team slammed Heard's time on the stand. "As Mr. Depp's counsel correctly predicted in their opening statements last month, Ms. Heard did indeed deliver 'the performance of her life' in her direct examination," a rep for the actor said. The same rep said that Heard's accounts of what happened have "continued to grow new and convenient details." On the flip side, they argue that Depp's statements have remained consistent over the years. "His truth — the truth — is the same no matter the environment in which it has been presented." 
Once Heard's PR team caught wind of the unfavorable headline regarding their client, they made sure to clap back at Depp and his reps. "Mr. Depp's defamation claim is falling apart so rapidly that his counsel are turning from prosecutor to persecutor," they claimed. The team added that Depp "should consider a new strategy rather than the recycled approach of attacking the victim and refusing to take responsibility for his own conduct." Wow, tensions definitely seem to be at an all-time high between the famous exes.
In early April, Heard took to Instagram to share with fans that she would be taking a break from the platform as she faced off with Depp in court. It will be interesting to see if she re-emerges later, but it seems quite likely that her social media behavior after may depend on the verdict.