Kim Kardashian Wore More Than One Of Marilyn Monroe's Dresses On Met Gala Night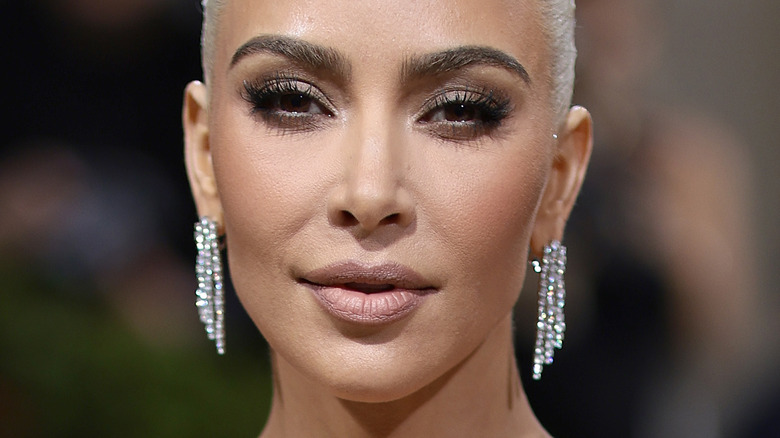 Dimitrios Kambouris/Getty Images
The year's biggest night in fashion, aka the Met Gala, has come and gone, but people are still talking about the event days later — and the conversations likely won't stall for weeks. This year's theme, "Gilded Glamour," had Hollywood's biggest names walking up the stairs of New York City's Metropolitan Museum of Art looking like a million bucks. Some celebs nailed the opulent theme, like the so-called queen of the Met Gala, Blake Lively, who wore a stunning Statue of Liberty-inspired Versace gown that will surely go down as one of the best gala looks of all time. Meanwhile, other celebs didn't quite measure up. For example, many fans think Kylie Jenner made a mistake with her Off-White wedding gown paired with a baseball cap and should've worn her after-party look to the gala instead.
But at least one Kardashian turned heads at the Met Gala, and of course, it was none other than Kim. The reality star and entrepreneur famously wore one of Marilyn Monroe's gowns. To make the fashion moment even more iconic, it was the same crystal-encrusted nude dress Monroe wore when she sang "Happy Birthday" to John F. Kennedy in 1962, according to Kardashian's Instagram. In case one of Monroe's dresses wasn't enough to stun the world, however, Kardashian recently revealed that she actually wore two.
Kim Kardashian also wore Marilyn Monroe's 1962 Golden Globes dress
Twitter was already on fire after seeing Kim Kardashian wear Marilyn Monroe's gown at the Met Gala, but Kardashian didn't stop at just one of the Hollywood starlet's looks. In an Instagram post from May 6, Kardashian revealed she actually changed into another one of Monroe's gowns after the gala. She wrote, "To top off my night after The Met, I had the honor of changing into Marilyn Monroe's Norman Norell dress that she wore to the Golden Globes in 1962 —where she received the Henrietta Award For World Film Favorite." Kardashian explained that she found the emerald stunner at the Heritage Auction house while she was searching for her Met Gala look. She also discovered her friend, Jeff Leatham, had the award Monroe won that night, and Kardashian was able to grab both for an iconic set of Instagram photos. She continued, "I saw this all as a sign the way that all of the stars aligned. It will forever be one of the greatest privileges of my life to be able to channel my inner Marilyn in this way, on such a special night."
Interestingly enough, Ripley's Believe It or Not, the museum that owns Monroe's "Happy Birthday" dress, went a step further for Kardashian to "channel her inner Marilyn." According to an Instagram post, the team filled her Met Gala dressing room with Monroe and JFK memorabilia, plus gifted her a lock of Monroe's iconic platinum hair, which Kardashian joked, "I'm literally going to do some crazy voodoo s*** [to] channel her."