Here's What Kelly Ripa Looks Like Without Makeup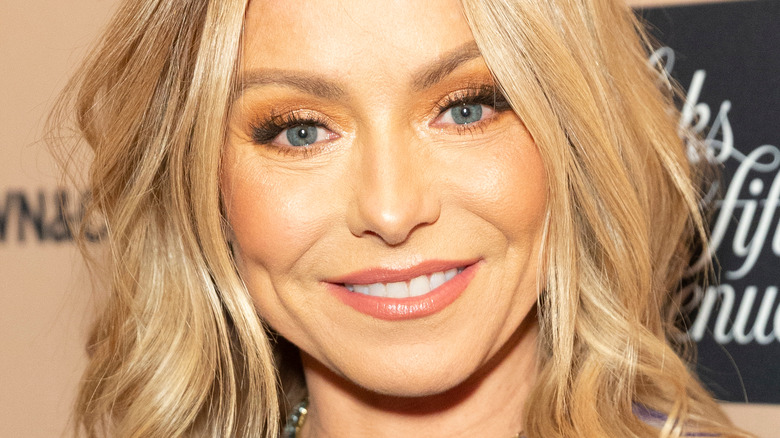 Lev Radin/Shutterstock
Kelly Ripa has been a presence on television for decades, so she's certainly someone who can appreciate the transformative power of makeup — and she's seen a lot of beauty trends come and go. When soap fans were first introduced to her "All My Children" character Hayley Vaughan in 1991, she was rocking a punk-goth look with bold makeup and big, black hair.
Ripa met her future husband, Mark Consuelos, while working on the show. She told People that she was bare-faced when she first laid eyes on Consuelos on that fateful day in 1995, so she made a mad dash to get made up. "I looked really gross," she said. "I wanted him to see me looking like a normal person!" But, by the time she and Consuelos were approaching two decades of marriage in 2015, she was comfortable letting her husband see her without all the glitz and glam. In an episode of "Live with Kelly and Michael," Ripa told co-host Michael Strahan that she periodically spends over an hour getting eyelash extensions, and Consuelos notices when it's time for replacements. "Mark always laughs at me. He goes, 'Your eyelashes are like the last leaves of fall,' because at the end of eight weeks, there's like two hanging on."
Ripa always keeps it this real when discussing her beauty routine, and over the years, she's spilled a few other secrets about what she does to look her best when going makeup-free.
Kelly Ripa is a Botox advocate
Kelly Ripa is confident enough in her own skin that she doesn't mind her fans seeing her with little or no makeup on. She occasionally posts photos of herself sporting a fresh-faced look on Instagram, and she's even gone au naturel on television. Per E! News, she had to film a 2014 episode of "Live With Kelly and Michael" bare-faced after losing a Super Bowl bet. "I labored under the delusion that I looked okay without makeup until I came out here and I went, 'Oh my God!'" she said. Michael Strahan assured his co-host that she looked amazing as always, and Ripa has not been shy about sharing one of her biggest secrets for maintaining her youthful appearance without cosmetics: Botox.
"Every seven months or so my eyelid skin rests on my eyelashes. So I feel like it makes my makeup artist's life easier," Ripa told Elle in 2013. She also spoke to In Touch about her favorite cosmetic procedure in 2012. "I get Botox injected right here, right into my forehead as much as possible!" she confessed, according to the Daily Mail. As Ripa also noted, she knew it was time for more needle work when her kids mistakenly believed that she was frowning at them.
Unfortunately, Ripa had at least one bad experience with the injectable. "It did something to my good side, so then I had two bad sides. I'm not kidding!" she said on her show in 2016, per Us Weekly.
How Kelly Ripa got camera-ready while working at home
In a video that she posted to her Instagram Story in 2020, Kelly Ripa revealed that she wasn't letting the COVID-19 pandemic stop her from getting Botox, as reported by Access Hollywood. While filming an appointment with Dr. Robert Anolik, she quipped, "In this time, we can notice that there's been a lot of worrying; you can see it written all over my face. But Dr. Anolik decided to be brave today and come into work to treat my acute Botox deficiency."
While her doc was willing to help her out, without a team of professional makeup artists and hairstylists at her disposal, Ripa had to come up with some of her own beauty hacks to look her best when filming "Live with Kelly and Ryan" at home. Per People, sporting a simple ponytail was one such trick. "If you pull it back tight enough it's like giving yourself a face lift," Ripa informed her viewers and co-host Ryan Seacrest.
In an Instagram Live video with ballet dancer Tiler Peck, Ripa revealed that she was slathering on her daughter Lola's self-tanner because she didn't have access to her studio makeup, and Ripa used blotting paper on-air to "de-glisten" her shiny face. She's also shared some sage advice for feeling confident without relying on beauty tools, tricks, or treatments, telling Elle, "I feel like as long as you take ownership over your own flaws, it doesn't hurt if someone else points them out."