Tristan Thompson Proves That He Still Wants To Be On Kris Jenner's Good Side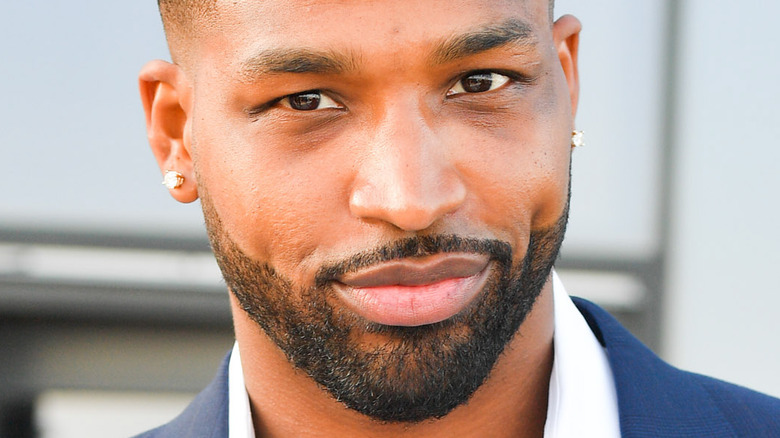 George Pimentel/Getty Images
Tristan Thompson and Khloé Kardashian's rocky romance has been well-documented, both on the set of "Keeping Up With the Kardashians" and in the media. The pair weathered several cheating scandals before breaking up for good when Thompson admitted to fathering a child with fitness trainer Maralee Nichols in early 2022. At the time the bombshell broke, a source told Us Weekly that Kardashian and her family weren't "taking the news lightly," though they were "on the road to accepting what he's done." After all, they'd fully welcomed him into the fold over the years. True to form, Kardashian didn't shy away from baring her heartache on the KarJenner's new Hulu reality show, "The Kardashians." Per Variety, she explained that "[Tristan's infidelity] will be addressed on the show. ... It would be strange if Tristan was a part of the show and then all of a sudden he disappears and we don't ever talk about it."
Perhaps for the sake of the former couple's daughter True, the "Good American" founder hasn't badmouthed her ex. Despite copping to the fact that Thompson's infidelity has left her "numb," she praised his parenting skills during an ABC News special. "I still think he's a great guy, and he's a great dad. He's just not the guy for me," Kardashian revealed. In this same vein of amicable co-parenting, Thompson now appears to be doing his best to stay in the famous family's good graces. This includes surprising momager Kris Jenner on Mother's Day!
Tristan Thompson celebrated Kris Jenner on Mother's Day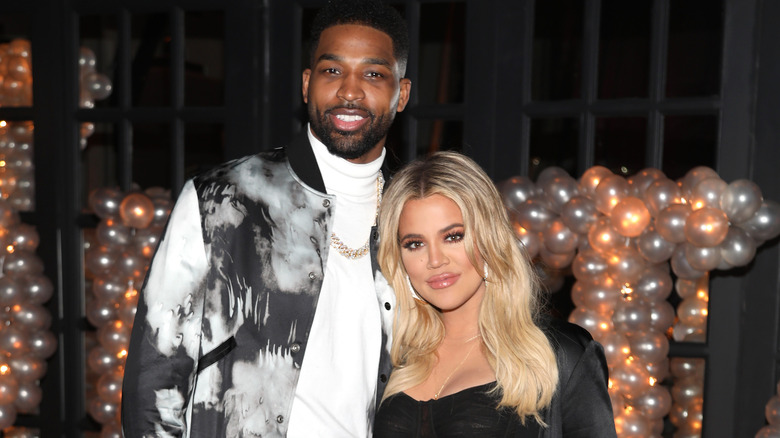 Jerritt Clark/Getty Images
In 2020, Tristan Thompson surprised baby mama Khloé Kardashian with an over-the-top luxury balloon display on Mother's Day, according to People. This time around, Thompson didn't share any public snaps wishing her a Happy Mother's Day, but interestingly, Kris Jenner wasn't far from his mind. The momager shared an image of a pink-and-white bouquet of flowers to her Instagram Stories, revealing that they were from the Chicago Bulls star. "Thank you @realtristan13," she captioned the post, per E! News. "I love you." Jenner's Instagram Stories were packed full of flowers from other well-wishers, including Kardashian's longtime pal Malika and family friend Jeff Leatham. Travis Barker, Pete Davidson, Travis Scott, and Scott Disick also sent the matriarch flowers — so maybe sending Jenner flowers is a prerequisite for the men who date her famous daughters? Either way, Thompson's sweet gesture proves that he's doing his best to stay in Jenner's good graces — or, maybe he hasn't fully given up on winning back Kardashian.
In 2020, Thompson apologized to Jenner for how his past indiscretions had hurt Kardashian. "I remember you telling me, 'That's my baby girl, that's my bunny,'" he said on "Keeping Up," per People. "So when I hurt [Khloé] ... it really affected me a lot because of how much I let you down and our relationship, because you viewed me as a son." In the confessional, Jenner mentioned that she and Thompson have "always had a really close relationship." Now those flowers make even more sense!