Britney Spears Has Taken A Major Step In Her Wedding Planning With Sam Asghari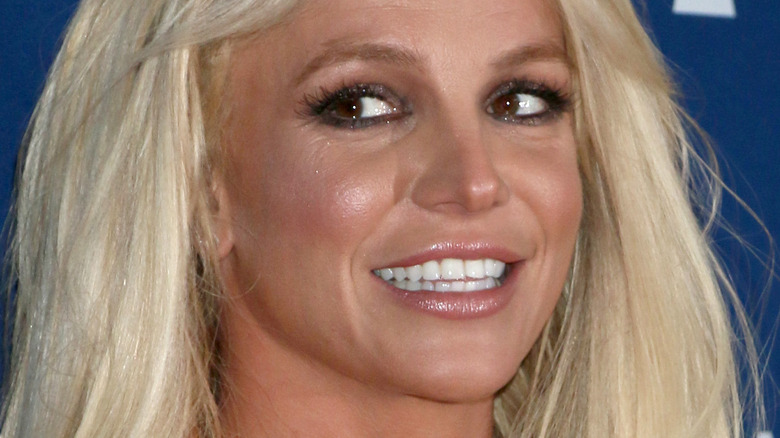 Kathy Hutchins/Shutterstock
Britney Spears fans have their fingers crossed that the third time will be the charm for the pop star — and that she won't be saying, "Oops! I did it again," after she and her fiancé, Sam Asghari, tie the knot.
On September 12, 2021, the pop star and the fitness trainer-turned-actor announced their plans to wed. Spears flashed her engagement ring and smooched her fiancé on the cheek in an Instagram video that was captioned, "I can't f***ing believe it." It was an apt reaction because there was a time when Spears feared that she would never be allowed to tie the knot again. During her June 2021 conservatorship hearing, the singer stated, "I was told right now in the conservatorship, I'm not able to get married or have a baby." According to Variety, she revealed that she had been barred from having her IUD implant removed so that she could get pregnant. But her conservatorship was terminated in November 2021, and on April 11, 2022, Spears took to Instagram to announce that she and Asghari were expecting their first child together.
Not long before Spears threatened to break the internet by breaking her big news, Asghari told BBC Persian that both the engagement and the pregnancy were something that he'd wanted for quite some time. "This should have happened three years ago, to be honest with you," he said. Now, Asghari has revealed that he and Spears have set their wedding date.
Sam Asghari eliminated one possible wedding date
On Mother's Day, Sam Asghari took to his Instagram Story to pay tribute to his "soon to be queen," shutting down speculation that he and Britney Spears are married already. He added, "Also The big day has been set! But nobody will know until the day after." Asghari did, however, rule out one date. He shared a follow-up post in his Story that showed him responding to a DM from a fan who was convinced that they'd deduced the date. Months earlier, Asghari had posted a photo of a Slurpee from 7-Eleven with a caption reading, "Only if you knew." The fan guessed that this meant July 11 was the big date, but Asghari replied, "No! 7-11 is a convenience store with a great candy selection."
Asghari and Spears have already been referring to themselves as husband and wife on Instagram, and Spears used the platform to announce that she's picked out at least one part of her wedding dress. She shared a photo of a cat sitting on a pile of white tulle and captioned it, "Introducing Wendy!!! And yes, this is the veil to my wedding dress." In a since-deleted Instagram post, Spears revealed that Donatella Versace is designing her gown, per Page Six.
Per In Touch, an insider claimed that Spears wants to get married in Maui, adding, "She doesn't even care about having a big wedding." But Asghari told Entertainment Tonight, "I want the biggest wedding in the world!"