Amy Schumer Reveals Another Cut Oscar Joke That Has Everyone Saying The Same Thing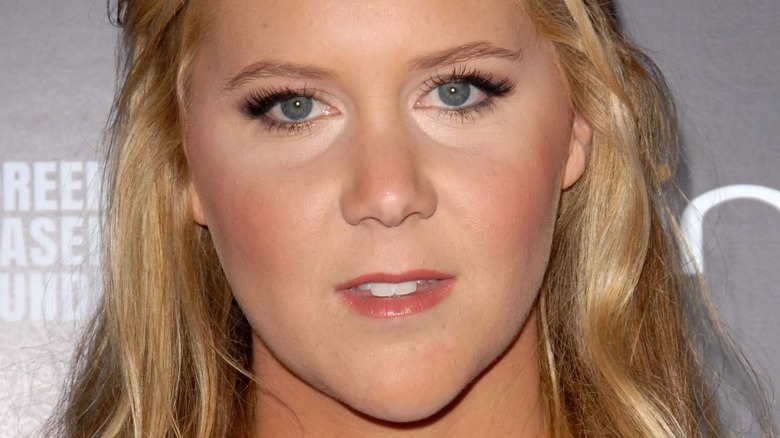 s_bukley/Shutterstock
Amy Schumer is opening up about her experience hosting the 94th annual Academy Awards and revealed that one of her planned jokes was axed by the show's producers. Schumer — who is known for her brash comedic approach — hosted the show alongside actor Regina King and comedian Wanda Sykes. Following the ceremony, Schumer quipped about which statements were cut from her set at the Oscars.
"'Don't Look Up' is the name of a movie, more like don't look down the barrel of Alec Baldwin's shotgun," Schumer told the crowd during a show at the Mirage Theater in Las Vegas, per The Hollywood Reporter, clearly alluding to the tragic accidental shooting on the set of Baldwin's movie "Rust." "I wasn't allowed to say any of that, but you can just come up and [clock] someone," she said, in reference to the altercation between Will Smith and Chris Rock.
Schumer has since taken to Instagram to clarify that the Baldwin joke was not actually a part of her material for the Oscars, but warned fans she would not hold back during her upcoming live shows. And it looks like she is making due on her promise, as the comedian just revealed another joke that the Academy of Motion Picture Arts and Sciences apparently cut from her monologue.
Amy Schumer's sexually explicit joke got axed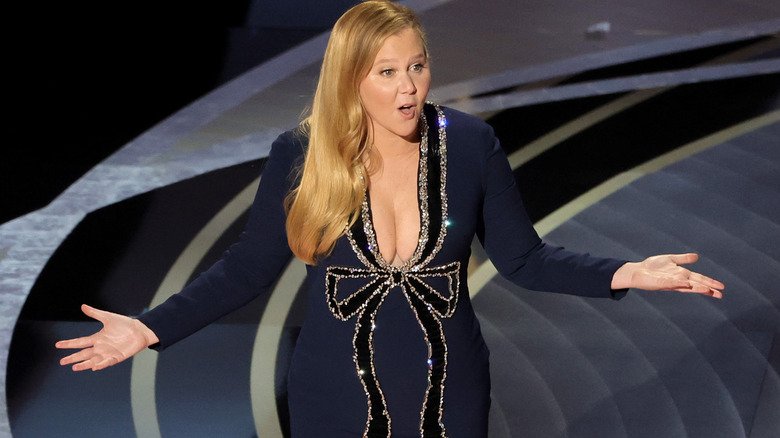 Neilson Barnard/Getty Images
Like some people, Amy Schumer is still talking about the 2022 Academy Awards. While performing during Netflix Is a Joke festival, Schumer revealed that the show's producers asked her to remove a joke from her planned set.
"This was a bit that the Oscars did say no, I couldn't say, and I loved it," Schumer said during her set, per the Daily Mail, claiming she doesn't know why the Academy shot it down. "So my husband was going down on me, or as he calls it, 'Squid Game.' So he's in my 'Nightmare Alley,' my 'House Of Gucci,' and I say, 'C'mon C'mon.' He goes, 'tick tick ... boom!' He 'Belfast,' I say get off my 'Dune,' that's how our son was born."
Schumer has since drawn backlash for the joke online, and folks on Twitter are letting her have it. "Why is Amy Schumer's entire personality that she f**ks? Like we get it, so does everyone else. Most others are actually funny though," one person tweeted. Another person added, "It's giving this except Family Guy's was funnier," with a clip from the animated series. And while Schumer is receiving flack for the joke, some seem to appreciate her comedic approach. "Don't get why people hate her so much, this is genuinely hilarious," a fan wrote in support of Schumer.