Chrishell Stause And G Flip Are Moving Way Faster Than Anyone Predicted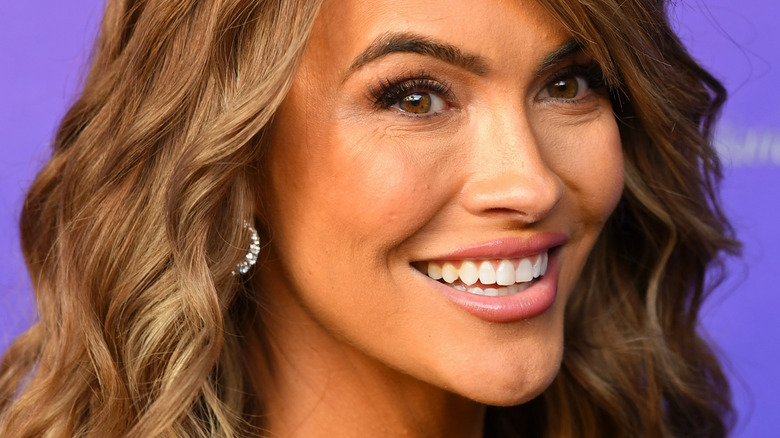 Jc Olivera/Getty Images
Chrishell Stause just confirmed that she's dating someone new, but it turns out that their relationship is moving faster than we thought.
On the "Selling Sunset" reunion, the reality star, who had once been married to "This Is Us" actor Justin Hartley and briefly dated her boss Jason Oppenheim, revealed that she's coupled up again. "I recently have been spending a lot of time with someone that's very important to me. Their name is G Flip. They're non-binary, so they go by 'they/them,'" she told moderator Tan France, per Vanity Fair. "And they are an extremely talented musician."
Stause also shared how they met, and it was apparently because she was asked to star in G Flip's music video. "It started because I was just going to be in their video. It's about this chaotic love story," she added. "I come from soaps, I love acting. And with the job that we have, I don't always get to do it. At first of course I was like yes, let's do that." And while it's been only a few months since they started seeing each other, word on the street is they have already moved in together — and Stause even gave her partner a tattoo.
Chrishell Stause and G Flip reportedly already moved in together
The timeline of Chrishell Stause and G Flip's relationship remains unclear, but according to Cosmopolitan, Stause started liking the singer's Instagram posts in February 2022. And shortly after Stause confirmed on "Selling Sunset" that they're dating, a source told People that the two are already living together.
"Chrishell moved them in," the source told the outlet, referring to how Flip moved into the house Stause bought with the help of her wedding ring from Justin Hartley. What's more, Flip allowed Stause to give them a tattoo, as shared in an Instagram post. "GET ME OUTTA HERE," the tattoo reads, along with a red lipstick kiss. "Found my new calling. Might open up a new shop," Stause quipped in the comments.
When she opened up about her new relationship on "Selling Sunset," Stause admitted that she knows that some people will not be happy, but she says she's comfortable with her decision. "I think I was probably as surprised as anyone, just because nothing's changed for me. I'm still very attracted to masculine energy and a good human," she said, per The Cut. "I'm just very open to good energy. I don't know what my future holds, but it is a complicated issue to talk about... I'm so happy, and so if that angers someone, then that's not really my problem."