Travis Scott's First TV Performance Since The Astroworld Tragedy Is Sure To Cause A Stir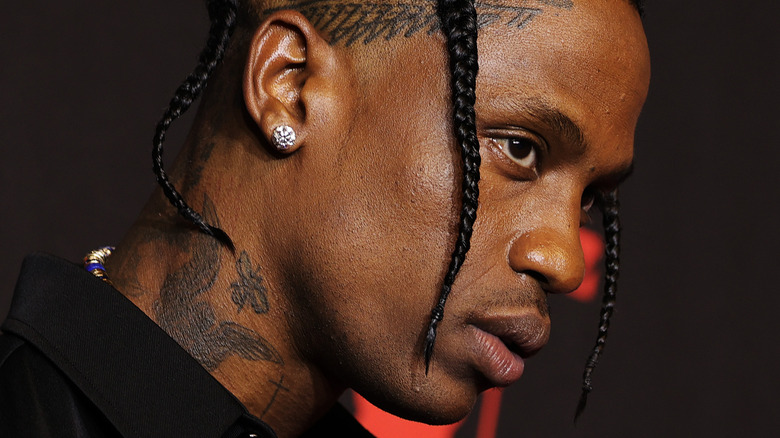 Jamie Mccarthy/Getty Images
Travis Scott is gearing up to make a huge comeback after the devastating Astroworld tragedy.
The "Astroworld" rapper has been slowly attempting to return to the limelight over the past couple of months by appearing on a slew of stages, albeit sporadically. It was previously reported that Scott performed on a string of VIP stages after the tragic incident, and even appeared at a Coachella afterparty despite being dropped from the festival's lineup. Scott also reportedly performed at a private party in Bel-Air, which was attended by Leonardo DiCaprio and Serena Williams, per Rolling Stone. But on May 8, he made his first proper comeback at a Miami Grand Prix party. He took the stage alongside Migos' Quavo and performed for roughly 45 minutes, per TMZ.
The outlet also reported that, before his performance, he clutched a bottle of tequila and threw money into the crowd, exhibiting his excitement about the show. "Everybody owes me a shot," he apparently told the attendees, per Page Six. "We need every stripper to report to the f*****g stage right now. We need every bottle reported to this motherf*****g floor." But it looks like the days of performing on small stages are over for Scott, as he's set to make a massive comeback at the upcoming Billboard Music Awards.
Travis Scott is slated to perform at the Billboard Music Awards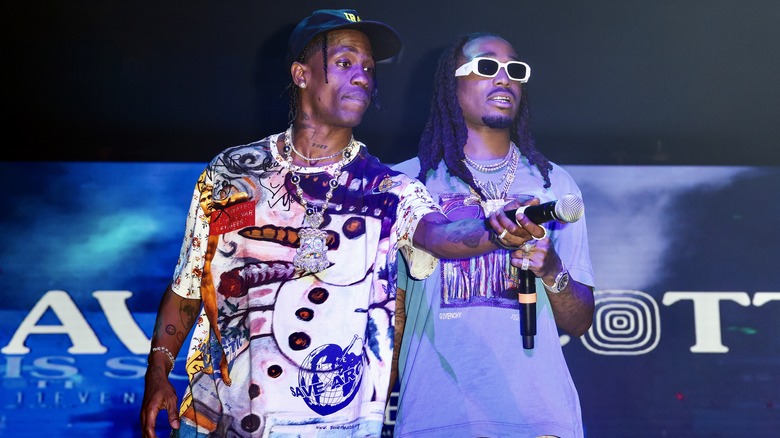 Alexander Tamargo/Getty Images
Billboard Music Awards has booked Travis Scott to perform at the upcoming show, but not all fans are welcoming this comeback. On May 9, P. Diddy took to Instagram to announce that he "demanded" NBC to allow Scott to perform. "I have some great breaking news. This just in. For the Billboard Music Awards this Sunday, I made a request, I made a demand," he started. "I said, 'My brother Travis Scott has to perform. Diddy is hosting the show. I'm executive producer. He has to perform.' And NBC said 'yes.' So it's going down."
While many expressed excitement over the news, some can't help but share their disappointment. "I'm a big trav fan but I can't seem to find an appropriate argument to convince myself that he isnt to blame(partly) for the astroworld tragedy. It's tainted my perspective of him a lot," one fan admitted. "and why are we allowing him a platform????" questioned another. "if you let a dozen people d|e at your concert you get to perform at the billboard music awards not even a year later? no remorse for the families who lost their loved ones they'll never get to see again," one fan tweeted.
The jury is still out on whether or not Scott will be held responsible for what happened at Astroworld, but according to filmmaker Charlie Minn, who made the Astroworld-centric documentary "Concert Crush," Scott should be in jail. "Travis Scott to me is a punk," he told Page Six. "In my opinion, he is a criminal. Ten people died. How do we get around that?"