Stassi Schroeder And Beau Clark Are Finally On Track For Their Dream Wedding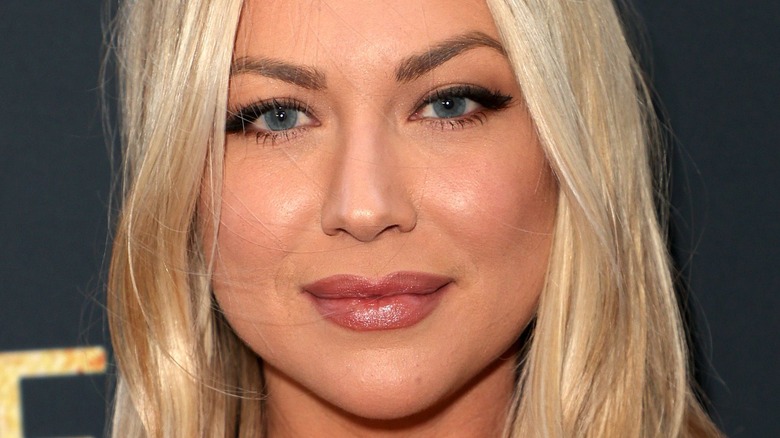 Kevin Winter/Getty Images
Tying the knot is sweeter the second time around — at least for "Vanderpump Rules" stars Stassi Schroeder and Beau Clark.
The two got engaged in July 2019 and were set to marry sometime in 2020, but the COVID-19 pandemic derailed their plans. While planning, Schroeder expressed frustration over how her efforts may be futile, considering how everything was unpredictable at the time. "So planning a wedding that may be nonexistent is fun," she wrote in a tweet, per Us Weekly. "Def recommend." But she never strayed away from her goal of having an intimate wedding in Italy. "Italy has a lot of meaning for us. Beau has dual citizenship in Italy and family there, and one of our first—and best—trips together was to the country," she said in a column published on Glamour. As for why she wanted to keep the guest list tiny, she said, "I've been to weddings with 400 guests and seen how the bride doesn't get to talk to everyone."
And while the pandemic foiled the couple's original plans, they went ahead and exchanged "I Do's," sans the wedding in Rome. "Today would've been our wedding day. We went and did it anyway," Schroeder announced on Instagram. "Married [September] 2020. Hopefully, Italian dream wedding [October] 2021. I am so proud to be your wife, [Beau Clark]." The dream wedding still didn't happen in October 2021, but fast-forward to May 2022, they're finally seeing their plan through.
Stassi Schroeder and Beau Clark are tying the knot for the second time
After months of delay and planning, Stassi Schroeder and Beau Clark will finally have their dream wedding. The "Vanderpump Rules" alum shared her journey to getting to Rome on her Instagram Stories in May 2022, and the pre-wedding activities they're doing before the big day. "Living her best life," Schroeder wrote, per Us Weekly, along with a photo of her daughter, Hartford, holding a breadstick. "Truly, she loves a breadstick." She also shared pics on her IG Story celebrating with a few former "Vanderpump" co-stars, Katie Maloney-Schwartz and Kristina Kelly, as seen above.
Meanwhile, Clark can't help but share his excitement too, saying, "We made it!!!" In April, he also said how much he's looking forward to getting hitched to Schroeder again. "Can't wait to marry this woman (again) in 3 weeks," he exclaimed (via Us Weekly). Whether or not their initial plans will push through remains to be seen, but if Schroeder's Glamour columns are any indication, their wedding will have nine bridesmaids and a tight guest list. As she explained in one article, "If we got married in Los Angeles, where we live, or New Orleans, where I'm from, we'd feel obligated to invite everyone we know." They chose Italy very intentionally, since they didn't "want to have a wedding where we're meeting people for the first time."
Congratulations (again) to the couple as they get to continue their happily-ever-after.