Ariana Grande Had All Eyes On Her At Her Brother Frankie's Wedding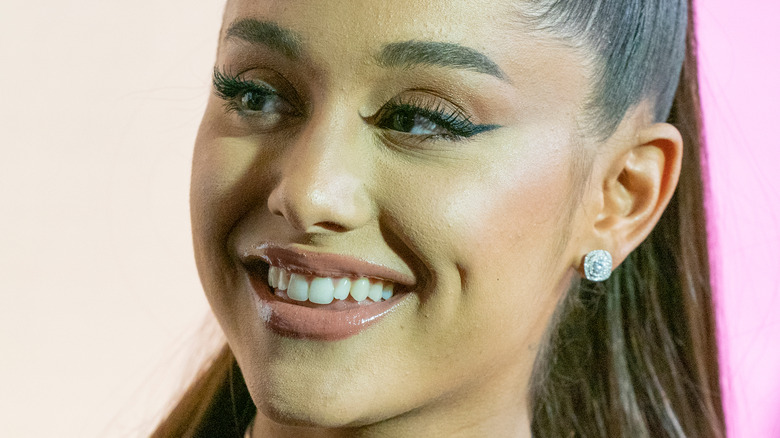 lev radin/Shutterstock
So, how does one steal the spotlight at the Star Wars-themed wedding of a famously over-the-top YouTuber and Broadway performer and his longtime Twitch streamer/actor partner? Be Ariana Grande, we guess. Ariana attended her brother Frankie's "intimate galactic ceremony" in Florida on May 4 (of course), where he married Hale Grande (née Leon) after three years together, according to the couple's joint Instagram caption. 
The carousel of wedding photos Frankie and Hale shared in their Instagram post included the couple in their Dolce & Gabbana tuxedos, a variety of "Star Wars" character cosplayers, light sabers, and their dog Appa. (As a side note, this wedding looks like a freakin' great time.) But the newlyweds' early wedding photos did not include any pictures of Frankie's younger half-sister, perhaps you've heard of her, Ariana. 
Luckily, Ariana's makeup artist Ash K Holm did post photos of the pop superstar's wedding guest look to Instagram — proving that even at an event that has this much going on, Ari still makes a statement whenever she walks into the room. 
Ariana Grande wore a sleek bra top and skirt set
We knew that Ariana Grande wasn't going to throw on just anything for her brother Frankie Grande's wedding, but we have to admit, we weren't prepared for the haute sexiness she served in a Vera Wang (according to Page Six) sculpted black bra top and matching high-slit skirt. It's giving Princess Leia, but make it fashion.
For hair, Ari swapped her signature high ponytail for a softer half-pony secured with a giant bow, a sweet touch she matched with heart-shaped diamond earrings. Makeup artist Ash K. Holm wrote in her Instagram post, "A bronzy beat on my love using [R.E.M. Beauty]," which is Ariana's own makeup line. Fans gushed in the comments section, with replies ranging from "love the look" to "Omg if she doesn't post these I'm gonna scream she looks amazing!"
If you've begun to feel a bit bad for Ariana's brother Frankie for being upstaged at his own "Star Wars" wedding — never fear. According to the social media star's Instagram post, this intimate ceremony was only the prologue for a bigger, more extravagant celebration in the upcoming months, which he called a "Wedding Ball." Now, if Ariana shows up to that event wearing something like Kylie Jenner's Met Gala look, we can maybe be mad at her then.