Dorit Kemsley Reveals How Her Traumatic Robbery Will Stay With Her Forever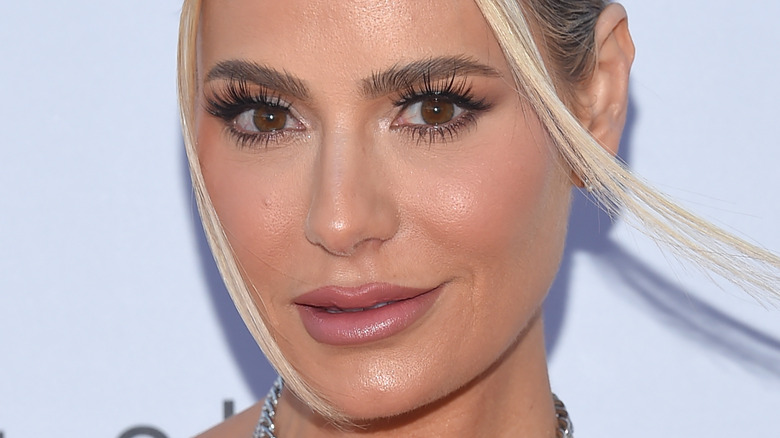 DFree/Shutterstock
Dorit Kemsley was faced with the unthinkable on October 27, 2021 when masked men broke into her home and stole several belongings. At the time, Dorit and her two kids were inside of the home while her husband, Paul "PK" Kemsley, was out of town in London. In the days after the robbery, she broke her silence, sharing a post on social media to tell fans what had happened. "As you all know by now, I have been through a terrifying ordeal, one that no parent or person should ever have to experience," the reality star began the post. "I've received so many messages of love and support and I thank you from the bottom of my heart. It's truly overwhelming." Thankfully, she said her kids were "unaware" of the events that transpired.
Dorit has been pretty open about the ordeal and how she has been doing in the aftermath. A month after the invasion, the "Real Housewives of Beverly Hills" star spoke with Extra correspondent and former co-star Teddi Mellencamp, stating that she was just "trying to put one foot in front of the other." Dorit recalled the terrifying moments of the attack, revealing that one of the men said, "'Just kill her, just kill her already, just kill her,' and all I could think of, 'I have to save those babies.'" She added that she "begged" for her and her children's lives.
At the end of the day, she's grateful for her support system. And now, she's opening up even more.
Dorit Kemsley shares heartbreaking post about reliving the robbery
The Season 12 premiere of "The Real Housewives of Beverly Hills" will be a harrowing episode for Dorit Kemsley to watch. The reality star took to her Instagram feed on May 11 to share an image of herself surrounded by pals Lisa Rinna, Erika Jayne, Kyle Richards, and Teddi Mellencamp. "Tonight's episode covers an incredibly traumatic event in my life. Having to relive it all again has triggered a lot of emotions," Dorit wrote in the caption. "PK was still in London at the time and these phenomenal women rushed to my home upon hearing the news." She added that the women and "the outpour of love" she has received have been "pivotal."
She continued, "At the time, I was completely broken and doing my best to hold it together for the sake of my family," mentioning that her castmates made her feel "a sense of comfort and strength." The star explained that while relieving the events of the robbery over again "resurfaces the terror of that night," it's the "gratitude" for support "that will stay with me forever." In other words, her friends' kindness is what's made a lasting impact.
While Dorit has a lot of love for her pals, they have also been applauding her for how she dealt the situation. "The way that she was able to handle everything, the way that her kids never had to know anything was going on, I mean, she's just so beautiful and strong," Mellencamp told Access Hollywood last November. What a great group of gal pals.