Jason Momoa Is Apologizing For A Reason No One Expected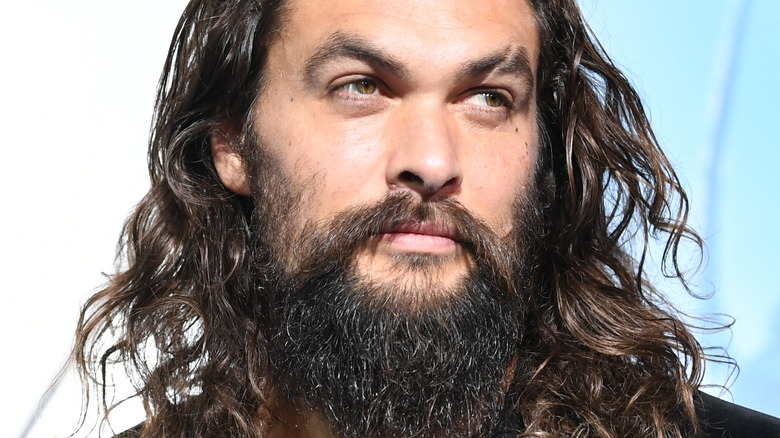 Kevin Winter/Getty Images
if you take a look at Jason Momoa's Instagram, you'll see that he recently took a trip around Italy — but one of his tour stops angered fans.
The actor, who's currently in Rome to film "Fast X," shared a series of photos and videos of his recent visit to the Sistine Chapel. "I LOVE YOU ITALY," he wrote, expressing his appreciation for the country. "What a beautiful start to our day off enjoying ROMA." What ticked fans off, however, was not that he paid a visit, but the fact that he took photos and videos while doing so, which is apparently prohibited. 
Fans told Momoa how disappointed they were in the comment section and pointed out how unfair it was that a celebrity like him was permitted to document their visit, when everyone else had to abide by the rules. "We can't take pics but ofc celebrities can ... nothing against Jason ( I adore him) but it's not fair," one fan commented. "So wait... pics in here are prohibited yet somehow although I love you @prideofgypsies you can have the room cleared out just for you and take group pics," another fan said. "I mean just wow the privilege in famous folks. Just wow. Goes to show what BS places like this are with their silly rules. They're apparently flexible."
Momoa seemed to notice the comments right away, so it didn't take him long to issue an apology to those he had offended.
Jason Momoa never intended to disrespect anyone's culture
When he caught wind of the negative comments about his trip to the Sistine Chapel, Jason Momoa recorded a lengthy apology on Instagram — and he did it while shirtless.
"It's my last day in Rome and I just love you and Italy. It's been the time of my life," he prefaced, before explaining what had happened during his days off. "I just also wanted to say, if you ever felt that I disrespected your culture, it wasn't my intention.. I've always wanted to [visit] and now that I can, I gave a wonderful donation to bring my friends and crew because we only had a couple days off to experience these places," he continued. He added that he had asked for permission, especially since a lot of fans had asked to take a picture with him in the same place. "I asked for permission from what I thought, would be okay. I would never want to do anything to disrespect someone's culture. If I did, I apologize. It was not my intention. I paid to have that private moment and gave a nice donation to the church. I love you. I'm sorry if I offended you."
It should be noted that despite the incident, taking photos at the Sistine Chapel is still largely prohibited due to the adverse effects the flash has on the delicate artwork inside, per USA Today. We hope Momoa has learned from this experience and won't repeat the same mistake again.