The Truth About Caroline Stanbury's Relationship With Prince Andrew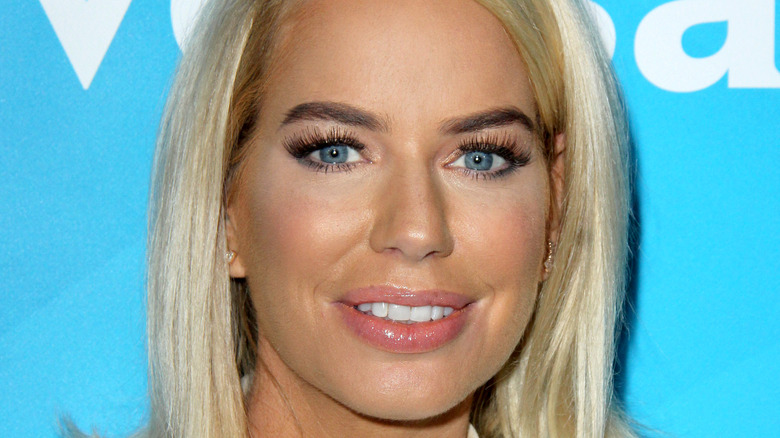 Kathy Hutchins/Shutterstock
Caroline Stanbury became a Bravolebrity after starring in "Ladies of London" from 2014 to 2017, when Caroline was the queen of the UK version of "Real Housewives." Now, she is part of the actual franchise on Bravo's latest "The Real Housewives of Dubai." But before marriage, kids, and TV stardom, the British bombshell had a very interesting life.
The socialite is the daughter of Anthony Stanbury, a venture capitalist, and Elizabeth Stanbury, part of the Vestey dynasty, one of the richest families in the UK, per The Daily Mail. Caroline herself was rich and beautiful, but she also dated famous actors. In 2000, the outlet reported on her romance with actor Hugh Grant. At the time, the "Notting Hill" actor was 16 years older than Caroline, but sources told the Daily Mail the 40-year-old star was "besotted" with the young aristocrat. Another source told the Mail, "She seems thrilled about him and how nice he is, and he apparently feels exactly the same way about her." In addition to Grant, the future "RHODubai" cast member dated Sylvestor Stallone, per the UK Sun.
Caroline even had a fairly serious relationship with a member of the British royal family, Prince Andrew. The now-disgraced prince was once quite an eligible bachelor, and you won't believe the details of their romance!
Caroline Stanbury and Randy Andy's romance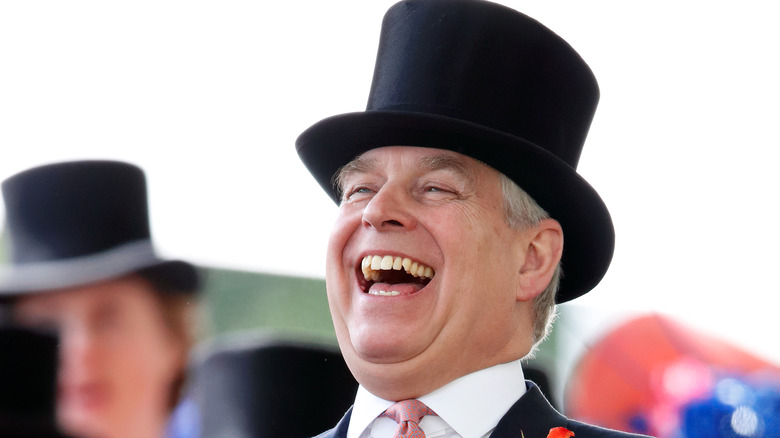 Max Mumby/indigo/Getty Images
Caroline Stanbury once dated Prince Andrew, a.k.a. "Randy Andy." After his divorce from Sarah Ferguson in 2000, Stanbury and Andrew were in a relationship, despite their age difference. According to Metro, the 40-year-old British prince took twenty-something Stanbury to a gala in Martha's Vineyard hosted by Bill and Hillary Clinton. The outlet reports the royal relationship didn't last because of the pressure of the media spotlight. 
Stanbury's parents are old friends of the Duchess of York's father Major Ron Ferguson's ex-wife, and Fergie reportedly had strong feelings about her ex dating young Stanbury. An inside source told The Daily Mail that the press attention might not have been the reason for the split. A friend of the prince told the Mail, "It was either the publicity or Fergie putting her foot down."
It was probably just as well that things didn't work out with Andrew, who settled a sexual abuse lawsuit against him in February. In her book, "The Palace Papers: Inside the House of Windsor — the Truth and the Turmoil," royal expert Tina Brown called the prince "a coroneted sleaze machine." Brown told Time, "He's clearly a dim bulb, there's very little going on upstairs, and he's something of an oaf ... Unfortunately, being intellectually dim and surrounded by sycophancy is a very bad combination."
Caroline Stanbury is back in the spotlight on RHODubai
These days, Caroline Stanbury is a newlywed living in Dubai with her new husband, Real Madrid footballer Sergio Carallo. According to E! News, the "RHODubai" star married 27-year-old Carallo in Dubai in December 2021. Bravo reported Stanbury moved from London to the City of Gold in 2017 with her husband, Cem Habib, and their three kids. Stanbury and Habib divorced in 2019, and she began a podcast, "Divorced Not Dead," which led her to her new husband. The Daily Mail reported Stanbury was at Newport Beach, California at an event to promote "Divorced, Not Dead" when she met Carallo. 
"The Real Housewives of Dubai" star keeps it real about the 18-year age difference between her and Carallo. Stanbury told The Daily Mail that she prepared her husband about her beauty routine, "I wanted Sergio to know exactly what it takes." The sassy Brit revealed she took Carallo to a Botox appointment, and he passed out. Stanbury joked with the Mail, "Let's face it. It's not going to get any better, is it? And if he can't accept it, he should walk. But he doesn't care!" Clearly, she's come a long way since her relationship with Prince Andrew, and we're looking forward to watching Stanbury on "RHODubai!"